Brand New Museum of the Dog Opens in NYC
February 8, 2019 - by Merrill Lee Girardeau
After 32 years away, the AKC Museum of the Dog has returned to New York City. Celebrate canines at this exciting new attraction, located in the headquarters of the American Kennel Club near Grand Central. The museum opens the same weekend as the Westminster Kennel Club Dog Show, the popular yearly event at Madison Square Garden. Read on for a guide to February's cuddly corgis and shaggy sheepdogs at the Museum of the Dog and the Westminster Dog Show.
American Kennel Club Museum of the Dog
The Museum of the Dog was founded by the American Kennel Club in 1982 and stayed in New York until 1986. It then moved to St. Louis, Missouri, where it remained for over 30 years. Now it's back and better than ever, with new exhibits and interactive displays and a deep catalogue of dog-related art.
All photos: David Woo.
The Museum of the Dog will thrill families and dog-lovers of all kinds. In addition to a large collection of dog-centric art and artifacts, the museum will engage visitors with several new interactive features. These include the "Find Your Match" station, a digital installation that takes your picture, scans your face, and pairs you with the breed of dog you most resemble. You might get poodle, golden retriever, shiba inu—the pooch possibilities are endless.
There will also be a touchscreen where you can "Meet the Breeds" and station with a virtual Labrador puppy named Molly that you can pet, feed, and play fetch with. Another special feature is a mobile app, facilitating your experience with a virtual tour guide: a dog named Arty.
The American Kennel Club maintains an in-depth collection of dog-related art and artifacts, including a wide range of dog portraits, sculpture, and figurines. On your trip to the Museum of the Dog, you'll see selections from the collection, which features noted dog artists like James Ward, Sir Edward Henry Landseer, John Sargent Noble, and Maud Earl. You'll see Millie on the South Lawn, a portrait of George H.W. Bush and Barbara Bush's English Springer spaniel with the White House visible in the background. This portrait was painted in 1990 by Christine Merrill.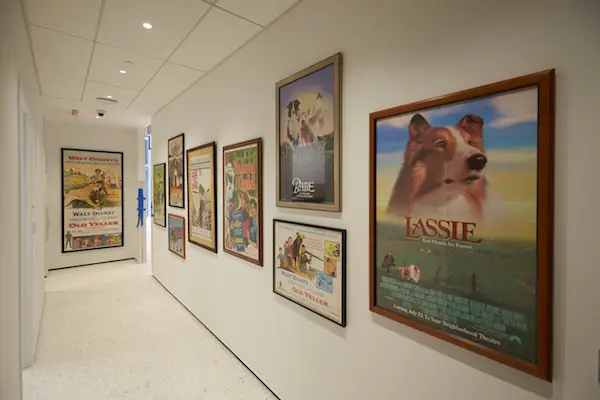 There's a room dedicated to film posters where a dog is the star, including Lassie, Babe, Old Yeller, and others.
The museum's holdings also include a 30 million-year-old dog fossil and a 2,000-year-old paw print, as well as features that highlight other important dogs throughout history. One little Yorkshire terrier sculpture called Yorkie Doodle Dandy represents a little dog that served alongside her owner Bill Wynne in WWII.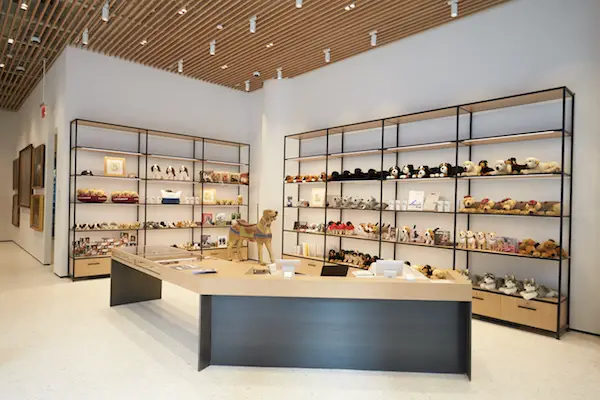 The gift shop.
Check out the AKC Library in the museum, full of books you won't find just anywhere. If you've ever wanted to check out your dog's horoscope or a read guide on dog hair, this is the place. Also on site in the museum is a coloring station for kids, where they can make dog-related art and post it on the wall nearby for all to see.
The AKC Museum of the Dog opens Friday, February 8. It will be open Tuesday through Sunday, 10am-5pm. Tickets are $15 for adults, $5 for children under 12, and $10 for students, seniors, and veterans.
The American Kennel Club Museum of the Dog is located at 101 Park Avenue. Call 212-696-8360 or visit for museumofthedog.org tickets and more.
Westminster Kennel Club Dog Show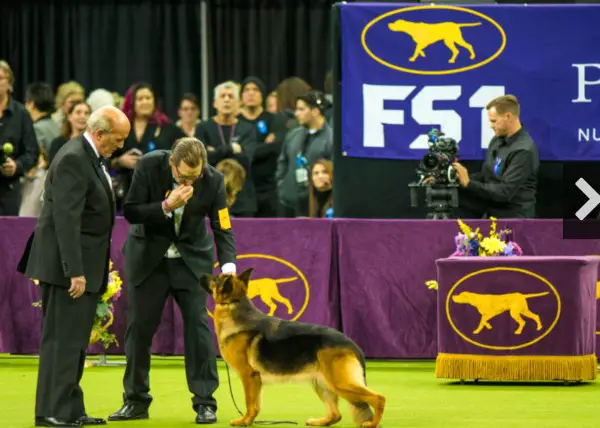 To keep the puppy love going, check out the 143rd Westminster Kennel Club Dog Show on February 11 and 12. The competition is open to the public, and tickets are still on sale for this spectacular annual event.
The preeminent dog competition in the United States, the Westminster Dog Show evaluates exemplary members of 204 dog breeds. These breeds are organized into 7 groups: Sporting, Toy, Hound, Working, Terrier, Non-Sporting, and Herding. The judges scrutinize all dogs according to the highest standards of their breed. These standards might include the dog's ability to hunt or track, its coat, ear shape, movement, or temperament. Over the weekend, several Best of Breed winners will be selected and will advance to group competitions.
The night of February 12, the event will culminate in the Best in Show competition. This portion pits seven dogs against each other, each a winner in its respective Group. Only one pup will be awarded Best in Show!
Come see the two new breeds entering the ring for the first time: the grand basset griffon Vendeen (Hound) and the Nederlandse kooikerhondje (Sporting). Daytime sessions occur at Piers 92 and 94 in Midtown, while evening sessions occur at Madison Square Garden.
For tickets and more information, visit westminsterkennelclub.org.
Looking for Free Group Planning Services?
Get free advice on planning your group's trip to New York.
RESTAURANTS

Vida Verde brings the tastes, colors, sounds, and scents of ...

THEATER

Kander and Ebb's "musical vaudeville" in which Roxie Hart ga...

SHOPPING

The world's largest source of cameras, camcorders, and more ...

SIGHTSEEING

The 9/11 Memorial honors the nearly 3,000 people killed in t...