Joeys and Java: 8 Australian Restaurants to Try Now in NYC
December 27, 2018 - by Merrill Lee Girardeau
If you're on Instagram, you know all about avocado toast. But you may not know that this dish got its start in Australia (the cafe Bills in Sydney, to be exact) and that Australian cuisine is much more than avo toast and Vegemite. There are many, many Australian cafes and restaurants in New York City for anyone wanting a photogenic Avocado toast or a savory pie filled with kangaroo meat (no joke). Find 8 of your new favorite all-day cafes and restaurants below!
8 Australian Restaurants in NYC: Banter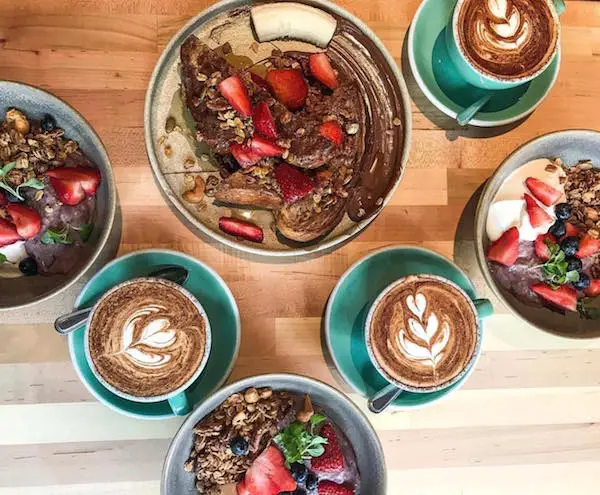 Banter gets just about everything right: it's a well-appointed space with pale pink walls, centrally located, with food that tastes fantastic across the board. There's also a lot of Nutella on this menu, which gives it an edge in our book. This Greenwich Village spot shines from the soba noodle salad to Nutella French toast to Golden Folded Eggs with peas and prosciutto. Their popular Golden Latte is a yellow drink made with warming turmeric and cinnamon, and their coffee comes from Cafe Integral. At night, Banter serves a curated menu of snacks, entrees, and desserts. If you're planning on a lengthy night out, get the espresso martini. Happy hour is 4pm-7pm nightly. 169 Sullivan St., banternyc.com
8 Australian Restaurants in NYC: Bluestone Lane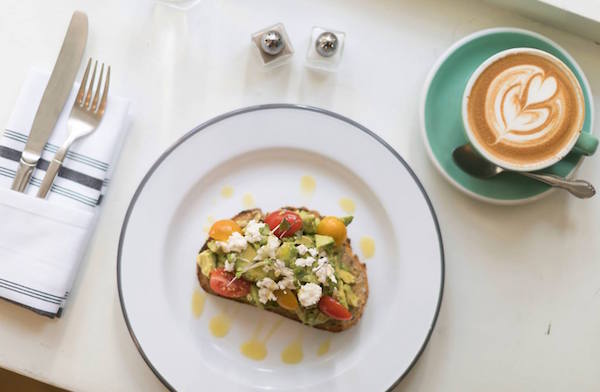 Bluestone Lane has taken over New York City, with 5 full-service cafes and 11 coffee shops in Manhattan and Brooklyn. It's a typical Australian cafe all told, with an avocado toast bar, fresh juice, and flat whites galore—but Bluestone Lane sets itself apart by using baked goods from the legendary bakery, Balthazar. BL coffee shops are smaller and more compact, such as the popular location near Bryant Park. The Bluestone Lane cafes, such as the location inside a church on the Upper East Side, offers more seating and more food options.The Upper West Side cafe also serves dinner, including burgers and a hearty Moroccan chicken grain bowl. Various locations, bluestonelane.com
8 Australian Restaurants in NYC: Dudley's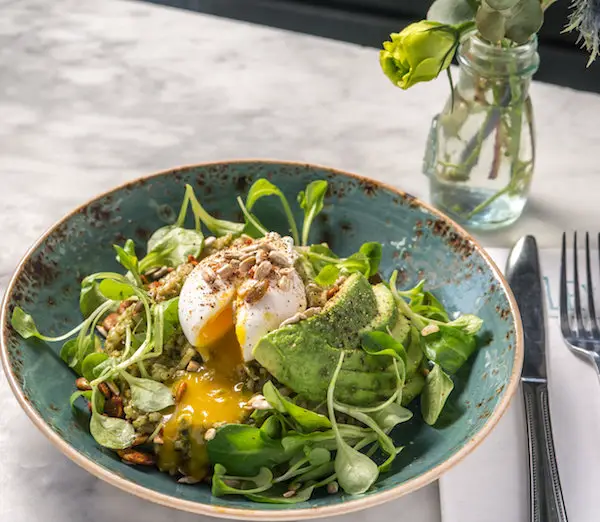 Photo: Paul Wagtouicz
After a raucous night out, what better brunch is there than avo toast with a fried egg on top? Dudley's provides both, serving the Lower East Side from morning till late in the evening, when they abandon the wholesome rice bowls for a full bar offering craft cocktails, beer, and wine. Their daytime menu features an aptly named big brekkie with eggs, bacon, mushroom-baked beans, hash browns, and toast. This eclectic menu also offers a kale salad, classic ricotta pancakes, and fusilli pasta with pesto. At dinner, you can try steamed mussels in coconut curry or a fried chicken sandwich. At brunch, you'll agonize between the avo toast and the Works Burger; we'll point you toward the burger, which has a slice of pineapple on it. Bonus: the kitchen at Dudley's closes at midnight, Tuesday through Saturday. 85 Orchard St., 212-925-7355, dudleysnyc.com
8 Australian Restaurants in NYC: Little Collins
Little Collins is a useful place to have in your back pocket when you're in Midtown East. It's named for a street in Melbourne where the now-ubiquitous Australian coffee shop culture got its start (there's even an eponymous street sign hanging near the back of the room). Get an espresso and stellar avocado toast topped with fried egg and pepitas, whether for brunch or take-away breakfast. The vanilla bean yogurt panna cotta is also worth a shout-out, as it's a perfect dessert after lunch. There's typically a crowd at Little Collins, so don't be surprised if you have to wait for one of the cafe's few tables. 667 Lexington Ave., 212-308-1969, littlecollinsnyc.com
8 Australian Restaurants in NYC: Ruby's
Ruby's two locations serve brekkie until 4pm and stay open for dinner. They get a lot of traffic for the Bronte burger, a classic with sweet chilli sauce, and pastas like rigatoni with spicy Italian sausage. Healthy options at lunch and dinner include a crispy grain bowl with the supergrain freekeh, farro, radish, and avocado. Ruby's serves alcoholic drinks like Australian pinot grigio, as well as beverages like fresh juice, smoothies, and coffee. The breakfast menu offers updated classics like coffee-infused granola and ricotta hotcakes with honeycomb butter. There's also Vegemite toast if you're into this polarizing, oh-so-Aussie ingredient. Nolita: 219 Mulberry St., 212-925-5755; Murray Hill: 442 3rd Ave., 212-300-4245; rubyscafe.com
8 Australian Restaurants in NYC: Burke & Wills
Laid-back Australian culture gets a fine-dining twist at Burke & Wills. This elegant Upper West Side eatery serves lunch, dinner, drinks, and weekend brunch. On the dinner menu, new American starters like crab beignets introduce only-in-Australia dishes like the kangaroo burger with actual kangaroo meat in the patty. Your typical avocado toast and fried chicken sandwich appear on the brunch menu, as well as a kangaroo pie. Upstairs is the Manhattan Cricket Club, a speakeasy accessible via a green door inside Burke & Wills. Happy hour at the Burke & Wills bar occurs 4-8pm on weekdays and 5-7pm on weekends. 226 W 79th St., 646-823-9251, burkeandwillsny.com
8 Australian Restaurants in NYC: Two Hands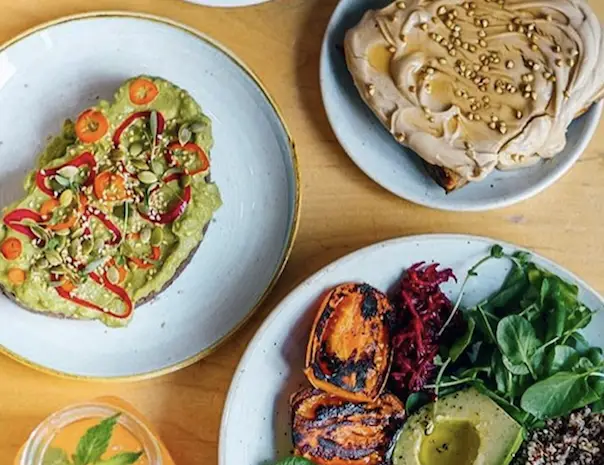 If you like brunch, you've probably already eaten at one of Two Hands' downtown locations. Both have lines out the door on weekends, so it's best to sample their all-day menu during the week if you can. If you're looking to branch out from avo toast, try the banana bread with espresso mascarpone or acai bowl with bee pollen. A wide range of coffee drinks, juices, and smoothies are also available for an afternoon pick-me-up. Nolita: 164 Mott St.; Tribeca: 251 Church St.; twohandsnyc.com
8 Australian Restaurants in NYC: Carthage Must Be Destroyed
Nothing could keep us away from listing Carthage Must Be Destroyed, a business more famous for its design approach than its name, if you can believe it. Travel to Bushwick not only for the Foxy Porridge with a See-You-in-Hell-Johnny (latte with organic, grass-fed milk) but for the monochromatic pink interiors of the restaurant. The pink walls, bowls, plates, and countertops make fetching Instagram bait, although CMBD prohibits patrons from taking photos. 222 Bogart St., carthagemustbedestroyed.com
Looking for Free Group Planning Services?
Get free advice on planning your group's trip to New York.
RESTAURANTS

Multi-concept restaurant offering modern Japanese cuisine, a...

THEATER

In a heartbeat, 38 planes with 6,579 passengers were strand...

SHOPPING

PANDORA, one of the leading names in jewelry for more than 3...

SIGHTSEEING

Manhattan's premier all-glass, European-inspired dining crui...