The classiest cruise in the waters around Manhattan has to be the one aboard Bateaux, the sleek 200-foot, all-glass boat that departs from the Chelsea Piers every day of the year. Much like a floating, luxurious, white tablecloth restaurant, it glides along the Hudson and East Rivers while its well-dressed passengers dine on customized china and order from a sophisticated menu as a melodic trio with a female singer serenades them.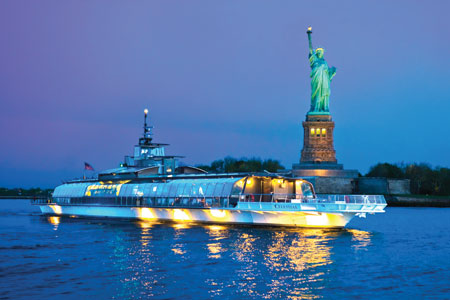 Those passengers are from all over the world. On a recent summer cruise, about 80% of them were tourists from Brazil, Italy, South Africa, Australia, Austria, Argentina, and all over the United States. They sat at orchid-centered tables with flickering candles while a smooth working waitstaff of polished professionals served baskets of warm, diverse rolls followed by an unexpected (but welcome) amuse of tiny shrimp and salsa on an endive leaf. It was but the first of a few elegant extras, which included a lemony intermezzo served between courses and an array of warm cookies offered to guests as they departed.
The food is every bit as noteworthy as the striking cityscape outside and the upscale ambiance inside. Executive chef Scott Kappmeier and his kitchen crew of seven or eight provide splendid three-course dinners for one- to three-hundred diners or more with few—if any—delays or glitches. During the 16-nautical-mile, three-hour evening trip in a boat reminiscent of those that ply the Seine River in Paris, diners choose from the likes of lobster, a mezze presentation, bouillabaisse, a cheese platter, a sweet berry galette, and a chocolate truffle dream of dark Belgian chocolate.
We sampled all four appetizers: a perfectly seasoned potato leek soup of the day; a sprawling mezza plate of ham, vegetable, cheese, fruit and pita; a vibrant market salad enlivened by fuji apples and hard-boiled eggs; and a Pacific, coldwater lobster tail accompanied by a strand of aromatic risotto.
We also tried four of the five entrées, missing only the red curry pork. Best were the tender, earthy, slow-cooked short ribs and their white-truffle-and-basil-mash plate mate. The gently cooked black Atlantic cod was moist and flaky and nicely complemented by andouille cassoulet, dotted with chorizo slices. A smallish portion of bouillabaisse boasted a lip-smacking sauce and very fresh shrimp, mussels, clams and sole, while chicken piccata, a pan-fried breast, was enhanced by an amalgam of Swiss chard, sundried tomatoes, and caper beurre blanc.
The deep, decadent dessert possibilities included a silken New York style cheesecake draped with a Bing cherry compote; a rich chocolate gelato; a representative selection of sharp and mild international cheeses; a less-than-exciting sweet berry gallete with sweet fruit but rubbery, dryish puff pastry; and a tasty pastry harboring that dark Belgian Chocolate enriched with fresh cream and Amaretto.
Pier 61, Chelsea Piers, 866-817-3463; bateauxnewyork.com