If you've lived here long enough, a food cart on the sidewalk poses little more than a barrier for your power-walk down 6th Avenue. But these silver boxes dotting the streets possess some of the city's most affordable culinary delights. You won't find pretzels and hot dogs on our list (unless you count Young Xinjiang's hot dog skewer, which comes without a bun), but what you will find is insanely yummy street food for natives and tourists alike. It's not about presentation, but about stellar flavors at low prices. Read on for Middle Eastern, Indian, and Trinidadian dishes and the carts they call home.
New York's Best Food Carts: Halal Guys
This storied food cart has a Zagat rating and constant lines from noon to midnight. But don't worry: you'll be served quickly, and you'll definitely love the big gyro with hot sauce! It's completely scrumptious, filling, and under $10 (be advised it's cash only when you order). Grab a gyro early, scarf it down, and visit the Museum of Modern Art down the block. A perfect New York day! Southeast corner of W. 53rd St. and Sixth Ave., thehalalguys.com


New York's Best Food Carts: Veronica's Kitchen
Need a cheap lunch to fill you up and warm your heart? Come to Veronica's Kitchen, a popular food cart that camps out on Water Street in the Financial District. You'll have your pick of sinful yams, rice, curry goat roti, and all the jerk you can handle at this Trinidadian treat. 125 Water St., 917-848-2465
New York's Best Food Carts: Calexico Cart
Now with several brick-and-mortar locations, Calexico is the little cart that could. Its original Soho location still awaits hungry shoppers and office workers at lunch with carne asada burrito bowls, pollo verde tacos, and pollo asado quesadillas. The line might intimidate you, but it goes quickly, and someone will walk down the line taking orders to speed up the wait. Don't forget to ask for extra crack sauce! Cash only. 132 Wooster St., 513-292-3420, calexico.com/location/soho-cart/
New York's Best Food Carts: Carnegie John's
Although the name might denote New York deli fare or pizza, Carnegie John's serves killer halal food near its namesake music hall. Try the shish kebab on pita, lamb gyro, and ribeye sandwich. The chicken platter with unbeatable white sauce over yellow rice isn't too shabby either. The idiosyncratic ordering process (place your order, wait in line, and return to the cart and customize your meal) only adds to the magic. Cash only. W 56th St. at Seventh Ave. 
New York's Best Food Carts: Biryani Cart
Biryani Cart is a celebrated purveyor of Indian street food at the corner of West 46th Street and 6th Avenue in Midtown. Here, you'll enjoy the Indian version of a gyro: a kati roll filled with the meat and/or vegetables of your choice. Chicken tikka masala and vegetable biryani, like all dishes on the menu, are cooked to order, and when you order it spicy, they won't hold back! There are pretenders to the biyani throne lurking around this block, so make sure you have the right cart. They proudly display their 2008 Vendy award on the front.  W 46th St. & Sixth Ave., 212-555-1212, biryani-cart-new-york.sites.tablehero.com
New York's Best Food Carts: Young Xinjiang BBQ Cart
Looking for a snack in Lower Chinatown? Stop by Young Xinjiang BBQ for skewers galore. The cooks will grill you delectable eats like pork, lamb, and eggplant—plus delicacies like chicken gizzard and squid. Young Xinjiang keeps his cart limited to this one preparation of ingredients, but when it's done this deliciously, we can't complain. P.S.: buy 10 skewers, get 1 free! Forsyth & Division St.
New York's Best Food Carts: Royal Grill Halal Food
If you and a friend can't choose between Biryani Cart and Halal Guys, choose the best compromise imaginable: Royal Grill Halal Food. With both Indian and Mediterranean menu items, you can grab a vegetable kati roll while your friend can pick up a lamb gyro. The white and spicy sauces are not to be missed. Pro tip: be sure you choose Royal Grill and not one of its look-a-likes lining the same street. W 44th St. and 6th Ave., 347-724-0504, royalgrillhalalfood.com
New York's Best Food Carts: Mysttik Masaala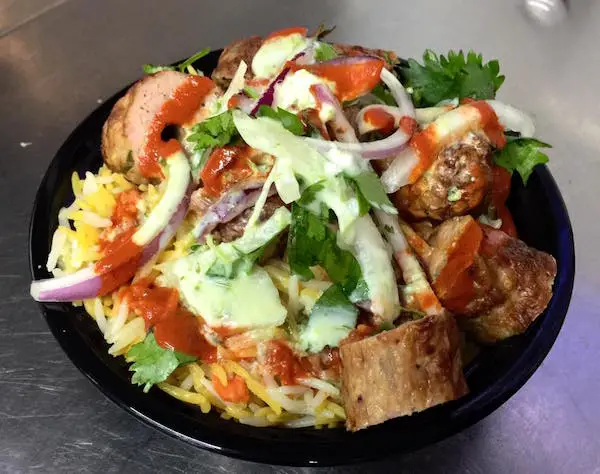 "Don't you worry… take home some curry!" reads the Mysttik Masaala cart, a favorite of those who love Indian food served with a smile. Vegans and vegetarians devour the veggie samosas with tamarind sauce and palak paneer. Meat lovers can get their fill with chicken vindaloo and kati rolls. The cart also sells small snacks like aloo tikkis: spicy, fried potato croquettes. This is another cart where the word "spicy" really means something, so consider yourself warned! 375 Park Ave., 917-306-3128
New York's Best Food Carts: Yogi Korean BBQ Tacos
Like the juggernaut food truck Korilla BBQ, Yogi BBQ gives Korean barbecue a twist. You can have bulgogi (sliced ribeye) on pita bread or a spicy pork taco, fusing the cuisines of different cultures on a wickedly delicious platter. Have a side of kimchi (pickled cabbage) and an extra slap of white sauce on your plate, and you'll be sorry this cart only stops in Midtown on Tuesdays and Fridays. Check @YogiBBQ for location updates; E. 49th St. & Third Ave.  
New York's Best Food Carts: Mama Jo's Breakfast Cart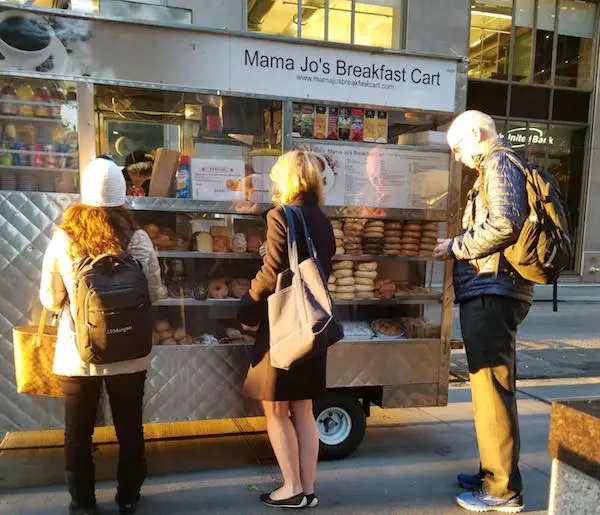 The coffee and bagel from a New York food cart are the stuff of legends, but once you've tried them, they've lost some luster. Enter Mama Jo's breakfast Cart, a stalwart of the Midtown morning crunch manned by a lovely Greek woman named Jo. The bacon egg and cheese is worth going out of your way. Better yet, with coffee and doughnut, the whole meal is $5! You can find other pastries like spanakopita and muffins there too. If you already know what you want, text Mama Jo's in advance, and she'll have it ready when you arrive. NW corner of E. 47th St. & Park Ave., 516-476-1360, mamajosbreakfastcart.com