Best Seasonal Coffees in NYC
December 1, 2017 - by Merrill Lee Girardeau
With the weather finally turning (sort of), it's time to replace your cold brew addiction with some hot espresso-based drinks for the colder months. You might like maple or Nutella or pumpkin spice—seems like there's nothing you can't add with coffee these days (although we couldn't find a bacon latte, which seems like an oversight). Take a look at this list of special coffee drinks to find your favorite new brew.
Honey Nut Latte at Grounded
If you watch Broad City, you saw Abbi hold her first art show at Grounded, which is definitely not an art gallery. But what it is is a homey, vibey coffee shop in the West Village with lots of plants and a wide selection of specialty coffees, teas, and smoothies. The Honey Nut Latte gives you raw local honey, espresso, hazelnut, milk, and cinnamon all in one cup. It's like your favorite cereal and your coffee combined! 28 Jane St., 212-647-0943, groundedcoffee.com
Nutella Latte at Yours Truly Coffee
With locations in Nolita and on the Upper East Side, Yours Truly is a small chain offering exquisite espresso drinks. There are a few Nutella lattes around town, but this? This is the one to try. Nolita: 8 Spring St., 917-388-2641. UES: 1592 3rd Ave., 646-678-4141, yourstrulycoffee.com
Lavender Latte at Irving Farm Coffee Roasters
A calming floral flavor usually associated with tea, lavender meets coffee in Irving Farm's inventive latte. With many locations throughout the city, you'll find a sophisticated yet homey cool at most Irving Farm coffee shops. If we had to choose, we'd point you to the roomy Upper West Side one for a long catch-up with a friend over your Lavender Latte. 224 W 79th St., 212-874-7979, irvingfarm.com
Turmeric Latte at Ground Support
Turmeric is the bright orange root with incredible anti-inflammatory properties; you'll find it in Indian cooking as well as lemon tonics and roasted root vegetables. Come to Soho's Ground Support for their tasty Turmeric Latte, and sit on one of the benches outside for your afternoon coffee break. 399 W. Broadway, 212-219-8733, groundsupportcafe.com
Italian Coffee at Caffe Palermo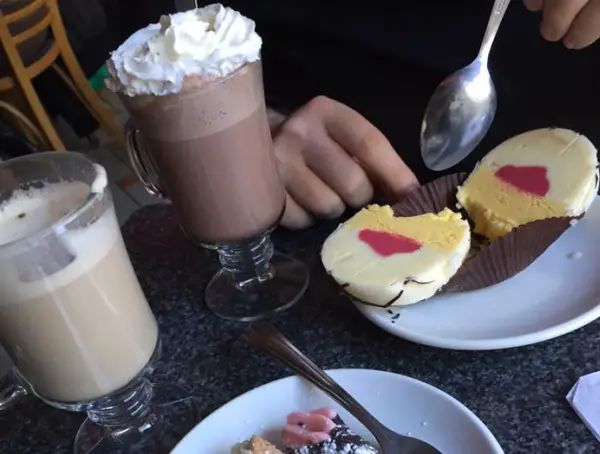 Up your caffeine game by ordering an Italian Coffee at Caffe Palermo, one of Little Italy's best bakeries. While you're there you might as well grab a cannoli too, because nothing rings in the fall like a sweet baked treat and some hot coffee to wash it all down. We know, you're drooling just thinking about it. So are we. 148 Mulberry St., 212-431-4205, caffepalermo.com
Maple Shay at Brooklyn Roasting Company

Maple syrup in November? Say no more. Brooklyn Roasting Company's Maple Shay mixes your favorite pancake topping with espresso and steamed milk. BRC has many shops in the city now, but we recommend the airplane hangar-ish one in DUMBO for the ultimate Brooklyn coffee experience. Multiple locations, brooklynroasting.com
Jack-O-Latte at City of Saints Coffee Roasters
If the name isn't enough to convince you, we'll go ahead and assure you that the Jack-O-Latte is the PSL upgrade we all need in our lives. This latte has pumpkin puree, pumpkin spice, and fresh ground cinnamon on top. Head to their East Village location and bask in the pumpkin glow. 79 E 10th St., 646- 590-1624, cityofsaintscoffee.com
Chocolate Dirty Chai at Cafe Jax
A local hangout for Upper East Side's laptop community (freelancers, students, and the occasional guy watching Transformers 2 on his phone), Cafe Jax has cozy chairs and couches on two levels, plus a large menu of food and drinks. Come grab a hot Dirty Chai, which is chai mix with steamed milk and espresso, with added chocolate for a complex, spiced delight! 318 E 84th St., 212-510-7084, cafejaxnyc.com
Dirty Kitty at Black Cat LES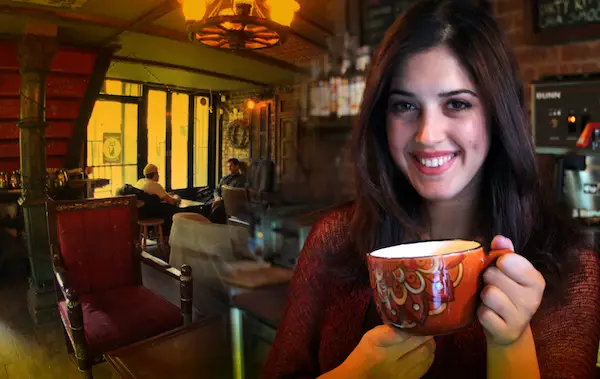 White chocolate, espresso, and whipped cream make the Dirty Kitty, Black Cat's signature coffee drink. This eclectic coffee shop hosts art shows, movie nights, and comedy and has a comfortable, anything-goes vibe. You'll want to sit and people-watch as you try not to get whipped cream all over your face. 172 Rivington St., 646-918-7711, blackcatles.com
Looking for Free Group Planning Services?
Get free advice on planning your group's trip to New York.
RESTAURANTS

Multi-concept restaurant offering modern Japanese cuisine, a...

THEATER

In a heartbeat, 38 planes with 6,579 passengers were strand...

SHOPPING

The world's largest source of cameras, camcorders, and more ...

SIGHTSEEING

SPYSCAPE is the world's preeminent spy museum and experience...