It's here! The Grand Central Holiday Fair is in full swing, selling gifts and goodies for the holidays at the world's most famous transit hub. After a competitive application process, 40 vendors were selected to participate in this popular indoor market. Read below for a roundup of great booths you'll find at Grand Central this holiday season.
Vendors at Grand Central Holiday Fair NYC: New York Makers
New York Makers is just like it sounds: all the products sold come from artisans in New York state. Products at this booth range from chocolate honey whiskey truffles to handblown glass ornaments. There are prints and t-shirts picturing the state of New York and a candle that smells like cashmere. Check out this diverse collection of creative items, from edible to crafty to decorative. Booth 19, newyorkmakers.com
Vendors at Grand Central Holiday Fair NYC: Selen
Among the many jewelry vendors at Grand Central this year, Selen stands out for its unconventional, beautiful design. The sculptural pieces among Selen's collections include mixed-metal lariats, pieces embedded with geodes, pewter earrings, bird's nest rings, and cufflinks. All pieces are made with allergen-free pewter. Booth 32, selendesign.com
Vendors at Grand Central Holiday Fair NYC: Lara B. Designs
Stylish handbags and wallets fill the booth at Lara B. Designs. The adorable fringed totes, silver sparkle card cases, and tassel keychains are hard to choose from. Trendy and classic at once, these supple Italian leather goods, all made in America, make a winning range of products from Lara herself. Booth 12, larabdesigns.com
Vendors at Grand Central Holiday Fair NYC: Verrier Handcrafted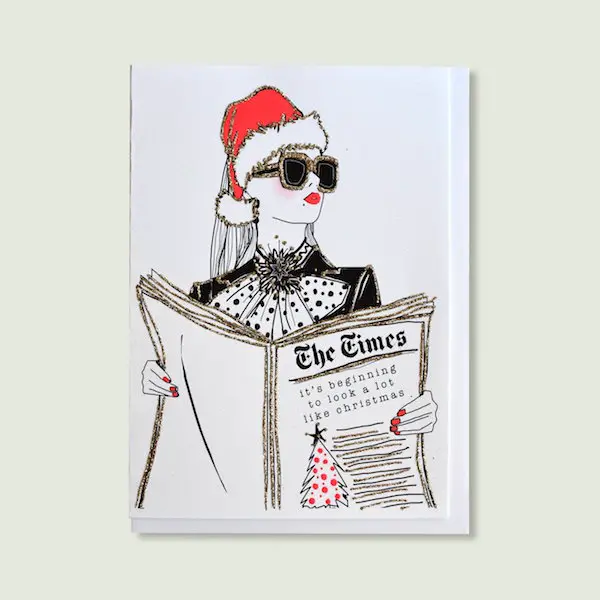 The design objects at Verrier Handcrafted lead with the fashionable and the feminine, all in bright color. This New York City studio creates playful line drawings that become greeting cards, prints, t-shirts, and bags. Subjects range from travel to weddings to flowers to holiday imagery. Booth 16, verrier-handcrafted.com
Vendors at Grand Central Holiday Fair NYC: Malaya Organics
Great skin takes a lot of work, especially in winter. Give the gift of organic, ethically sourced skincare products from Malaya. The whole-plant extracts and oils create hair oils, moisturizers, scrubs, and soaps that clean, repair, and rejuvenate. There are also lip balms and candles infused with essential oils. Bonus: each and every Malaya product smells fantastic! Booth 17, malayaorganics.com
Vendors at Grand Central Holiday Fair NYC: Craftspring
Lovely felt crafts from around the world are sold in the Craftspring booth. This Brooklyn studio sources goods made by female artisans using traditional felting and produced according to fair-trade practices. Ornaments range from cream-colored angels to pandas to a yellow taxi. Craftspring also makes dolls, masks, and toys for kids: all soft and all adorable. Booth 8, craftspring.com
Vendors at Grand Central Holiday Fair NYC: Carina Hildebrandt
Peruvian baby alpaca knits make the winter cozy, comfortable, and cute. Carina Hildebrandt's studio in Peru creates coats, dresses, sweaters, and winter accessories in a range of jewel tones and neutrals. Shop her booth at Grand Central for tasteful, warm basics made made with sustainable and ethical practices. Booth 33, carinahildebrandt.com
Vendors at Grand Central Holiday Fair NYC: Hazel Village
If your child wants a new fuzzy friend for Christmas, get them a plush toy from Hazel Village. The foxes, squirrels, and toads they make are both beautiful and huggable. Hazel Village also sells apparel for children, like candy-cane onesies, jackets, jumpers, and dresses. Booth 21, hazelvillage.com
Vendors at Grand Central Holiday Fair NYC: Victoria Bekerman Studio

Unlike Selen's designs, the jewelry at Victoria Bekerman is minimalistic and delicate. You can buy a quill necklace or simple bar posts from this booth at a reasonable price point. Made in New York, the jewelry is designed by the Argentinian-born Bekerman with materials like sterling silver, 14K gold fill, semi-precious stones, and vintage found objects. They make great gifts for others or treats for yourself. Booth 2, hazelvillage.com
Vendors at Grand Central Holiday Fair NYC:
America wears a lot of cashmere, and the folks at 'e ko logic have figured out what to do with discarded items. This company up-cycles cashmere to create new cardigans, hats, and pullovers. The items are perfect for men and women and are a sustainable way to face the cold weather. Booth 28, ekologic.com
The Grand Central Holiday Market runs until December 24. Visit the market at 89 E. 42nd Street or explore online at grandcentralterminal.com.