Food and Art Come Together at Bevy in Midtown
May 1, 2017 - by Chelsey Grasso
Bevy is one of NYC's freshest dining destinations, bringing New American creativity to a sophisticated midtown space. The restaurant is helmed by Chef de Cuisine Chad Brauze, whose intriguing background includes stints with famed chefs Thomas Keller and Daniel Boulud, and degrees from both the Culinary Institute of America and Columbia University (Math and Science). Brauze's dishes at Bevy are both elegant and rustic, set into a menu focused on grilled fish and meats. The results are as beautiful as the restaurant's surroundings.
The Food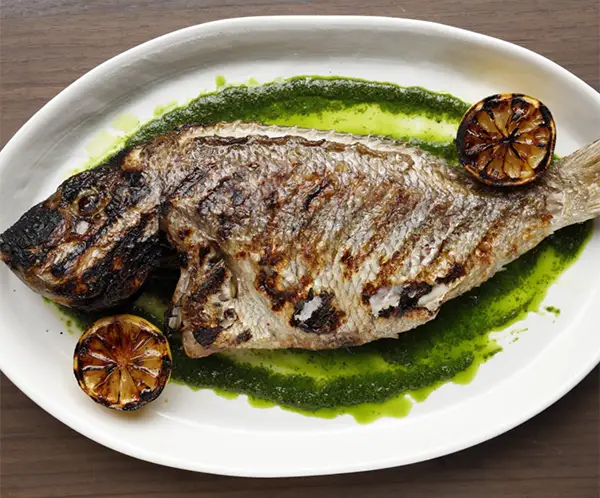 Bevy's menu is arranged for both individual servings and larger plates. The shared dishes include a whole grilled market fish with chermoula, a memorable Moroccan herb sauce; a 40-ounce bone-in bison ribeye; and the house's Green Circle Chicken, stuffed with bourbon and rye berries. As for the individual entrees, the skirt steak chimichurri, smoked mangalitsa pork collar, and rib cap by the half pound follow in close suit, offering fresh grilled, roasted, and seared flavorings that demand savoring.
Bevy isn't just about the entrees: from the creamy lobster bisque made with tarragon cream, onion brulée, and wild sturgeon caviar to the Long Island Oyster on Ice served with fennel sausage, grilled bread, and mignonette pearls, you'll likely want to go tapas style, trying as many dishes as possible.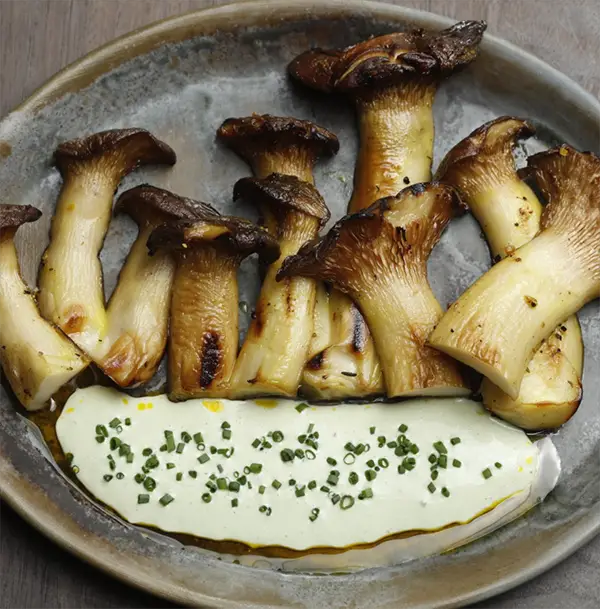 Even Bevy's "Bar Bites" menu includes mouth-watering items, such as the housemade pull-apart bread made with caramelized onion and Boursin cheese, or the crispy candied bacon coated with cayenne and cinnamon.
Completing the impressive menu are a handful of vegetable dishes that are far from boring. Paprika-dusted steak fries with garlic aioli, fava beans with spring onion soubise, and trumpet royale Mushroom dressed with vadouvan spices and minted labneh are just a handful of the seasonal offerings.
The Space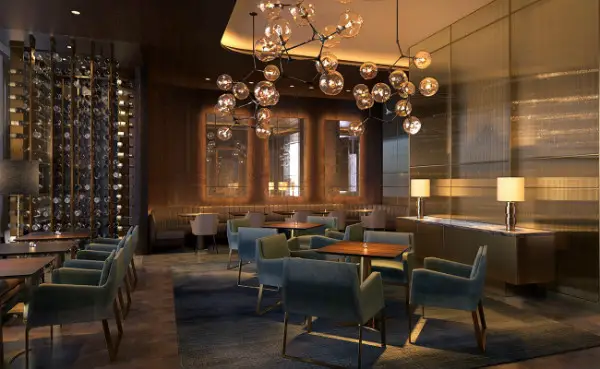 Two intimate dining rooms are finished in warm, wood-paneled walls, ombre rugs, and antique backlit mirrors. The restaurant also hosts a serious piece of art, Swarm Study / XI, a light sculpture that responds to daily rhythms in an organic way. The overall design creates a quintessential New York experience: bright lights, big city.

The Drinks

Along with a large selection of champagnes, wines, ciders, beers, and sakes, Bevy also serves its own eclectic mix of specialty cocktails that are signature to the establishment. Petal and Leaf, made with vodka, grapefruit liqueur, lavender syrup, lime juice, and rose water is always a crowd pleaser, as is Intertwined, a tequila, Amaro, banana liqueur, cinnamon syrup, lemon juice, bay leaf, and tiki bitters concoction that will have your taste buds thanking you.
The Dessert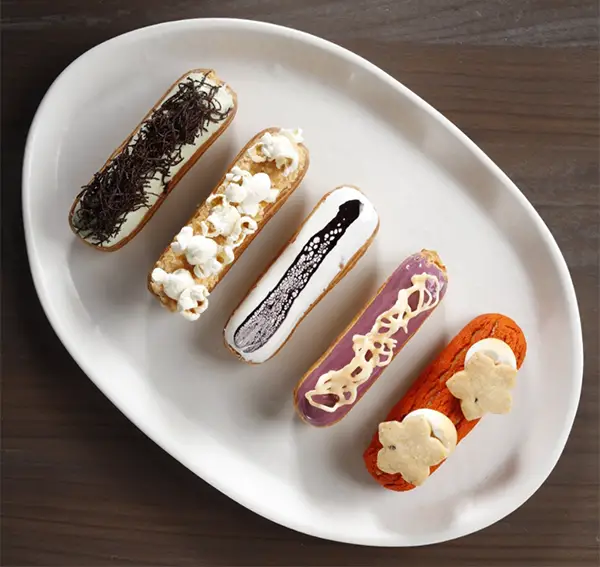 No meal at Bevy is complete without a sampling of its beloved dessert menu. The eclairs are served on a plate of five, allowing patrons to sample an eclectic array of flavors (carrot cake, pineapple upside down, birthday cake, frozen chocolate, and "The King"), while farmstead cheeses are also available to order, including triple cream cow and goat chevre. Cheesecake served with mesquite linzer, lemon pudding, and espresso ice cream is another popular dessert item, along with the apple pie, which comes complete with caramel and vanilla bean ice cream. At Bevy, they think of everything.
Inside the Park Hyatt New York, 153 W. 57th St., 212-897-2188, bevynyc.com
Looking for Free Group Planning Services?
Get free advice on planning your group's trip to New York.
RESTAURANTS

Fogo de Chão's first churrascaria (Brazilian steakhouse) in ...

THEATER

Gaston Leroux's famous period thriller is now one of Broadwa...

SHOPPING

Find the right gear for your workout. ...

SIGHTSEEING

Opened to the public in 1913 thanks to the ingenuity and amb...