The new exhibition Beyond the Streets, opening June 21st in Williamsburg, Brooklyn, celebrates the artwork of more than 150 graffiti and street artists from around the world. The past to present lineup includes LADY PINK, TATS CRU, SJK 171, Shepard Fairey (who is celebrating his 30th anniversary with Facing the Giant: 3 Decades of Dissent), extensive ephemera from the Beastie Boys, and much more.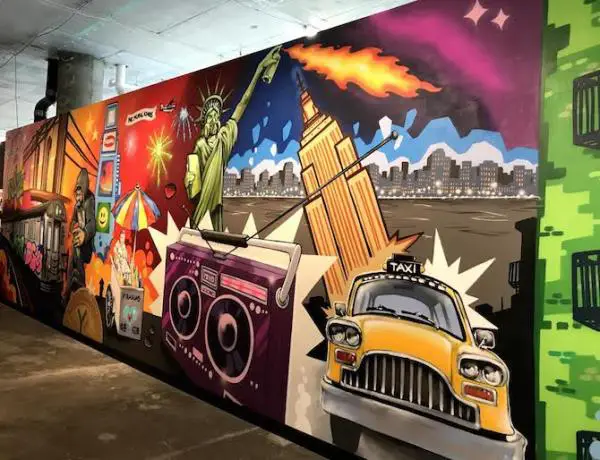 This TATS CRU mural features works of Bronx artists Bio, BG183, and Nicer.  Photo: Linda Sheridan.
Despite so many artists represented in this exhibition, it never feels crowded. The sprawling 100,000 square-foot, two-floor space at 25 Kent Ave. takes up a full city block. Its predecessor show, Art in the Streets, which had a successful run last year at MoCA Los Angeles, has been changed 80% for New York, to reflect more local artists, said curator Roger Gastman, a graffiti historian. (Gastman also co-produced the Oscar-nominated Banksy doc, Exit Through the Gift Shop.)
Steve James Kesoglides, aka SJK 171 (the number was his old address in Washington Heights) , started tagging subways as a youngster in the late '60s, at 12-13 years old. "We were the first to start adding our name," Kesoglides explained. The bold move to sign their graffiti set a trend across the art form, inspiring other artists to own their art, at a time when graffiti was perceived as a form of vandalism.
SJK 171 (on the right, with fellow UGA artist JEC), was the first to tag his graffiti, and was also the first to use "squiggly lines" that influenced future artists, such as Keith Haring.  Second photo taken on a Broadway #1 train, in the Ghost Yard. First photo: Linda Sheridan; second photo: courtesy SJK 171.
SJK 171 also started a "squiggly lines" style that later inspired Keith Haring's renowned silhouette designs. By 1972, Kesoglides, a student at the High School of Art and Design, became a founding member of United Graffiti Artists. In 1973, their work was featured in the backdrop design for the Joffrey Ballet's production of Deuce Coupe.  "I had my first show, the first show on graffiti art, at the Razor Gallery," he recalled, when he still just a teenager. His work has been in numerous museum shows, and he has pieces in the permanent collection at the Museum of the City of New York. His work was recently seen in the documentary Wall Writers, created by Beyond the Street's curator, Roger Gastman.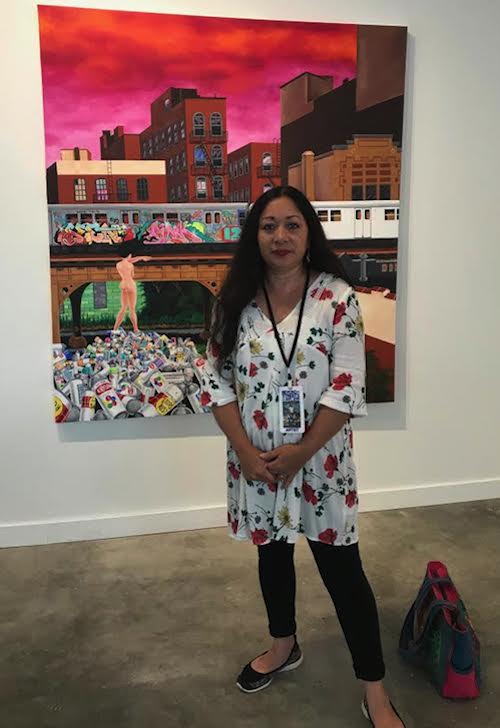 LADY PINK with her piece, The Death of Graffiti, at the exhibit Beyond the Streets. Photo: Linda Sheridan.
Petite in stature but not in personality, LADY PINK (Sandra Fabara), moved to the U.S. from Ecuador when she was seven, initially landing in Brooklyn and later moving to Astoria. Encouraged by a middle school art teacher, Fabara continued on to the High School of Art and Design. A friend and fellow graffiti artist at school, TC5, brought her with him out one night to try it out, and she was hooked. "It was scary, being a girl, only 90 pounds. His friends took me in." But her talent gave the boys a run for their money, tagging prolific amounts of acrylic art between 1979 and 1985. In 1982, LADY PINK starred in the film Wild Style, which raised her to cult status. She had her first solo show at age 21, at the Moore College of Art. LADY PINK's solemn work, The Death of Graffiti, shows one subway car filled with colorful graffiti, followed by a ghostly white subway car—it's a part of the permanent collection at the Museum of the City of New York. She's working on commissions (including one for Lexus) and mentors students at the Frank Sinatra School of the Arts. Along with 23 students, she recently worked on a mural over by Kaufman Astoria Studios in Queens. "I don't want them to squander their art talent. If I can inspire them, my job is done."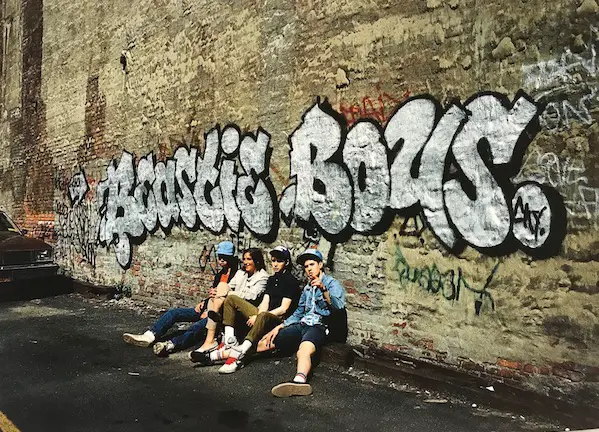 A photo of the Beastie Boys, taken by Josh Cheuse.
A large homage to the legendary NYC hip-hop trio the Beastie Boys is on display, including handwritten song lyrics, hotel letters (one from the Mondrian Hotel mentions "there are items that are falling out of your window"), boom boxes, and sneakers, in addition to a variety of photos taken by Cey Adams (a native New Yorker himself) and Glen E. Friedman.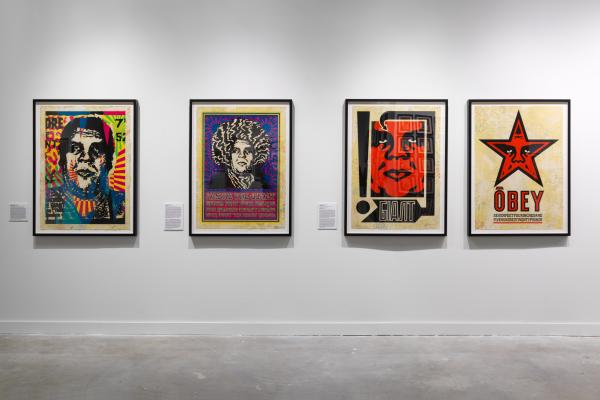 Pieces from Shepard Fairey's Obey Giant series, part of his 30th anniversary collection. Photo: Dan Bradica, courtesy of Beyond the Streets.
In 1989, Shepard Fairey, then a student at the Rhode Island School of Design, created an ominous looking sticker that said "Andre Has a Posse," in reference to wrestler Andre the Giant. Initially a lark, the piece created a media following that took on serious momentum. At the exhibit, Fairey celebrates the sticker's 30th anniversary with Facing the Giant: 3 Decades of Dissent. His exhibit-within-an-exhibit premieres some 2+ dozen new pieces. (It was Fairey who in 2008 created the iconic "Hope" poster used during Barack Obama's first presidential campaign.) Today, the bold street artist continues to use his artistic talents to champion causes and persons that seek to fight oppression with positive change. Many of his pieces feature empowered women, as in the 2017 Defend Dignity piece. 
An extensive gift shop on the second floor finds something for everyone, including coffee table books, towels, sweatshirts, mini Krylon can keychains, posters, and much, much more. 
Beyond the Streets runs through August 30. Tickets are $25; kids 6-11, $12, kids under five are free. For more information, visit beyondthestreets.com.
---
Want free advice on what to do and see in New York? Join our Facebook group Everything to Do NYC, a place for people to ask questions and get tips on how to make the most of the city.