Always modestly dressed in a blue sparrow jacket, whizzing along this city's streets with a camera in hand, veteran New York Times photographer John "Bill" Cunningham preferred the attention on his subjects, carefully chosen for his weekly "On the Street" column. In the new exhibit at the New-York Historical Society, Celebrating Bill Cunningham, he gets his time in the spotlight. 
Bill Cunningham photographing Tziporah Salamon. Photo by Antonio Alvarez.


The museum recently acquired of some of Cunningham's objects, including his bicycle, his iconic blue jacket, his first Olympus camera, and his Nikon camera; there's also the "Bill Cunningham Corner" street sign that was temporarily placed on Fifth Avenue and 57th Street, the photographer's preferred spot.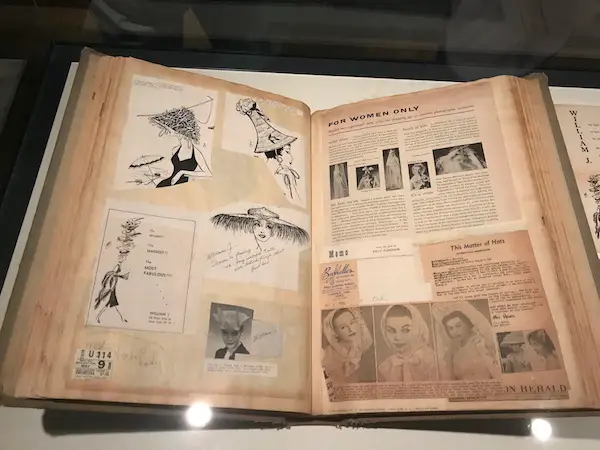 One of Bill Cunningham's scrapbooks on display. (Photo Linda Sheridan.)
That's in additional to Cunningham's personal correspondence, ephemera, two brimming scrapbooks of ideas, and photographs that reflect his life and work. (Cunningham kept at it fastidiously 'til the ripe old age of 87.)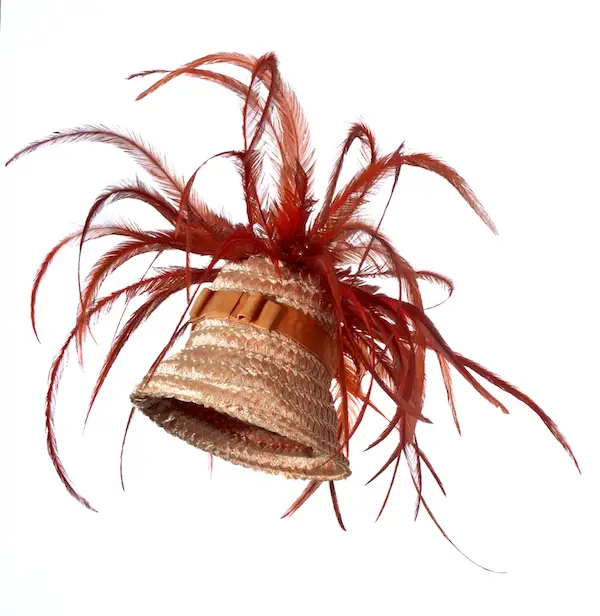 One of Cunningham's beach hats, designed under his label, Cunningham J.
Cunningham didn't, however, start out taking photos. When he first came to New York City in 1948 from Boston (after a brief stint at Harvard on scholarship), he worked at department store Bonwit Teller and the society atelier Chez Ninon. He'd been drafted during the Korean War, where he was stationed in France and got a taste for French fashion. He eventually set up his own millenery studio, where he made beautifully ornate ladies' hats, decorated with feathers, elegant fabrics, and bows. But as his interest in haute women's fashion grew, the time he dedicated to designing hats waned, eventually leading to Cunningham closing shop in 1961.  
By the early 1960s, he was working as a journalist for publications like Women's Wear Daily, the Chicago Tribune, the Los Angeles Times, the San Francisco Chronicle, Vogue, and Harper's Bazaar. After expressing an interest in wanting to take photos, photographer David Montgomery gave Cunningham an Olympus camera and told him to think of it as his notebook, to record observations. This gave birth to Cunningham's eight-year-long Façades project, spanning 1968-1975, which includes photos of friend, muse, and fellow photographer Editta Sherman. The Times ran Cunningham's first column of street fashion in 1978, and it would become the prototype for "On the Street with Bill Cunningham," which ran until the photographer's death in 2016.
Cunningham was the subject of a documentary Bill Cunningham New York. In the film, he says, "Fashion is the armor to survive everyday life." He also left behind a handwritten memoir, which will be published by Penguin Press under the title Fashion Climbing in September 2018. 
Celebrating Bill Cunningham runs through September 9. For more information, visit nyhistory.org.