Discovery Times Square announced that it would be the first permanent home for BODY WORLDS, the world-renowned, international traveling exhibitions of aesthetic anatomy. BODY WORLDS: PULSE, the multimedia experience about the human body and the challenges it faces navigating the 21st century, will be a star attraction in the only museum environment in the Theater District.
Save 20% on tickets to BODY WORLDS: PULSE with code CG20BWP.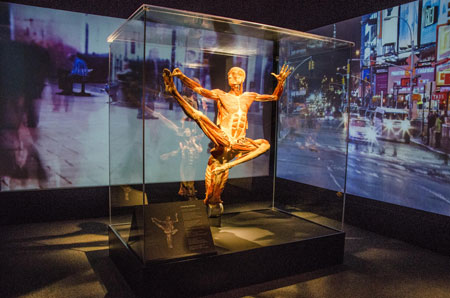 BODY WORLDS reveals the splendor, form, and function of the human body through Plastination, the science of specimen preservation invented by German anatomist, Dr. Gunther von Hagens. The exhibitions, seen by more than 37 million people worldwide since 1995, have opened to critical acclaim in major global cities including London, Milan, Vienna, and Berlin, but have not, until now, had a permanent home.
"Establishing the touring museum exhibition in a permanent home became important to me after I was diagnosed with Parkinson's disease," said Dr. von Hagens. "I am pleased that the exhibition will be in Times Square, one of the great magnets for culture seekers in the world," he said.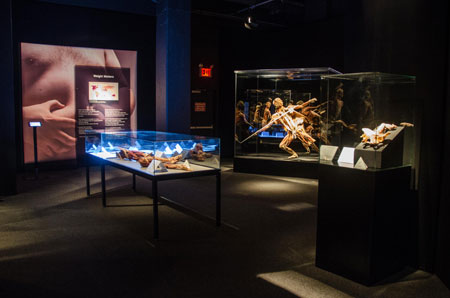 To commemorate the new home of BODY WORLDS at Discovery Times Square, Dr. von Hagens unveiled his ambitious anatomical work, The Rearing Horse with Rider, in Times Square for a one-day only appearance (July 24, 2013). The 12-foot-high plastination endeavor was on free, public display for the first time ever in the exhibit's history.
"The Horse with Rider has an incredible back story," said James Sanna, President & CEO of Discovery Times Square. "We are thrilled that this iconic scientific work will be on display in the exhibition," he said.
Evocative of Leonardo da Vinci's unfinished bronze sculpture of a horse and rider, Dr. von Hagens devoted three years to creating the anatomical composition. The donor straddling von Hagens' plastinated horse was a respected journalist, who passed away from cancer, and who frequently reviewed the BODY WORLDS exhibits during their European tours. "He was an imposing figure, and as his health deteriorated, we began to discuss how he wished to be presented," explained Dr. von Hagens. "I felt deeply obliged to honor him as triumphant."
For more information on the exhibit, visit www.discoverytsx.com/exhibitions/bodyworlds.