Brooklyn Backyards: 8 Parks to Visit in Brooklyn
September 21, 2018 - by Merrill Lee Girardeau
Brooklyn might move at a slower pace than Manhattan, but it's still New York City. It's crowded and busy! Sometimes you need a release, whether it's a game of bocce or a nap under a tree. Below are the best green spaces in Brooklyn where you'll find jaw-dropping views of the skyline, community activities, sports, and nature.
8 Brooklyn Parks to Visit in NYC: Prospect Park
Photo: Facebook
Brooklyn's answer to Central Park, the massive, lush Prospect Park was also designed by the same men: Calvert Vaux and Frederick Law Olmsted. These 585 acres of green space are packed to the gills with walkers, runners, bikers, horses, dogs, birds, zoo animals, and—when the weeds need a trim—goats! There is a 3.35-mile loop around the park for bikes and pedestrians, in addition to large lawns, wooded areas, and the Prospect Park Lake. Here you can take out a rowboat in the summer. That's also the season for free yoga classes and free live music through the BRIC Celebrate Brooklyn! Festival at the Prospect Park Bandshell. Interested in horseback riding? Giddy up at Kensington Stables inside the park. Main entrance at Grand Army Plaza, 718-965-8951, prospectpark.org
8 Brooklyn Parks to Visit in NYC: Brooklyn Bridge Park
Photo: BBP
Perhaps Brooklyn's most popular park, Brooklyn Bridge Park stretches along the waterfront of the East River underneath the Brooklyn and Manhattan Bridges. Walk underneath these incredible structures and look out at the skyline of Manhattan's Financial District, including One World Trade Center and the Woolworth Building. The site of many wedding photo shoots, this place is among the most photogenic sites in the city. One fun feature is Jane's Carousel, an antique carousel from 1922 that still operates for the enjoyment of kids and adults alike. The park is composed of a series of large piers, which are green spaces perfect for rest or recreation like soccer and basketball in sporting areas. Free events at the park include movie screenings, kayaking, and book readings. 334 Furman St., 718-222-9939, brooklynbridgepark.org
8 Brooklyn Parks to Visit in NYC: Domino Park
Another waterfront wonder, Domino Park is the newest addition to Williamsburg, and it's well worth a visit across the river! With a raised walkway made of the former Domino Sugar factory and state-of-the-art playground, the park makes excellent use of its location across from the Manhattan skyline. Tacos and drinks are available at the open-air Tacocina, and sleek stadium-style benches and dog runs only up the wow factor. 15 River St., 212-484-2700, dominopark.com
8 Brooklyn Parks to Visit in NYC: Sunset Park
Sunset Park is the highest point in Brooklyn, sloping gradually downward like stadium seating for sunset views. You can see the East River, Hudson River, the Statue of Liberty, and lower Manhattan spread out like a painter's canvas. There are always plenty of local families enjoying food and fun, especially in the warm months. Pro tip: before sunset, grab some tacos al pastor at nearby Tacos El Bronco, bring them to the park, and enjoy the sun setting over the city with some of the area's best food. From 41st to 44th St. between 5th and 7th Aves., nycgovparks.org
8 Brooklyn Parks to Visit in NYC: WNYC Transmitter Park
This park is the former site of radio transmission towers for local NPR affiliate WNYC, hence the name. Located in Greenpoint, Brooklyn, this waterfront space has lush green lawns and a pedestrian pier, perfect for skyline views. When you walk in, you can't miss FAILE's memorable mural of a daydreaming girl in black and white. And if you really want to commit to the Brooklyn ethos, take a bide ride to Transmitter Park. West St. between Kent St. and Greenpoint Ave., nycgovparks.org
8 Brooklyn Parks to Visit in NYC: Fort Greene Park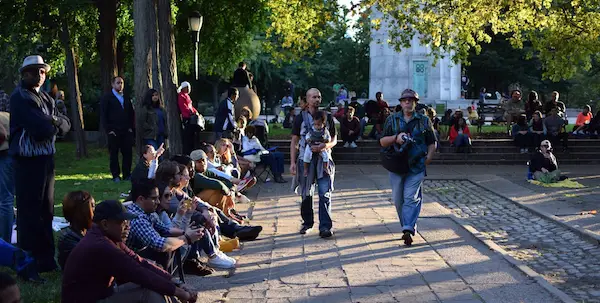 Find peace on the hills of Fort Greene Park, located in the neighborhood after which it's named. Fort Greene is named for General Nathanael Greene of the Revolutionary War and was the former site of a strategic fort in that war and the War of 1812. Frederick Law Olmsted and Calvert Vaux also designed Fort Greene Park. Fort Greene Park is located up a steep hill and is dotted with tennis courts, picnickers, and a few nappers. The pleasant neighborhood feel of this park is a welcome respite from the bustling business district of nearby downtown Brooklyn. Most Saturdays, you'll find the Artisan Market along the border of the park, where local potters, jewelers, and artists sell their wares. Myrtle Ave., DeKalb Ave. between Washington Park & St. Edward's St., 718-722-3218, nycgovparks.org
8 Brooklyn Parks to Visit in NYC: Green-Wood Cemetery
In South Slope, Brooklyn, is one of the loveliest (and least creepy) cemeteries you'll find anywhere. An idiosyncratic pick, Green-Wood nonetheless merits a mention for its undeniable beauty, with the intricate Gothic archway welcoming visitors at the main entrance. Green-Wood was founded in 1838 and soon after became a major tourist destination. You can see the graves of many a famous New Yorker, from nineteenth-century journalist Horace Greeley to composer Leonard Bernstein to artist Jean-Michel Basquiat. Green-Wood hosts regular walking and trolley tours, as well as live music events. Main entrance at Fifth Avenue & 25th St., 718-768-7300, green-wood.com
8 Brooklyn Parks to Visit in NYC: Marine Park
Marine Park beats Prospect as the biggest natural space in the borough. It's 530 acres of wetlands, full of beautiful wildlife and greenery on the Salt Marsh Nature Trail and the coastline of Brooklyn itself. Play bocce, cricket, and golf, or take a fitness or painting class at Carmine Carro Community Center. Shore Pkwy, Ave. U, Filmore Ave. between Brigham St., Gerritsen Ave., & Flatbush Ave., nycgovparks.org
Looking for Free Group Planning Services?
Get free advice on planning your group's trip to New York.
RESTAURANTS

Multi-concept restaurant offering modern Japanese cuisine, a...

THEATER

Gaston Leroux's famous period thriller is now one of Broadwa...

SHOPPING

The world's largest source of cameras, camcorders, and more ...

SIGHTSEEING

This renovated museum complex includes the 900-foot-long air...