Edge, the Western Hemisphere's highest outdoor observation deck, has an opening date at last. March 11, 2020, the Hudson Yards overlook will open to the public, and tickets are out now!
Edge is an incredible, triangular deck extending from the skyscraper at 30 Hudson Yards. You'll stand 100 floors above the ground and see miles and miles in every direction. The deck offers 360-degree views with jaw-dropping glimpses of the Empire State Building, One World Trade Center, the Hudson River, and much more.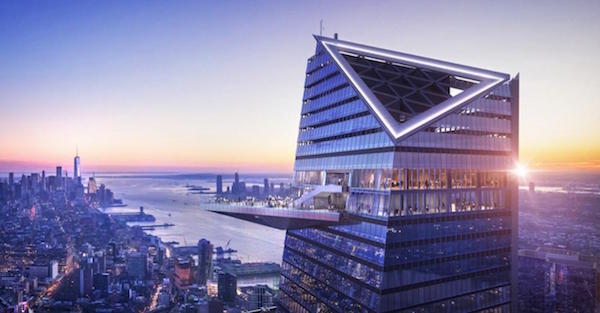 Edge will also feature a glass floor with views of Hudson Yards and the High Line far below your feet (here's a preview from Instagram, @edgenyc). At the tip of the observation deck, the glass walls meet 80 feet from the building's face at The Eastern Point; there, suspended above New York City, you can take in the city with unobstructed views. The outdoor stairs at the observation deck, providing other unique vistas, also offers a place to sit for visitors.
The experience will begin with an all-new immersive experience, followed by a thrilling 60-second elevator ride up to the 1,131-foot-high observation deck. At the conclusion of your visit, you'll receive a free digital photo of yourself and can take a stroll through the gift shop at The Shops & Restaurants at Hudson Yards.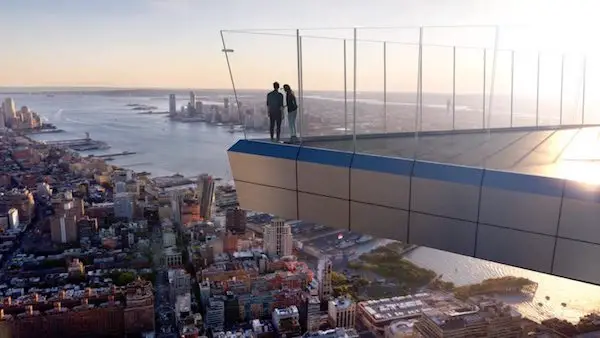 Your ticket to Edge gives you an unlimited amount of time to take in the view, snap photos, and experience the indoor/outdoor champagne bar in the sky. The London restaurant group rhubarb will run not only the champagne bar but also Peak, a restaurant, lounge, and event venue on the 101st floor. To experience rhubarb's work before March, visit the Asian fusion restaurant Wild Ink, located inside The Shops & Restaurants at Hudson Yards.
People of all ages are invited to this one-of-a-kind New York experience. There are two types of tickets: General Admission and Flex Pass. General Admission tickets require visitors to arrive at a certain date and time, while Flex Passes offer entry anytime on the date of your choice. Groups are welcome to view the city at Edge as well, but be sure to contact Edge if you're coming with 15 or more.
Edge will open March 11, 2020. Visitors can experience Edge 7 days a week, all year long, from 8am through midnight.
---
Enter Edge at Level 4 inside The Shops & Restaurants at Hudson Yards. Call 332-204-8500 or visit edgenyc.com for tickets and more information.