Watch the World Flow by at Cafe Bari Soho
May 3, 2013 - by Richard Jay Scholem
The people of Soho have been flocking to Cafe Bari Soho for two decades. Yet this popular place—with its prime location on the corner of Broadway and Spring Street—is not a fancy, stunning spot. Its bare tables, big windows, terra cotta floor, high ceilings and spiral staircase to a second dining room are not the reason the place is often packed on both levels for lunch and on Saturdays. It's their Mediterranean food tilting toward Italy that pulls them in.
The slim, young women who provide sweet service also add to the restaurant's appeal. They can be seen navigating those twisting stairs, skillfully carrying multiple plates of Mediterranean platters, pastas, pizzas, crispy artichokes and chicken Milanese from the second-floor kitchen and pizza oven to the downstairs dining room. Katie Bruestle, Cafe Bari Soho's very kind, attentive manager, adds a welcoming warmth to the proceedings.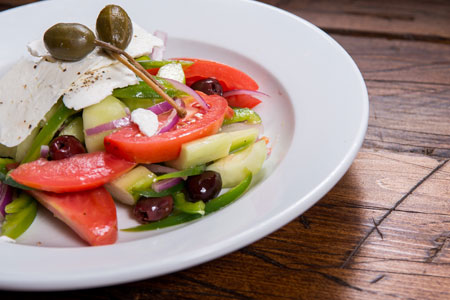 It's difficult to go wrong when ordering the starters. We selected four and they were all winners. The turret-shaped hearts of palm topped with a layer of avocado harbored bits and pieces of the palm hearts and cherry tomatoes, white onions with mint and olive oil dressing, all of which was given an interesting little kick by some jalapeños. The substantial Greek salad featured the ripest, reddest of August-like tomatoes (we visited in mid-March). The sizable hill of eggplant Napolitana, with its delicately breaded eggplant, super fresh mozzarella and tomatoes, delivered an explosion of flavor while the rarely seen crispy artichokes arrived with a basil-mayonnaise dip.
A dip, in this case a lemon-mayo concoction, escorted the mildly tasty fish tempura (buttered Tilapia fingers). The French fries included with this dish, and many others, are among the city's best. They are crisp, lightly salted…perfect.
The two most expensive entrees at Cafe Bari Soho are the salmon steak and steak frites. The first, a fresh, grilled Atlantic salmon, comes perched over grilled vegetables and rice with a touch of white wine lemon sauce. The grilled hanger steak and its mushroom red wine reduction are full of admirable flavor but remember that this cut of beef is most often chewy rather than buttery. A side of smooth mashed potatoes and baby spinach accompanied the meat.
A sprawling, plate-filling chicken Milanese featured a crunchy surfaced, pounded breast, grilled to perfection, with garlic tomato bruschetta and those great fries.
Desserts went three for four. Only the crème brûlée didn't reach the high standard achieved by the large, fluffy square of tiramisu, the dense, hearty New York style cheesecake, and the intense, decadent chocolate crunch cake.
529 Broadway (Spring St.), 212-431-4350; www.cafebari.com; www.facebook.com/cafe.bari.soho
Looking for Free Group Planning Services?
Get free advice on planning your group's trip to New York.
RESTAURANTS

Burke's dual-concept restaurant opened in 2005 and spans the...

THEATER

Beloved diva Bette Midler and Tony winner David Hyde Pierce ...

SHOPPING

Find the right gear for your workout. ...

SIGHTSEEING

Sweeping, unobstructed, open-air views of NYC from the top o...