Where Can I Get the Best Easter Candy in NYC?
March 19, 2018 - by Regina Molaro
The Easter bunny will be hopping into town on Sunday, April 1st. Manhattan boasts a variety of candy and chocolate shops to satisfy a range of tastes and budgets. Offerings range from iconic American brands such as Hershey's and M&Ms to specialty labels such as Li-Lac Chocolates and MarieBelle—a colorful, artistic collection. Stock up on the goodies necessary to craft the ideal Easter basket or treat yourself to these delicacies.
Manhattan's festive annual Easter Parade and Easter Bonnet Festival will be held on Fifth Avenue on Easter Sunday. It kicks off at 10am at 49th Street by St. Patrick's Cathedral. For more information, visit nycgo.com/events/easter-parade-and-easter-bonnet-festival1.
MarieBelle
Chocolatier Maribel Lieberman believes that life is about the leisure and happiness we find in food, art, and beauty. Indulge in her sweet offerings of ganache, chocolate bars, truffles, hot chocolate, and beyond at MarieBelle New York. Items are packaged to perfection, so they make ideal gifts. The collection includes a colorful Impressionist Box—a tribute to the Impressionist painters—and a Japanese matcha truffle box. For Easter, they offer their purple dark chocolate—an oversized egg filled with three mini eggs in milk, dark, and white chocolate. Yum! 484 Broome St., 212-925-6999, ext 1., mariebelle.com
Economy Candy
Since 1937, Economy Candy has been enticing candy and chocolate aficionados with its extensive menu of sweet treats. Beyond its chocolates, the shop offers candy, nuts, and dried fruit. For Easter, it offers milk chocolate bunnies, Cadbury Crème Screme eggs, Hershey's eggs, colorful jelly beans, and beyond. 108 Rivington St., 212-254-1531, economycandy.com
Hershey's Chocolate World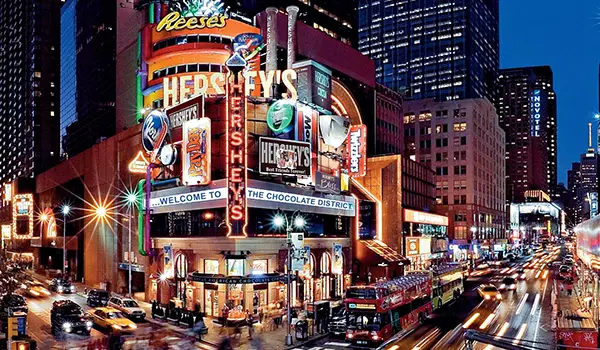 In the heart of Times Square is Hershey's Chocolate World, which recently relocated to more spacious and impressive locale. New experiences at the shop include the Amazing Candy Machine, which invites guests to mix and match up to 12 of their favorite Hershey treats. Guests can also customize their own wrappers. Made-to-order S'mores are also among the offerings. They're served from an authentic camper. A new in-store bakery—in partnership with The Culinary Institute of America—is now serving warm, freshly baked goods and beverages, as well as a lineup of new, Hershey-inspired treats. 212-581-9100, 20 Times Square building (701 Seventh Ave. on 47th St.), hersheys.com
IT'SUGAR
Trendy candy shop IT'SUGAR boasts several New York City locations. Always buzzing, the colorful, vibrant shop comes alive with pulsating music and a kaleidoscope of candy and novelty items. It offers fun items such as its bunny poop candy, fruity gummy bunnies, and a one pound bunny gummy, as well as a vast selection of chocolate and other candies. itsugar.com
Li-Lac Chocolates
This Easter, Li-Lac Chocolates will whip up thousands of pounds of gourmet chocolate for delivery to its four Manhattan locations. It's signature Easter Eggs are made from the original Li-Lac recipe, which was created in 1923. The fillings include butter cream, marzipan, and peanut butter, which are among the faves. Other fillings include hazelnut truffle, lemon chiffon, and maple walnut cream. Chocolate bunnies, marshmallow eggs, and ready-made Easter baskets are also available. New York-themed candies include the Big Chocolate Apple, and chocolate renditions of the Empire State Building, Statue of Liberty, King Kong, and beyond. 212-924-2280, li-lacchocolates.com
M&M's World
Up the fun factor by visiting Manhattan's 25,000 square-foot M&M'S World New York store in Times Square. It offers an array of yummy candies and sweet treats, as well as fun and funky toys. The fun zone boasts a two-story color wall packed with thousands of colorful M&M's candies. Other fun experiential features include a Color Mood Analyzer and a personalized printer, which enables shoppers to create customized candies in a New York minute. 212-295-3850, 1600 Broadway, mmsworld.com
The Sweet Life
This cozy, stylish downtown candy shop offers classic sweet treats, as well as homemade gourmet chocolates, candies, cookies, and more. Beyond its international assortment of goodies that hail from Australia, Germany, Sweden, and other international destinations, The Sweet Life offers its deluxe Easter mix, foiled milk chocolate eggs, speckled chocolate malted eggs, and beyond. 212-598-0092, 63 Hester St., thesweetlifenyc.com
Looking for Free Group Planning Services?
Get free advice on planning your group's trip to New York.
RESTAURANTS

Multi-concept restaurant offering modern Japanese cuisine, a...

THEATER

In a heartbeat, 38 planes with 6,579 passengers were strand...

SHOPPING

The sweetest experience in Times Square!...

SIGHTSEEING

Manhattan's premier all-glass, European-inspired dining crui...