You probably remember the precise moment you heard about the terrorist attacks on September 11, 2001. But what was the first sporting event you watched after 9/11? Seems like a strange question, but millions of Americans were drawn to sports in the immediate aftermath of this national tragedy. Sports proved a unique form of solace after seismic destruction and loss.
This summer, come see "Comeback Season: Sports After 9/11," a special exhibition at the National September 11 Memorial & Museum. The exhibit explores the uplifting moments at sporting events following the September 11 attacks. Featured events will include Mike Piazza's home run during a New York Mets home game in the fall of 2001, President George W. Bush's first pitch at a World Series game at Yankee Stadium, and the New York City Marathon on November 4, 2001.
Across all sports, games were cancelled in the weeks following September 11. Major League Baseball, Major League Soccer, and NASCAR suspended their seasons, delaying upcoming championship events. Slowly, as stadiums reopened and teams were allowed to travel by plane again, sporting events provided gathering places for grieving Americans and offered glimpses of hope.
"For so many in the weeks and months following 9/11, sports offered a welcome distraction from the weight of grief, an uplifting experience to share with others and something to cheer about," says 9/11 Memorial & Museum President Alice M. Greenwald. "Some victims' family members chose to honor loved ones by celebrating the sports they had loved, as leagues, teams, athletes and fans came together to affirm that what we have in common is far greater than what divides us."
In the season following 9/11, athletes formed powerful bonds with first responders and victims' family members. At one New York Rangers game in October 2001, former team captain Mark Messier wore the fire helmet of FDNY Deputy Chief Raymond Matthew Downey Sr., who lost his life on September 11 as a first responder to the attacks. Both Messier's Rangers jersey and Downey's helmet will be on display.
Photo: Jin Lee
The exhibition will also cover New York City's first pro baseball game after 9/11, between the Mets and the Atlanta Braves. At the bottom of the 8th inning, Mets catcher Mike Piazza hit an incredible home run that sealed victory for the Mets and, symbolically, for New York City at large. Similarly, Dale Earnhardt Jr. triumphed at a NASCAR race on September 23, 2001, in Dover, Delaware. After his win, he held an American flag out the window on a spur-of-the-moment victory lap around the racetrack.
On November 4, 2001, the New York City Marathon saw 30,000 runners and millions of spectators running through a city newly scarred. But New Yorkers were determined to gather together and celebrate strength and endurance—both the runners' and their own.
Reserve your tickets now to "Comeback Season." Attendance is expected to be high. Although tickets are free with museum admission, space is limited in the gallery, and day-of admission to the exhibit is not guaranteed due to space constraints.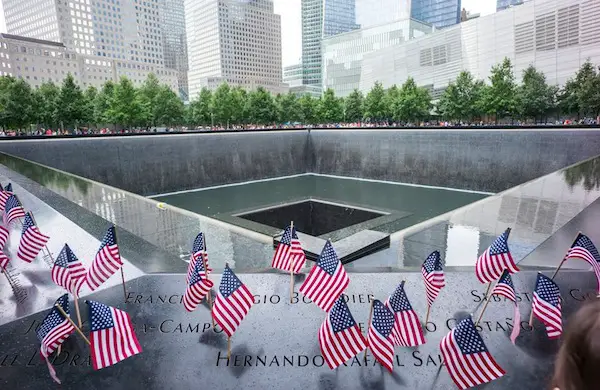 Photo: Jin Lee
The 9/11 Memorial & Museum occupies the space of the former World Trade Center in downtown Manhattan. The Museum commemorates the 2,983 lives we lost on September 11, 2001, and the terrorist bombing at the World Trade Center on February 26, 1993. Recovered artifacts like fire helmets and personal effects are displayed alongside photographic and video footage taken in the season surrounding 9/11. The Museum also seeks to explore the lasting effects of these devastating attacks in the years since 2001. Near the Museum are two large, square fountains at the sites of the former Twin Towers.
---
The National September 11 Memorial & Museum is located at 180 Greenwich St. and is open 7 days a week. Call 212-312-8800 or visit 911memorial.org for more information.