Dîner en Blanc was started in Paris in 1988. An exclusive pop-up picnic where all guests wear white (hence blanc), the dinner has become a worldwide sensation every summer since, New York City included. The event is a thrilling throwback and a novelty, with an added dose of mischief.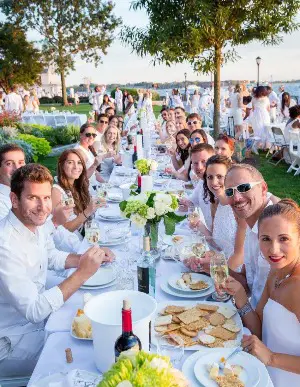 Facebook
Dîner en Blanc returns to New York City for the eighth time on Monday, September 17th. Over 6,500 guests are expected to attend, replete with white dresses, suits, hats, and table settings, in an iconic outdoor location that has yet to be disclosed. The bright-white, ostentatious clothing, and fine food and drink make quite a sight to behold and create an elegant, unforgettable evening.


Even better, Chef Marc Forgione has come aboard as the head caterer of the dinner this year. Forgione has been awarded a Michelin star for his namesake restaurant in New York. He also appears on the Food Network's Iron Chef America as one of the Iron Chefs. You can order ahead and select one of Forgione's four specially designed picnic baskets to elevate your experience all the more.
New York was the first city in the U.S. to host a Dîner en Blanc in 2011. Over 80 cities in 30 different countries have also hosted their own iterations of the event, in countries as far flung as Tanzania and Colombia. Earlier this year, to mark the 30th anniversary of Dîner en Blanc, 17,000 guests from around the world met on a Parisian lawn for the biggest picnic in history.
You'll only get to attend the NYC Dîner en Blanc if you have attended a prior picnic or score a referral from someone who has (we suggest you start finagling an invite now). The New York events typically fill up gigantic spaces like the plaza of Lincoln Center, but that's far fewer people than signed up for the waiting list to get in. Apparently, for the 2017 picnic, 45,000 waited anxiously to be moved from the waiting list to the guest list.   
The sign-up occurs in three phases about a month prior to the event. First, prior guests are invited to register, followed by referrals of previous guests, followed by anyone and everyone who's gunning for the wait list. While the date of the dinner will be announced in advance, the location will not. Only invited guests will receive word of the location on the day of the picnic.
The extra challenge—besides gathering a fabulous all-white ensemble—is finding your own picnic table, chairs, and food, which you'll be required to transport to the undisclosed location. This is no slapdash meal on a blanket in the park. You must bring silverware and dishes and glasses for your meal. The table must be square, and your chairs and tablecloth and accompanying trash bag must be white. Upon arrival, you'll set up tables and chairs yourself. Some go the extra mile with birdcages, LED lights, and candelabras to decorate their tables!
It's an amazing spectacle, with people decked out in light-up headdresses, huge hats, and capes. Last year, there was also a CoverGirl station where guests could touch up their makeup. After the dinner comes the dancing. You and your friends can party the night away to live music and top off the evening with sparklers provided by the organizers. It's a fabulous celebration of life in New York, fine food, and community.
As the party winds down, gather your trash, supplies, and tables, and leave your picnic space spotless.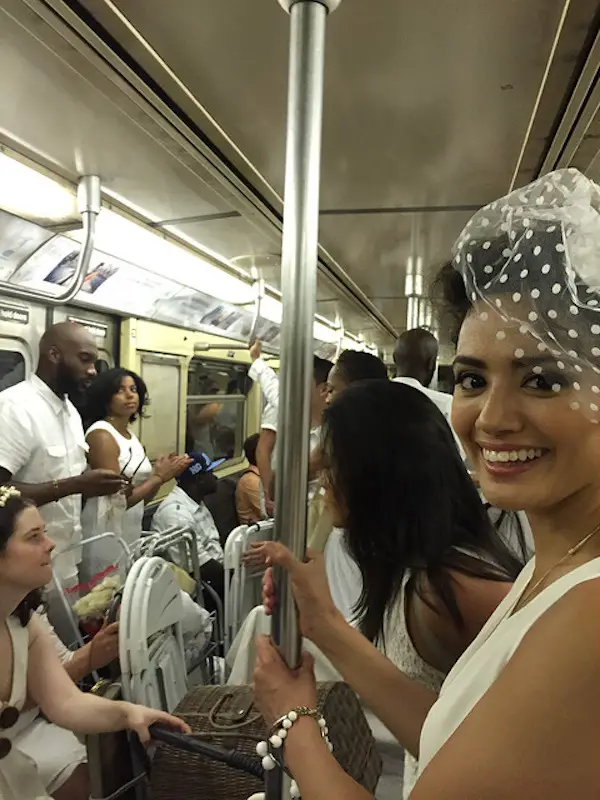 The event will happen in rain or shine. Before the event, guests will gather at checkpoints with Dîner en Blanc volunteers who escort them to the secret location.
The hosts of the 2018 Dîner en Blanc are Linda Davis and Kaitlin Davis of The Davis Group, Christine Tripoli of Looking Glass Events Group, and Peter Kohlmann of PEKO Productions. Official partners of the New York event are Champagne Jacquart and The Knot. U.S. national partners of  the 2018 Le Dîner en Blanc are Luxury Retreats, Sofitel, and ONEHOPE.
The location for the next Dîner en Blanc will be announced September 17, 2018, for all invited guests. Check newyork.dinerenblanc.com for more information.