Where to Find the Best Eco-Friendly Non-Toxic Nail Salons in NYC
July 25, 2017 - by Regina Molaro
We're in the heart of summer, which means baring more skin and donning more sundresses, capris, and sexy, strappy sandals. Now is a a great time to get pampered with a manicure and pedicure in New York City. Thanks to a handful of contemporary salons, eco-conscious beauties can indulge without compromising their health. With a focus on natural solutions, these salons use non-toxic polishes and other smart solutions such as soy-based polish removers. Many are proud to claim that they use "three-free" formulas, which means that the formulas contain no formaldehyde, toluene, or dibutyl phthalate (DBP). Others such as the "five-free" lack other potentially harmful ingredients such as formaldehyde, toluene, DBP, formaldehyde resin, and camphor. Read on for the best of eco-friendly non-toxic nail salons in NYC.
Hortus Nailworks
Downtown's earthy Hortus Nailworks salon aims to deliver beauty with healing benefits. When its nail artists polish to perfection, rather than using chemically-driven formulas, they use niche products that incorporate food grade and organic ingredients. To ensure quality and freshness, products are handcrafted in small batches. The salon also offers a vibrant collection of chemical-free lacquer colors. For polish removal, Hortus offers a soy-based product that is acetone-free and non-toxic. 210 Forsyth St., 917-475-1558, hortusnailworks.com
pH7
It's easy to unwind at pH7's stylish and serene nail destination. While indulging in a soothing cup of organic herbal tea, it's easy to temporarily forget about your to-do list. This minimalist salon carries its philosophy of wellbeing over to its nail care services. The salon provides an eco-friendly, non-toxic beauty experience. Polish is whisked off with a non-acetone remover. The formulas are "three-free" and "five-free," which means they don't contain many of the harsh chemicals that are found in standard polish brands. Organic essential oil is used to treat cuticles along with products that are made from all natural ingredients such as organic shea butter. 227 Grand St., 718-218-8586, Brooklyn, ph7nailcouture.com
Sundays Studio
Sundays are certainly a time for relaxation. Mod studio, Sundays Studio offers health- and eco-conscious clients vegan and nontoxic manicures and pedicures. Beyond its stellar standard services, the studio's visionaries pioneered a Guided Meditation Nail Treatment combo that can help clients relax and focus on the present. The salon offers a collection of nontoxic, natural nail care products. 51 E. 25th St., 646-998-5711, dearsundays.com
Sweet Lily Natural Nail Spa
This inviting downtown natural nail spa offers polishing services that center on natural ingredients and well-being. The salon, which is awash in a white palette, uses Zoya Nail Lacquers, which are free of formaldehyde, DBP, toluene, and camphor. These formulas are safe for use on children and expectant moms. With a focus on natural solutions, the salon has incorporated healthy product alternatives, which highlight fresh fruits, vegetables, and essential oils. 222 W. Broadway, 212-925-5441, sweetlilyspa.com
Tenoverten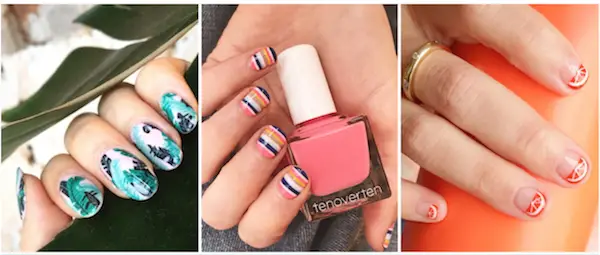 With five locations in Manhattan, tenoverten boasts a vibe that is more akin to a chic apartment than a typical nail salon. Created by Nadine Abramcyk and Adair Ilyinsky, the brand was created in response to the founding duet's belief that there was a "lack of proper nail salons in their Tribeca neighborhood." With the expertise of partner and Creative Director Jaclyn Ferber, the team launched a polish and nail care brand in 2011. Each polish is named after a street in New York City's buzzing downtown area. Beyond polish, the salon's nail care products provide more natural alternatives to traditional treatments. All products are free of formaldehyde, DBP, toluene, formaldehyde resin, camphor, ethyl tosylamide, xylene, and triphenyl phosphate (TPHP), making them "8-free." The products are also cruelty free, vegan, and made in the USA in a factory that honors the Leaping Bunny Program manifesto of no animal testing in any phase of product development. 132 W. Houston St. and other locations, 917-475-1000, Tenoverten.com
Looking for Free Group Planning Services?
Get free advice on planning your group's trip to New York.
RESTAURANTS

Multi-concept restaurant offering modern Japanese cuisine, a...

THEATER

In a heartbeat, 38 planes with 6,579 passengers were strand...

SHOPPING

DataVision is redefining retail with their new, fully intera...

SIGHTSEEING

Sweeping, unobstructed, open-air views of NYC from the top o...