It's been nearly four decades since the first official Fleet Week took place in NYC, welcoming in a procession of military ships and their crews. The 2023 version kicks off with the Parade of Ships, cruising into town along the Hudson River on Wednesday, May 24th. This year, expect ships from the Navy, Coast Guard, and Naval Academy, along with vessels representing Canada, Italy, and the U.K. Fleet Week festivities will take place through Tuesday, May 30th. 
Ship tours take place throughout the week on Manhattan and Staten Island. Throughout Times Square and beyond, you can expect to see uniformed members of the sea services (Sailors, Marines, and Coast Guardsmen) as more than 2,000 of them will be out exploring all the things to do in the city.
For specific activities, check out this schedule, which includes a Navy Dive Tank in Times Square, several memorial parades, and live music in Times Square.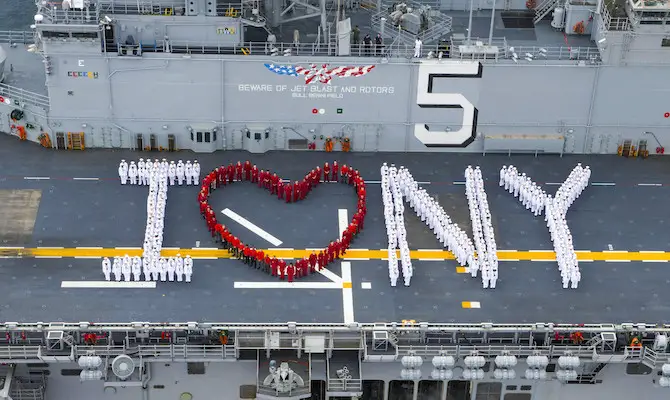 ​​Courtesy Official U.S. Navy Page/Flickr
Fleet Week NYC 2023 Events at The Intrepid Sea, Air & Space Museum
The center of the action will be the Intrepid Sea, Air & Space Museum, at Pier 86 on the Hudson in midtown. Activities there include a Free Fridays session where the museum stays open after hours and the first of the summer's movie screenings on the flight deck takes place. Lawn chairs, picnic baskets, and blankets are all encouraged to accompany the classic film Top Gun on a huge inflatable screen. Doors open at 7pm and the movie begins at sunset.
Highlights for the Memorial Day Weekend include immersive experiences with the Marines, heaving line-throwing activity with the U.S. Coast Guard, workshops with the museum,  and the opportunity to meet former USS Intrepid crew members. There will also be musical performances, demonstrations, and interactive experiences.


Events on Pier 86 are free. Saturday, the United States Coast Guard Traditional Jazz Band brings a New Orleans flavor with their classic jazz, blues, and rags. Performers from Titanique, which reimagines the love story from the Titanic with Céline Dion taking over a museum tour, and Rock & Roll Man,  the story of Alan Freed, the DJ who coined the term "Rock & Roll" will take the stage as well. The Center for American Military Music Opportunities presents Low Country, a vintage country band featuring combat veterans. The Andrews Sisters-inspired group, America's Sweethearts, delivers a delightful blend of old-fashioned fun spanning several decades. The day also includes a performance by the US Marine Corp Rock Band.
Sunday look for performances by The Satin Dollz, a 1940s Big Band Swing USO Act, as well as a musical performance featuring Broadway shows "A Beautiful Noise" and "New York, New York." The Center for American Military Music Opportunities presents the Tommy Stanley Duo, blending genres and soulful rock vocals by US Navy and US Air Force veterans. The U.S. Coast Guard performs a Silent Drill Team show, and America's Sweethearts will be back to sing music from the 1860s to the 1960s in the style of girl groups of the past.
Monday, for Memorial Day, the Intrepid Museum will host its annual event for veterans and their families with a wreath-laying ceremony, the unfurling of a 100-foot American flag, the playing of "Taps," and a flyover by Navy fighter jets.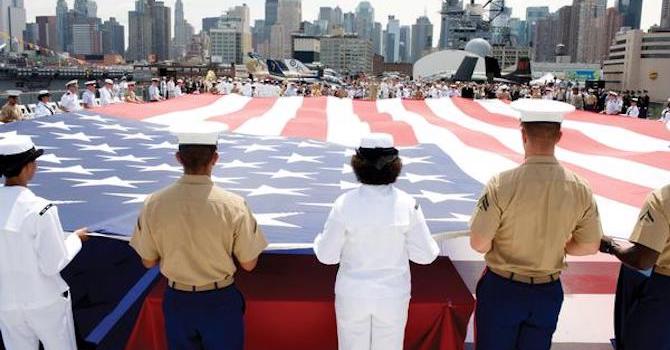 Visitors will also be able to explore the Intrepid Sea, Air & Space Museum and its exhibits. Launched in 1943, the former aircraft carrier USS Intrepid fought in World War II, surviving a torpedo strike and five kamikaze attacks. The ship went on to serve in the Cold War and the Vietnam War and as a NASA recovery vessel in the 1960s. More than 50,000 people served on board during the ship's time in service. (The ship was refurbished at the Brooklyn Navy Yard in the mid-1960s to bring it back to a state of peak combat readiness.) Opened as a museum in 1982, visitors to Intrepid today go on an interactive journey to learn about American innovation and bravery.
The museum includes the Space Shuttle Pavilion, home to Enterprise, the world's first space shuttle, which paved the way for America's successful space shuttle program. Seventeen dynamic exhibit zones feature original artifacts, photographs, audio, and films that immerse visitors in the science and history of Enterprise and the space shuttle era.
Courtesy Intrepid Sea, Air & Space Museum
Also on display are 28 authentically restored aircraft, including the Lockheed A-12 Blackbird, the world's fastest military jet and spy plane, and the British Airways Concorde, the fastest commercial aircraft to ever cross the Atlantic Ocean.
The submarine Growler is also here, the only American guided missile submarine open to the public. Growler offers visitors a firsthand look at life aboard a sub and a chance for a close-up inspection of the "top-secret" missile command center.
Kids will flip for the Exploreum, a fully interactive hall in the hangar deck. Themes of water, space, air, and life at sea provide the basis for exploration. Visitors are encouraged to climb in an actual Bell 47 helicopter, navigate through an interactive submarine, and steer the wings of an airplane.
The museum took advantage of some Covid downtime to open up new areas. The temporary exhibition On the Mend: Restoring Intrepid's Sick Bay tells the history of medical care on the ship and reveals the complexities of a practice on board an aircraft carrier at sea. 
The Intrepid Museum is open daily at Pier 86, W. 46th St. & 12th Ave. For more information, call 212-245-0072 or visit intrepidmuseum.org.
General Public Ship Tours
Thursday through Saturday and also on Memorial Day, 8am-5pm, Pier 86, Pier 88, Pier 90 in Manhattan and the Homeport Pier on Staten Island.
(There are also tours from 8am-5pm at the Homeport Pier on Staten Island.)
Military History Tour of New York Harbor
Classic Harbor Line and Turnstile Tours have partnered up to offer a special tour in honor of Memorial Day and the return of Fleet Week to New York City. The two and a half hour Military History Tour of New York Harbor explores the rich military history of New York Harbor, from the Revolutionary War to the present, with a focus on the harbor's role in World War II. Participants will visit significant military sites such as the Brooklyn Navy Yard, Brooklyn Army Terminal, Staten Island Navy pier, and the Intrepid Sea, Air & Space Museum. The tour provides a chance to witness active Navy and Coast Guard vessels participating in Fleet Week. Additionally, guests will hear oral histories from individuals who worked and served on the New York waterfront during World War II. The tour takes place aboard the comfortable and scenic Manhattan and Manhattan II yachts, offering unobstructed views of the city skyline. Tour dates are Wednesday, May 24th; Friday, May 26th; and Memorial Day, Monday, May 29th.
Fleet Week Specials for Members of the Military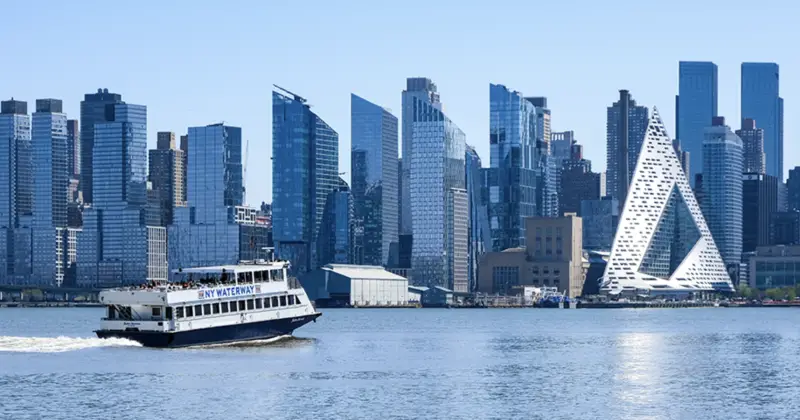 In honor of Fleet Week 2023, NY Waterway is offering free ferry rides for all military personnel and veterans from Wednesday, May 24th to Tuesday, May 30th. To take advantage of this offer, veterans and service members just need to present a valid Veteran or Military ID. NY Waterway provides ferry services to terminals in New Jersey, including Weehawken, Hoboken, Jersey City, and Edgewater, with destinations at the Midtown/West 39th Street Ferry Terminal, Brookfield Place/Battery Park, and Pier 11/Wall Street. For the latest schedules and routes, visit nywaterway.com/FerryRoutesSchedules. For more information about Fleet Week, visit nywaterway.com/FleetWeek. NY Waterway is a great way to access all the Fleet Week activities!
SUMMIT One Vanderbilt, New York's most immersive observation deck with 360 views of the city, offers both active and retired military service men and women free tickets. There's also a 25% off special for up to 4 guests of a military family. To receive the offer, an active duty or veteran's ID will need to be presented at our Welcome Desk upon arrival. Contact a Guest Satisfaction Ambassador at 1‐877‐682‐1401 from 9am to 7:30pm EST to make a reservation for your visit. (It's valid all year long, but Fleet Week is an especially good time to take advantage.)
Get patriotic amid Fleet Week festivities at Clinton Hall locations and Slate (54 W. 21st St.), where veterans and current military service members will receive a 20% discount during their visit between Wednesday, May 24th and Tuesday, May 30th. Clinton Hall's FiDi (90 Washington St.), 36th Street (16 W. 36th Street), E. 51st Street (230 E. 51st), Bronx (601 E. 189th St.) and Williamsburg (247 Metropolitan Ave.) locations invite vets in to enjoy great Supercraft beer, hard seltzers, wine and a full bar menu alongside delicious food from Executive Chef Darryl Harmon like his signature double smashed burger, Buffalo cauliflower, crispy chicken wings, giant pretzels and more while Slate in Chelsea takes over the evening at their upscale bar, lounge, and club with 16,000 square feet of adult entertainment including a 20-foot slide to get partygoers from the top floor to the ground without having to lift a finger, plus an arcade, ping pong, pool tables, Skee-Ball, pinball, and a new 8-player foosball table.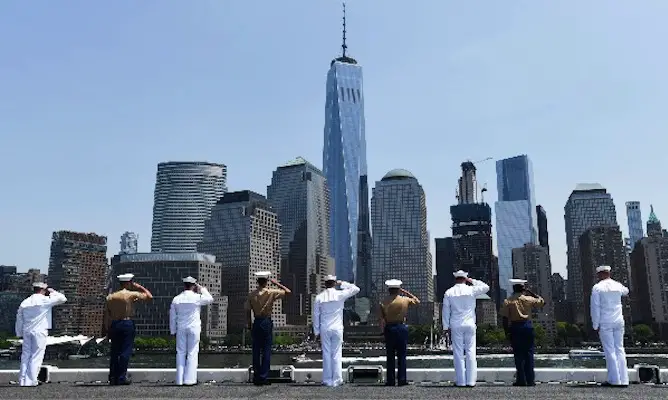 ​​Courtesy Official U.S. Navy Page/Flickr
For more information about Fleet Week NYC 2023, follow Fleet Week New York on Facebook and Instagram or visit nynavyleague.org/fleet-week-2023.