Tourists are returning in big numbers. There is real optimism about tourist spending levels growing and eventually returning to pre-pandemic levels. The Times notes that bars and clubs are reporting huge lines now that mask requirements have been lifted. Confidence in events at NYC venues is rising faster than expected. Other recent data includes:

NYC & Co.'s 2022 Forecast
NYC & Co. is anticipating 56.4 million visitors, including 8 million foreign travelers in 2022. That's 85% of 2019's peak visitation by year end (reflecting a full domestic recovery and international travel at 82% of peak levels) and a 70% increase from last year.
The most recent Times Square pedestrian count shows a 128% increase in daily visitors for February over the same period a year ago—204,959 average daily visitors.
New York City Government Commitments: Mayor Eric Adams's Goal Is a Full Tourism Recovery by 2024
Mayor Adams gave NYC & Co. an additional $10 million to put toward the promotional campaign it launched last year, with the theme "It's Time for New York City."
The mayor wants to boost New York City's outreach to tourists and invite people from all over the world to visit and spend money. Beyond marketing, the Mayor is committing to improving public safety by tackling perceptions of crime and disorder.
Carnival Cruise Line said Monday that the week ending Sunday was the line's busiest booking week in its 50-year history—and not just beaten by a hair, the percentage increase was double digit. Signs of the resurgence are everywhere, not least on the streets of NYC.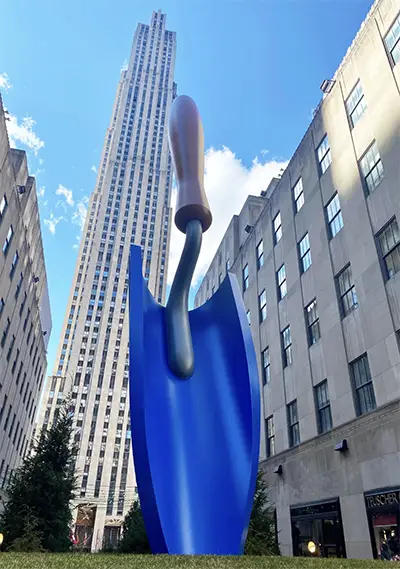 Claes Oldenburg and Coosje van Bruggen's "Plantoir, Blue" is now up at the Fifth Avenue entrance of the Channel Gardens at Rock Center, on display until May 6th.
LINKS OF INTEREST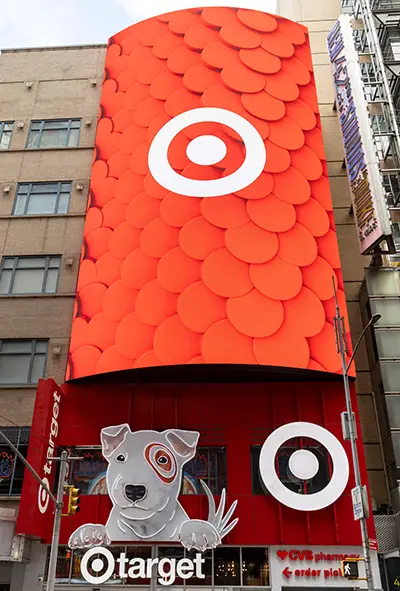 Target now open in Times Square, in the former B.B. King's space. Photo courtesy of Target.
NYC
BEYOND NYC
HEADWINDS