Mais Oui: French Restaurant Week in NYC
July 3, 2019 - by Merrill Lee Girardeau
This July, Restaurant Week goes Gallic. French Restaurant Week, similar to New York Restaurant Week in winter and summer, offers discounted food and drink at French restaurants around the city. The event, organized in part by OpenTable, will last July 8-21. Every restaurant will provide the following slate of prix fixe options: $17.89 for 1 drink and an amuse bouche; $25 for 2 lunch courses and a drink; $42 for 2 dinner courses and a glass of wine; and $178.90 for a meal for two that includes a bottle of wine. Below is a highlight of several restaurants participating in this event. Bon appetit!
Boucherie
Step into the Belle Époque at three locations of Boucherie. What started as a large West Village brasserie has become a three-restaurant affair, with an additional West Village location (called Petite Boucherie) and another at Union Square. French classics like duck leg confit and boeuf bourguignon star on this wide-ranging menu, which also showcases a diverse offering of dry-aged steaks. Order wine and absinthe-based cocktails with your meal or as the main event, and keep in mind Boucherie's flagship location on 7th Avenue South has a great patio if you're keen on the summer heat. West Village: 99 7th Ave. S., 212-837-1616; Petite: 14 Christopher St., 212-353-0200; Union Square: 225 Park Ave. S., 646-756-4145; boucherie.nyc
Lena
Lena is another Lower East Side option this French Restaurant Week. Come to this friendly, unpretentious wine bar, and have a glass (or bottle) of Burgundy along with Basque-inflected plates. "Les Petits Plats" include duck crostini with fig jam and pasta gratin (basically ham mac 'n cheese). On the larger side, Lena serves French pizzas with cream yogurt sauce and rich proteins on top, such as La Bourguignonne with short ribs. 137 Eldridge St., 212-343-7425, lena-nyc.com
La Sirène
Skip the ever-crowded Balthazar in Soho, and go for the deal at nearby La Sirène. Created by a Provence-born chef, this bistro bears Didier Pawlicki's personal touches, from explanatory notes on the menu to banana pudding made from scratch, down to the "Nila"-esque wafers. Signature dishes include mussels in four varieties (adventurous eaters should pick the curry), goat cheese tart made with 180-day aged Swiss "veil" on top, and Tournedos Rossini. This is filet mignon, seared and topped with foie gras, shallots, port red wine, and truffle sauce. The note on this menu item? "Absolute luxury!" This French Restaurant Week, Upper West Siders can also enjoy La Sirène's second location on Amsterdam and West 80th Street. 558 Broome St., 212-925-3061; UWS: 416 Amsterdam Ave., 917-261-5279; lasirenenyc.com
St. Tropez Wine Bar
This West Village wine bar bills itself as "a touch of Provence with an American accent." French native chef Gérald Barthélémy, who received a Michelin star at Le Cinq, pairs his updates on French bistro staples with a dense list of affordable French wines. Vegetarian and gluten-free dishes are labeled as such on the menu, with standouts including the beet hummus and pork belly appetizer. You can also have fresh oysters with your wine and mains like hanger steak with mashed potatoes. (Although St. Tropez has a Soho location, only the West Village location is participating in French Restaurant Week.) 304 W 4th St., 917-388-3893, sttropezwinebar.com
Excuse My French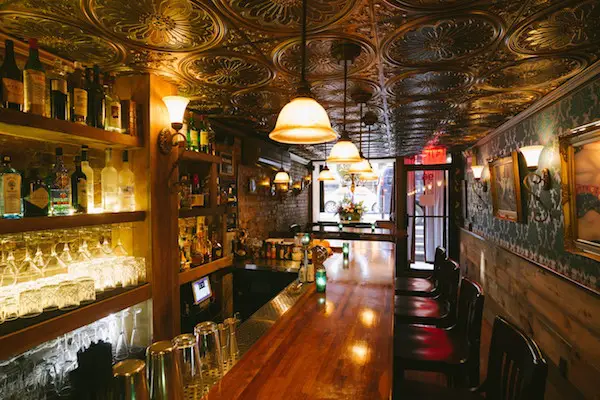 Before your night out on the Lower East Side, have some fun at Excuse My French, a fantastic FRW pick if you're looking for an affordable cocktail. The brightly colored drinks include the blue Bastille Day and the deep purple Royale Family made with kir and a blend of sweet house-made syrups. The French tapas here, from savory to sweet, are also excellent. Order a cheese and charcuterie plate, dry fig toastine spread with goat cheese, foie gras lollipops, or Cajun chicken with ratatouille. 96 Orchard St., 212-780-9600, excusemyfrench-nyc.com
Brasserie 8 ½
Take a break from your Fifth Avenue shopping at Brasserie 8 ½, located near The Plaza and Central Park. This classic upscale bistro is located down a spiral staircase and inside a dining room filled with white tablecloths and fine art. Brasserie 8 ½ has already published their lunch and dinner menus for French Restaurant Week on the website. For lunch, have a glass of rosé and an appetizer like salmon carpaccio with roasted lamb loin and ratatouille as a main. For dinner, starter options include country paté, duck with plums and sunchokes, and peach parfait for dessert. 9 W 57th St., 212-829-0812, brasserie812.com
Bistro Vendôme
Have your wine and amuse bouche on a sunny terrace at Bistro Vendôme, also located in Midtown East. Run out of a converted tri-level brownstone, this friendly restaurant serves approachable French cuisine like rack of lamb with potatoes gratin, plus adventurous dishes like sauteed frog legs. Their current lunch prix fixe menu offers mussels marinière with French fries and penne "bolognaise" with profiteroles for dessert. 405 E 58th St., 212-935-9100, bistrovendomenyc.com
A.O.C.
A.O.C. began in the West Village as a neighborhood bistro and has since expanded to the Upper East Side. Chef/owner Romain Bonnans presents a thoughtful wine list full of natural and biodynamic labels, plus filling French bistro fare. Cheese and cured meats are also on offer, plus a cotes de boeuf for two, seafood pasta, and snails in garlic butter. Maison Harlem, sister restaurant of the A.O.C. family, is also participating in French Restaurant Week. A.O.C. L'aile ou la Cuisse: 314 Bleecker St., 212-675-9463, aocnyc.com; A.O.C. East: 1590 First Ave., 646-998-5749, aoceast.com; Maison Harlem: 341 St. Nicholas Ave,. 212-222-9224, maisonharlem.com
Jubilee's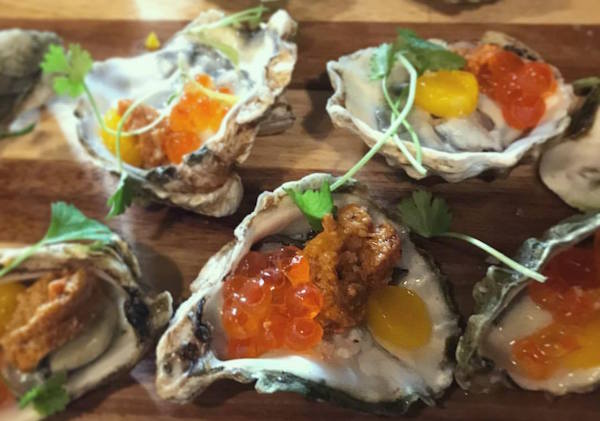 Join Jubilee's for French Restaurant Week in Midtown East. This cozy bistro, under Chef Luc Holié, specializes in foie gras, rack of lamb (or carré d'agneau rôti), and various mussel dishes. Their existing prix fixe menus give us a good idea of what to expect during FRW, including paté to start and chicken paillard with arugula. You may also get a pick among their many mussels selections, which range from classic marinière to a dish cooked in IPA with garlic and red pepper flakes. 948 First Ave., 212-888-3569, jubilee.nyc
Looking for Free Group Planning Services?
Get free advice on planning your group's trip to New York.
RESTAURANTS

Multi-concept restaurant offering modern Japanese cuisine, a...

THEATER

In a heartbeat, 38 planes with 6,579 passengers were strand...

SHOPPING

DataVision is redefining retail with their new, fully intera...

SIGHTSEEING

This renovated museum complex includes the 900-foot-long air...