Long before she was an icon of the Southwest, the artist Georgia O'Keeffe was a New Yorker. She called NYC home for three decades on her way to establishing herself as "The Mother of American Modernism." Georgia O'Keeffe: Living Modern, now on display at the Brooklyn Museum, shows off this artistic mastery with a fresh angle: O'Keeffe's wardrobe, which both reflected and furthered her Modernist identity.
The reach of the show is evident from the introductory room, "Beginnings," where ephemera from O'Keeffe's early life is joined, unexpectedly, by two very early formal portraits of the artist. "Beginnings" also holds the first indication of the intensity of elegant expression the show will display. A small sculpture from 1916 entitled Abstraction conveys flow within its static form. With minimalist, stylized restraint, it expresses the power of grief (O'Keeffe sculpted it in the aftermath of her mother's death).
LEFT: Alfred Stieglitz (American, 1864–1946). Georgia O'Keeffe, circa 1920–22. Georgia O'Keeffe Museum, Santa Fe, N.M.; Gift of The Georgia O'Keeffe Foundation, 2003.01.006. © Georgia O'Keeffe Museum. CENTER: Georgia O'Keeffe (American, 1887?1986). Black Pansy & Forget-Me-Nots (Pansy), 1926. Brooklyn Museum; Gift of Mrs. Alfred S. Rossin, 28.521. © Georgia O'Keeffe Museum/Artists Rights Society (ARS), New York. (Photo: Christine Gant, Brooklyn Museum). RIGHT: Bruce Weber (American, born 1946). Georgia O'Keeffe, Abiquiu, N.M., 1984. Bruce Weber and Nan Bush Collection, New York. © Bruce Weber
The strength of O'Keeffe's ability to stylize—her preternatural talent for striking balances between abstraction and representation—comes through in every room. This touch is futher reflected in the sense of style O'Keeffe crafted for her look. In Living Modern, the fashion narrative begins with a quartet of silk outfits, some of which were likely made by O'Keeffe herself. Amazingly she kept them through her long life, a fact not lost on guest curator Wanda M. Corn, who recognized the significance of the closets O'Keeffe left behind at her death. Careful editing of the clothing allows O'Keeffe's style to contextualize the paintings without overwhelming them. The restrained layout also reflects O'Keeffe's own allegiance to Modernism, which overflowed from her art into her dress and the way in which she lived her life.


Living Modern marks a full circle of sorts, as the Brooklyn Museum was the site of O'Keeffe's first solo museum exhibition. A painting from that show, Black Pansy & Forget-Me-Nots (Pansy), from 1926, hangs near the show's second room, "New York." Again there O'Keeffe's elegance of flow, joined by sensual surfaces and a harmony of black, teal, and baby blue. As O'Keeffe later explained, "I will make even busy New-Yorkers take time to see what I see of flowers." Also in the room is a rare study for an unrealized mural showing the vibrancy of Manhattan's architecture circa 1932, individuated with panels of pink and mauve and a triangular trio of flowers counterbalancing the monolithic thrust of skyscrapers. O'Keeffe's last painting before she left New York is in the Brooklyn Museum collection and it appears here, the Brooklyn Bridge stripped down to its core. It looks like a cathedral, its rigging turned to stained glass and trailing behind like unfurling wings. The openings in the architecture are unmistakably portals, as if beckoning O'Keeffe to her next chapter, New Mexico.
Georgia O'Keeffe (American, 1887–1986). Ram's Head, White Hollyhock—Hills (Ram's Head and White Hollyhock, New Mexico), 1935. Brooklyn Museum; Bequest of Edith and Milton Lowenthal, 1992.11.28. (Photo: Brooklyn Museum)
As the rooms shift, so does the color palette, with New York's blacks and whites giving way to the vibrant shades of the Southwest. O'Keeffe's clothing changes as well, picking up denim at a time when it was a regionalism and not an urban requisite. As with much of O'Keeffe's art, the clothing has an element of timelessness—little here seems dated. The denim and cotton would look in place in any contemporary Brooklyn bar, shaded the blues of New Mexican skies. Likewise, the black and white "uniform" of O'Keeffe's later years would fit right in with the stylish austerity of a modern gallery. In style, in art, and in the invention of an independent identity, O'Keeffe always seemed to be years ahead of the curve.
In addition to the synergies of style and lifestyle, there are some wonderful connections across mediums. A vintage documentary in the "New Mexico" room flashes paintings that can be seen on nearby walls. A portrait of O'Keeffe is framed next to the very dress she's wearing in the image. There are a series of photos in the final "Celebrity" room showing O'Keeffe sporting an "O'K" pin created by Alexander Calder. The pin itself is there, too, a rare appearance of an object still in a private collection.
There are photos by O'Keeffe's husband, Alfred Stieglitz, with some of the world's great photographers also represented, including Ansel Adams, Richard Avedon, Annie Leibovitz, and Bruce Weber. Although each photographer contributes his or her own style, there's a strikingly similar line that connects the portraiture, especially in the later years. This continuity is a testament to O'Keeffe's ability to project her image, and the strength of that persona, which in her later life became a stand-in for the notion of the independent female artist. (Although according to curator Wanda Corn, O'Keeffe would have chafed against being considered emblematic of anything more than herself.) The photos also show a sense of the person—revealing a little mischief in places—in opposition to the potential for caricature.
O'Keeffe's relevance as a women artist does play into the exhibition's inclusion in A Year of Yes: Reimagining Feminism at the Brooklyn Museum, an ongoing celebration of a decade of feminist thinking here. The exhibit is on the fourth floor, which also holds The Elizabeth A. Sackler Center for Feminist Art, the first public space of its kind in the U.S.
The O'Keeffe show is not overly long, meaning you'll have time and attention for further exploration at the museum. Right around the corner is Judy Chicago's The Dinner Party, set for 39 historically significant women. As curator Wanda Corn points out, the last plate is for Georgia O'Keeffe.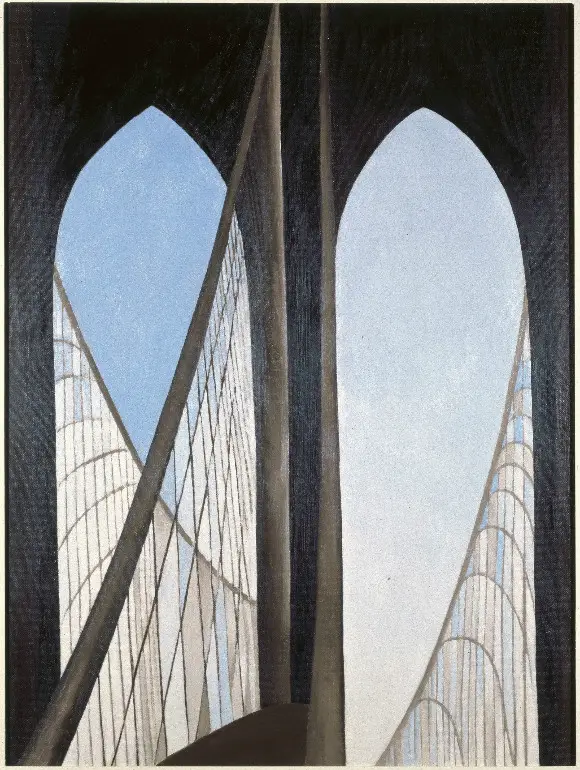 Georgia O'Keeffe (American, 1887–1986). Brooklyn Bridge, 1949. Brooklyn Museum; Bequest of Mary Childs Draper, 77.11. (Photo: Brooklyn Museum)
---
The Brooklyn Museum is located at 200 Eastern Pkwy. (Washington Ave.); call 718-638-5000 or visit brooklynmuseum.org for more details.
Entrance to the exhibition is by timed tickets, which are $20 for adults, $12 for studens and seniors, $6 for kids 12-19, and free for members and kids 11 and under. Those tickets include admission to the museum as well. O'Keeffe tickets are $12 during Target First Saturdays (discounted tickets are only available on-site).
Timing:
Morning tickets, enter anytime between 11 am and 2 pm

Afternoon tickets, enter anytime between 2 pm and 5 pm

Thursday evening tickets, enter anytime between 5 pm and 8 pm
An accompanying book by Wanda M. Corn, Georgia O'Keeffe: Living Modern from DelMonico Books, is also available.
The show runs through July 23rd, 2017.