Opening at the Museum of Modern Art (MoMA) April 9, Georgia O'Keeffe: To See Takes Time, is the first exhibit to investigate her drawings on paper, made in series. It's a different aspect of her work that is no less compelling. 
"To see takes time-like to have a friend takes time," O'Keeffe (1887-1986) believed. And indeed, it will take one some time to explore her depiction of abstract rhythms, nature's cycles, revisions of paintings and drawings, some with as many as eight iterations- reducing details, changes in materials, blurring the boundary between observation, and abstraction.
There are more than 120 works on view in MoMA's third floor south galleries, and the subjects are varied. Between the years of 1915-1918, modernist painter O'Keeffe made more works on paper than she would at any other time, producing a breakthrough series of charcoals and watercolors.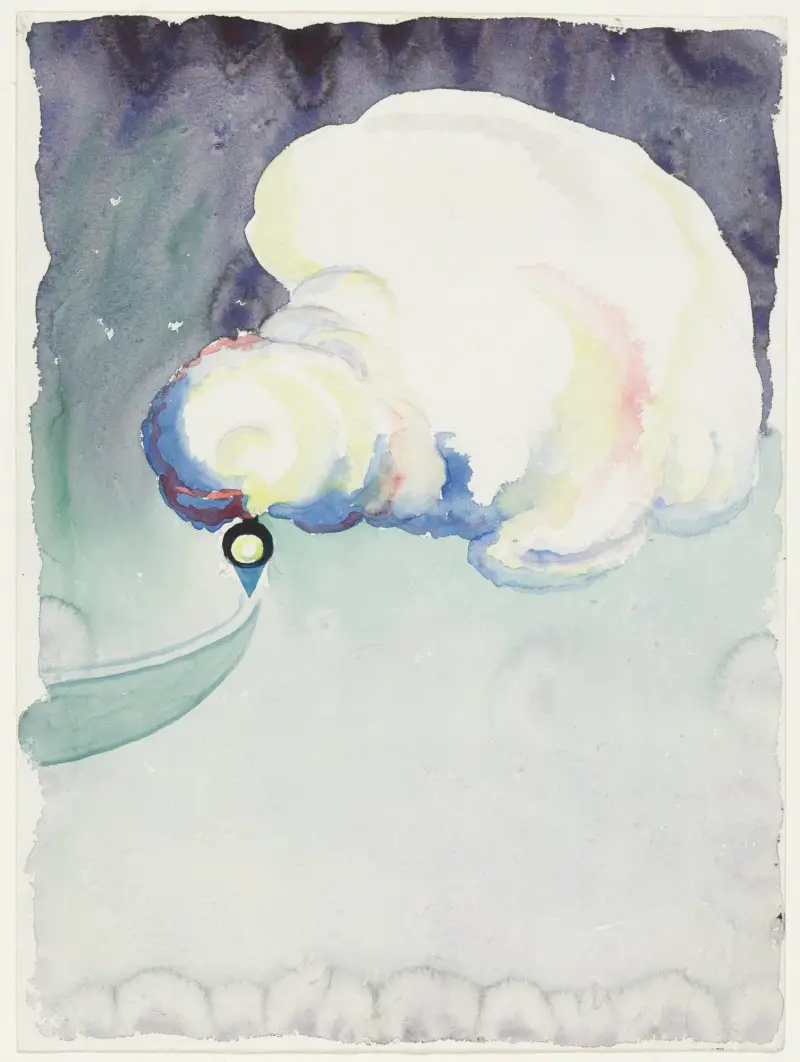 Train at Night in the Desert, 1916
In addition to the more famed O'Keeffe detailed paintings of desert flowers she was inspired by during her time in Texas and New Mexico, there are abstract lines, landscapes, storms, trains, nudes, even a series of portraits of her friend, fellow modernist painter Beauford Delaney, first in charcoal, then in pastel.
No. 8 Special (Drawing No. 8), 1916
When O'Keeffe felt that a piece succeeded to achieve her intentions, she'd include in the name "special." Her 1916 piece No. 8-Special, features a spiraling composition that would recur throughout her career. She once said of the piece, "I have made this drawing several times-never remembering that I had made it before-and not knowing where the idea came from." 
Evening Star No. III, 1917
Another highlight of the exhibit will be a reunion of all eight of O'Keeffe's watercolors in her Evening Star series (1917), a reflection of her thoughts under a Texas sky.
The exhibition, comprised by some 58 lenders, including the Georgia O'Keeffe Museum in Santa Fe, New Mexico, is organized by Samantha Friedman, Associate Curator, Department of Drawings and Prints, with Laura Neufeld, Associate Paper Conservator, The David Booth Conservation Department, and Emily Olek, Curatorial Assistant, Department of Drawings and Prints. 
O'Keeffe's self-titled exhibition at MoMA in 1946, was the first retrospective of a woman artist; the Museum hadn't had an exhibit dedicated to her since, til now. 
Georgia O'Keeffe: To See Takes Time, runs April 9 through Aug. 12. For more information, visit moma.org.