As we come down the homestretch on 2021 we are feeling thankful at City Guide. Thankful for the return of international tourists. Thankful for vaccines and the new treatments that will allow us to come together again. Thankful for governmental support and its promotion of our city. Most of all we are thankful for our colleagues and all our loyal partners. As we reflect with friends and family this weekend, we will feel grateful we have such a strong, vibrant community in New York City tourism, one that has better times ahead on the near horizon. 

We're also thankful for all the great feedback we're getting on our newly redesigned guides, now back in hotels across the city. If you haven't looked yet, here's a peek.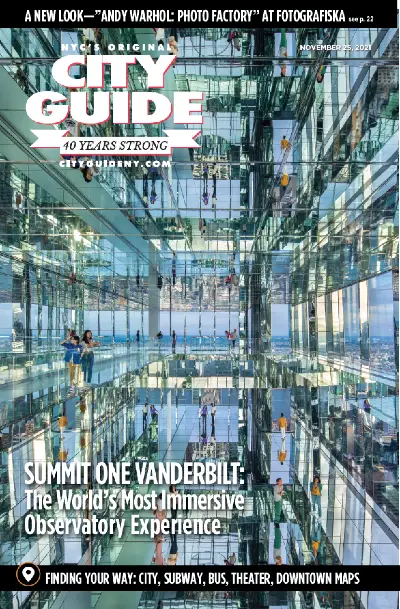 Other signs of the city coming back include: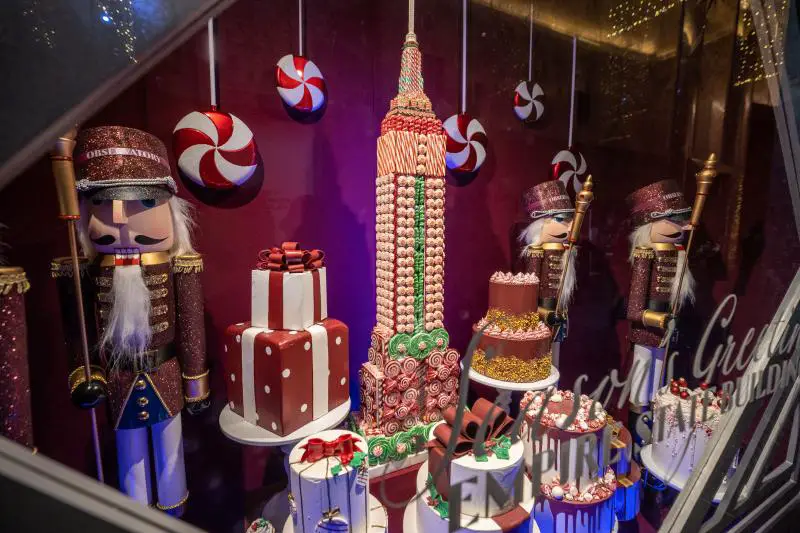 The Empire State Building unveils local pop-up vendors, over-the-top decorations, and plans for musical performances throughout the holiday season.
We have been speaking with clients and friends about the return of international travel. Here are some telling quotes from the past few days:
"International guests are starting to make more reservations at the restaurants, and we're thrilled to be able to host them again. I think everyone is enthusiastic to be a part of the festivities in New York City. Everywhere you turn, you'll see beautiful decorations, and feel like you're in a winter wonderland, and our restaurants are no exception. We're starting to see an increase of international guests calling us about making reservations for Christmas Day, because they saw the holiday decorations we put up and they want to dine in the cozy ambiance we created." —​Benjamin Prelvukaj, Owner—Benjamin Restaurant Group
"We are thrilled to once again welcome our international guests back to The St. Regis New York!  Our neighboring Fifth Avenue shops are bustling, restaurant reservations are increasingly harder to come by and theater seats are full. Almost immediately, we've seen an influx of European travelers here at the hotel, and it has been wonderful feeling their energy and excitement as many have been eagerly looking forward to returning to experience all that makes New York City the greatest city on Earth." —Harald G. Mootz, CHC, CGSP, Chef Concierge, The St. Regis New York
"Attendance at Summit One Vanderbilt continues to be robust. It's been a delight to hear the chatter at our attraction include German, Spanish, French and even some great English accents. You can really feel the momentum shift in the city." —Jason Hackett, Senior Vice President, Director of Sales and Marketing, Summit One Vanderbilt
We're feeling that momentum shift, too. An informal survey of Manhattan this weekend revealed a full house for Edge, tons of pedestrian traffic on The Hight Line and inside Hudson Yards, and 90-minute waits for tables in Union Square. Other promising notes for NYC tourism include:
The most recent hotel occupancy rate for NYC is solid, just shy of 75%
The Met just had its best weekend since the start of the pandemic
Nationally, the TSA is reporting 95% of the traffic seen at this time in 2019
The city gained 83,500 jobs in October, at increase that's twice the rate of the nation as a whole
Thanksgiving travel is expected to be at pre-pandemic levels. If you're leaving town we hope your travels are safe and we look forward to connecting with you in the weeks ahead.
LINKS OF INTEREST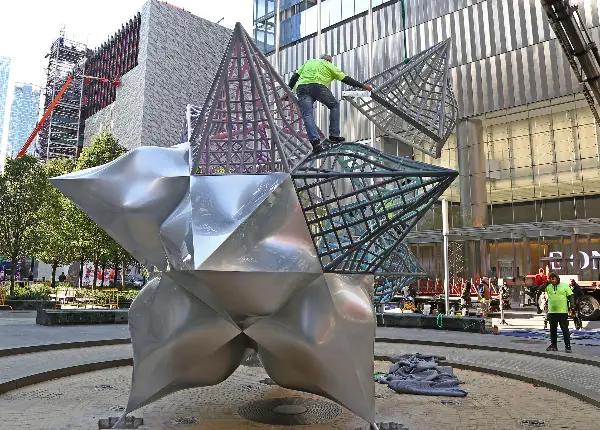 Installation of Frank Stella's "Casper's Split Star'" sculpture in the Silverstein Family Park at 7 World Trade Center. Photo by Joe Woolhead.
NYC
BEYOND NYC
EVERYTHING TO DO FACEBOOK GROUP POST OF THE WEEK
City Guide's Facebook Group Everything to Do NYC has over 62,000 members, bringing together a mix of tourists making plans and locals giving advice. It's a great barometer of what visitors are thinking. More than 160 people took the time to comment on this post:
I never went to a Broadway Show.
Which one would you recommend as a start?
Among the suggestions: To Kill a Mockingbird, Phantom, Mrs. Doubtfire, Chicago, Aladdin, whatever you can get on TKTS, Hamilton, Book of Mormon, SIX, and Waitress. But interestingly, again and again the suggestions were for Wicked, Lion King, and Come From Away. This is market research that you don't have to pay for. It's also a great way to reach customers in real time as they're making decisions about where to invest their time and money in NYC. If you're not a member yet, join us!