Ichiran, purveyor of exquisite tonkatsu ramen, has unveiled new updates for the fall season. Not only have the chefs changed their ramen recipe, but now each bowl will be served in traditional ceramic jubako bowls. Ichiran is rolling out these exciting new changes at its Times Square location on West 49th Street. Try some of the city's best ramen before a Broadway show, during your lunch break, or amidst your day of fun in New York City. 
Starting November 14, every Ichiran Times Square diner will receive their ramen in a jubako, or a ceramic Japanese "lunch box" designed for special events. These particular bowls will be black, rectangular boxes with lids and are handmade in Arita, Japan.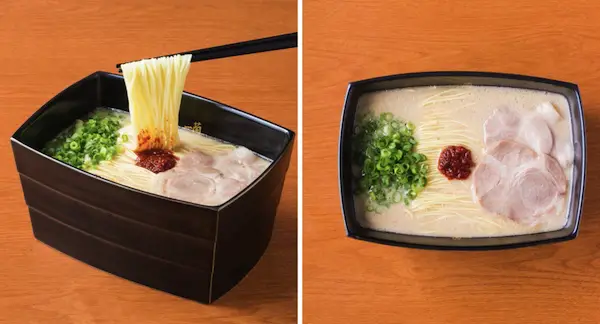 Every meal at Ichiran is already a contemplative experience, as diners sit at individualized Ramen Focus Booths to enjoy their custom bowls of ramen. Now, you'll get to lift the lid off your jubako bowl and let the aroma excite you for the meal to come. 
The centerpiece of every ramen bowl is its broth. At Ichiran, the tonkatsu pork broth is now made with a new recipe, including pork bones and quality, filtered water. For plant-based diners, Ichiran also makes a seaweed-infused dashi as its vegetarian broth. Another important ingredient is the ramen noodle. Ichiran's noodles are thin, Hakata-style noodles, made in the restaurant's Brooklyn factory with daily consideration to how weather conditions affect noodle consistency. 
At your Ramen Focus Booth, you'll fill out a card to order a perfect bowl of ramen just for you. Specifications include preferred noodle texture, how much Original Spicy Red Sauce you'd like, and additional ingredients like Osukaran vinegar and soft-boiled egg. Once you tuck into your jubako bowl of ramen, you can also order more noodles with Ichiran's Kae-Dama system, placing a small dish atop a sensor to alert the chefs of your request. 
In addition to ramen, Ichiran serves matcha pudding as a dessert, plus drinks like Asahi beer, green matcha beer, and Calpico soda. 
The Times Square location has 103 Ramen Focus Booths so everyone can enjoy their meal with less of a wait. If you're traveling with a group, just take down the dividers between your booths to savor your ramen together. In addition to its Times Square location, you can visit Ichiran in Midtown near Herald Square and in Bushwick, Brooklyn.  

Times Square: 152 W. 49th St., 646-964-4294; Herald Square: 132 W. 31st St., 212-465-0701; Brooklyn: 374 Johnson Ave., 718-381-0491. Visit ichiranusa.com for more information.