As much as it may feel like 2021 is picking up right where 2020 left off, we are already in a different world less than two weeks into the year. Disturbing as the violence last week was—and the threat of more to come—we have seen the resilience of our institutions. Vaccines are rolling out across New York City, with protection newly extended to those 65 and over and those with preexisting conditions. Financial markets are optimistic—and not just the stock market, the bond market is reflecting confidence as well. The interest in travel inspiration is at a pandemic-era high, with July being circled as the hottest travel month of the year. Already we are seeing headlines like "The COVID Vaccine Travel Booking Spree Is On." A more unified federal government gives hope for necessary relief and top-level organization, accelerating our comeback. 

This week, Governor Cuomo has released plans for a New York Arts Revival. Drawing on the recent success of in-person attendance at a Bills playoff game, the strategy will involve easily accessed rapid testing, outdoor venues, new funding for artists, and pop up performances, slated to begin in less than a month. Stay safe for a few more weeks—good things are coming.
The Garment District Plazas are illuminated by new immersive art installation Prismatica. Photo by Cindy Boyce.
Links of Interest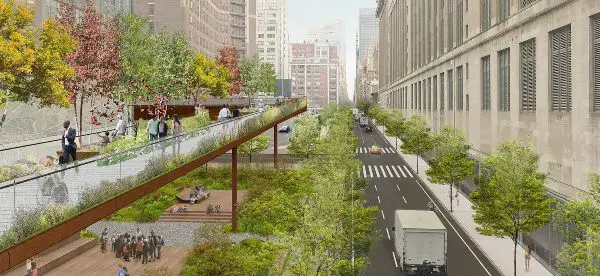 Governor Cuomo announces plan to extend the High Line to provide seamless pedestrian access from newly opened Moynihan Train Hall. Image: Office of the Governor of the State of New York.
NYC
Congrats to Patsy's Italian Restaurant, selected as the best Italian restaurant in all of New York State by Love Food.

Four city spots make the Robb Report's 18 Most Anticipated New Restaurants of 2021.
Eight city spots make Esquire's 100 Restaurants America Can't Afford to Lose.

New roller coaster Phoenix coming to Deno's Wonder Wheel Amusement Park.

Consolidation hits Broadway: Dramatists Play Service to be acquired by Broadway Licensing. 

Who's riding the sightseeing buses right now?

Comedy Cellar owner Noam Dworman on the future of NYC comedy clubs.

Times Square fallout: Buffalo Wild Wings sued for $3 million in back rent at shuttered location; Carmine's sues to block eviction from spot that was one of the nation's highest grossing.

The Vessel is closed indefinitely after a third suicide.

De Blasio finally pushing forward with permit requirements for hotel expansions.

NYC hotel market anticipating rough start to 2021.

NATIONAL 
Yelp now sharing info on COVID compliance in restaurants. 

The CDC will require negative COVID tests for all travelers entering the U.S. effective January 26th.

Wyndham Destinations acquires Travel + Leisure.

CLOSING TIME
45 years on, Sammy's Roumanian will leave its LES basement lair (with hopes for a second act elsewhere).

On its 50th anniversary, Pearl River Mart to close its Tribeca flagship.

After 40 years, East Village costume hub Halloween Adventure is closing up.

Everything to Do NYC Facebook Group Post of the Week
City Guide's Facebook Group Everything to Do NYC provides excellent first-hand market research, letting you gauge the thinking of 13,000 New York City superfans. Members are looking for things to do and eager to provide guidance to city visitors. This post from last week is already up to 73 comments:
Planning to travel to NYC in April! And wanting to plan some activities...what's going to be there to do?! Ideas.
It's my 33rd bday trip! And I'm a tourist, I hope things are open
Suggestions ranged from Edge, the Vessel, the High Line, and Liberty Island to Arthur Avenue in the Bronx, with plenty of tour professionals weighing in. The locals really take the time to welcome people to the city, like this thoughtful addition to the list: "The weather can be tricky at that time of year, so pack layers--you'll want to walk around a lot! Strolling across the Brooklyn Bridge is a must; start in Brooklyn and finish in Manhattan, then treat yourself to lunch in Chinatown (lots of places with outdoor seating, and they've really suffered from the double whammy of pandemic closures and anti-Asian racism, so I encourage visitors to support these businesses!). Central Park is another great place to spend a spring day, and if you get timed tickets, you can check out some of the many museums that flank the park; the biggies are the Met, MoMa and the Natural History Museum, but don't miss lesser-known museums like the Cooper Hewitt, the Museum of the City of New York, the Jewish Museum, or El Museo del Barrio (and a whole bunch more.). Have a great visit!" For pandemic times and beyond, Everything to Do NYC can really serve as a marketing vehicle. Stop by for insight into what locals and visitors are thinking.