New York is famed for its cultural attractions, historical landmarks, shopping, nightlife, and dining experiences. These are predominantly adult interests, so does that mean the city doesn't have much to offer younger members of the family? If you'd like to visit New York but are worried about how to keep the kids entertained, don't worry—there are numerous exciting and interesting activities for children and teens to enjoy. All you need is to do some forward planning to see which activities appeal to your kids and will fit into your schedule, and then you're set for success in the Big Apple.
Booking Your Break
The first step to your magical NYC holiday is sorting out your travel and accommodation arrangements. It's perfectly possible to book your own hotel rooms and transportation, and you could drive your own car if the distance isn't too great. Alternatively, you could let a travel company take care of everything and book one of the all inclusive family holidays that are available as packages. That way you know you are paying for everything you need for your break in one go, with no hidden charges; all you'll need is your spending money. When you're choosing your hotel, have a look and see how well it is positioned in relation to the places you want to visit, because you don't want to waste time and energy spending hours traveling from one side of the city to the other.
Culture for Kids
Image: MoMath

There are some outstanding visitor attractions for kids in New York. For example, the Staten Island Children's Museum has its own rainforest experience, as well as a fire truck and themed performance spaces. Mention of the MoMath National Museum of Mathematics might cause cries of anguish from your kids, but in fact, will bring the subject to life and awaken your children's interest in this fascinating subject. To get a panoramic view of the city, go for a ride to the top of the One World Observatory building, which is the tallest building in the Western Hemisphere.
Fun for Kids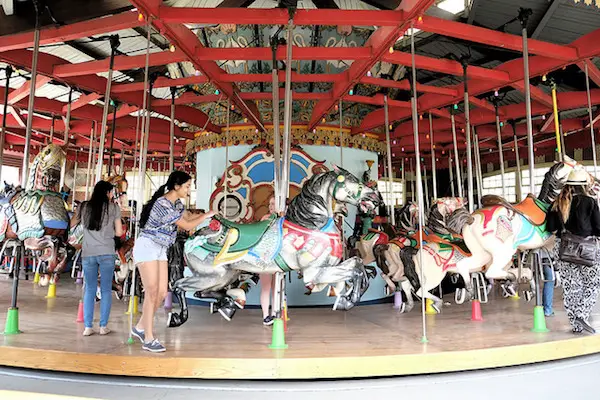 Central Park. flickr/lucianafujii
M&M's World is a paradise for chocolate lovers, where you can get customized printed candy, buy all kinds of M&M themed merchandise, and take part in themed activities. It might not be your first choice if the kids tend to get hyper after chocolate, so don't fret— there are many other fun places to go. Have a look through the theater listings and you'll find a good choice of kid-friendly shows, like Wicked or the Lion King musical. If they need to let off steam, head for Central Park, an oasis of green grass, trees and water features in the heart of the city.
These are just a few of the many choices you have for enjoying a family-friendly vacation in New York. If you give the children some cool activities to do, they will be more accommodating when you want to take some time out to explore the shops and sights that are of more interest to the adults. That way you all get time to enjoy yourselves—and make the most of your Big Apple adventure.