The Governor is gone and the auto show is canceled. Again, lots of changes in a short span of time. Neither will have much downward drag on tourism's gradual return, with reports from malls and a major retailer that traffic has been ticking up in the last week. As the Delta variant intensifies in unvaccinated parts of the country, the reopening of international borders will be pushed back, increasing the opportunities for domestic travel. We do need to get through this period of hesitation, but on the other side there will be more and more draws for visitors to NYC. The latest announcements include:  
The TSA continues to record pandemic-era records for air travelers. United Airlines has mandated vaccines for all its employees (although American, Delta, and Southwest won't); Ian Schrager will require proof of vaccination at his Public Hotel, as will the Equinox Hotel. That's on top of the mayor's announcement last week that you'll need vax proof for indoor dining, gyms, and indoor entertainment. We anticipate additional vaccine requirements, and COVID's toll on tourism going down accordingly.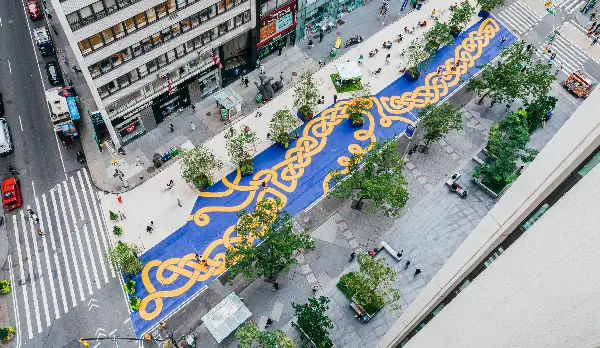 Broadway inked with custom 'road tattoo' titled "Magic Hour," created by local artist Steed Taylor. It's part of the Garment District's new summer programming, which also includes live music.
LINKS OF INTEREST
NYC
BEYOND NYC
EVERYTHING TO DO FACEBOOK GROUP POST OF THE WEEK
Looking for on-the-round reporting about the city? Everything To Do NYC Facebook Group brings together more than 46,000 city superfans sharing what they're experiencing around town. A post this week encapsulated what many potential tourists are experiencing: 
Dear group I need your help 
How is the city now?
Is it all open and alive?
I am trying to decide if we are traveling or cancelling
Thanks
Over 500 members took the time to reassure the poster in the comments, with many enthusiastic testimonials like "It's buzzing—full of tourists," and "Great trip! I was scared too. Brought my eight year old for the first time. It was wonderful. Fewer tourists." and "I'm here right now visiting from California and the vibe and everything here is so cool! Loving it so much so far! Do NOT cancel, just come and enjoy NYC!" ETD provides a great forum to get a read on what tourists and locals are thinking, in addition to being a great place to market your venue. If you're not a member yet, join us.
HSMAI SUMMER BASH
Summer Bash is back and it will be better than ever. Join your industry colleagues from HSMAI Greater NY, MPI Greater NY, NYSAE, Live Events Coalition, ILEA NYC, PCMA New York, YEP, NYC & Company, SITE Northeast, Skal Club of NY, and others for what is destined to be one the finest hospitality networking events of the year. Margaritaville Resort Times Square, next Tuesday, August 17th, 6-9pm.