City Guide congratulates Mayor-Elect Eric Adams, who will be inaugurated as the 110th Mayor of New York City. We are hoping an influx of strong leadership will guide midtown and the broader city through our immediate challenges. On the tourism front there are some encouraging signs. National bookings are on the rise ahead of the November 8th border re-openings. Covid concerns are ebbing. Allianz Partners recently analyzed more than 2 million roundtrip itineraries and found Americans' top choice for Thanksgiving weekend is NYC. City Guide will be ready for the arrivals. This week we are putting together new print editions of the magazine, which will appear all around the city starting a week ahead of Thanksgiving. Hotels looking for copies can reach out to our Director of Operations Management, Ray Winn. Other comeback notes include:
The Broadway League has once again begun sharing grosses, and although individual shows aren't being reported, the total numbers are promising, with 86% capacity for the season to date. These numbers are higher than might be expected, and Griffin Miller, City Guide's Theatre Editor, notes that almost every performance she's been to has been packed, adding "and I only see shows on the weeknights." We expect that starting next week, there will be many more foreign accents on line for the performances.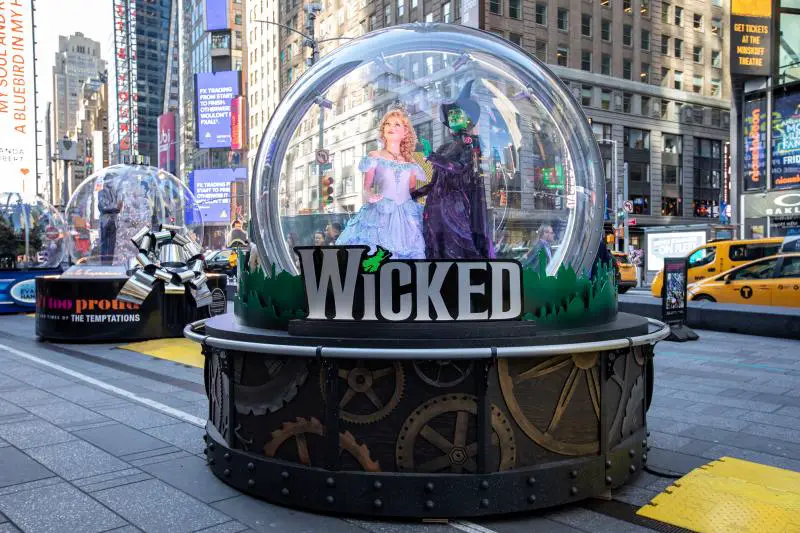 Times Square Alliance brings back the holiday "Show Globes" inspired by hit Broadway shows today. Image: Walter Wlodarczyk for Times Square Alliance.
LINKS OF INTEREST
NYC
BEYOND NYC
EVERYTHING TO DO FACEBOOK GROUP POST OF THE WEEK
City Guide's Facebook Group Everything to Do NYC is 57,000 members strong, bringing together a mix of tourists making plans and locals giving advice. It's a great barometer of what visitors are thinking. 160 people weighed in on this one:
Best Italian restaurant in NYC atmosphere, history etc
Patsy's is there of course, but also some lesser known suggestions including Raffaele, Osteria 106, Rossini's, Monte's Trattoria, Villa Mosconi, John's, Da Umberto, Patrizia's, Zero Otte Nove, Giardino D'oro, Locanda Verde, Carmine's, and Dominick's Restaurant. The group is a great way to reach customers in real time as they're making decisions about where to invest their time and money in NYC. If you're not a member yet, join us!