New York has a thriving public library system as well as libraries specializing in particular areas of interest. Many libraries in the city—old and new—have magnificent architecture and most offer lectures, concerts, programs for families, and tours. 
NYPL/The Stephen A. Schwarzman Building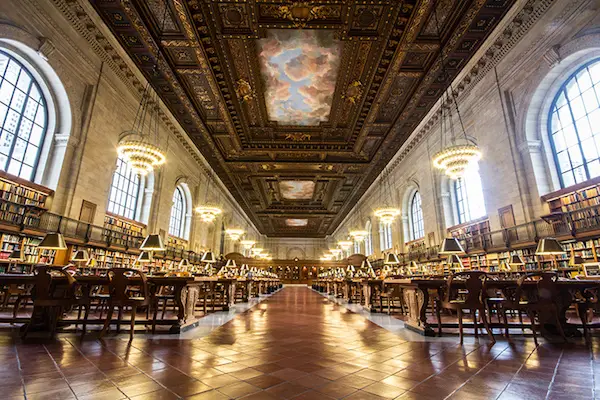 The Stephen A. Schwarzman Building, often referred to simply as New York Public Library, (40- 42nd Streets on Fifth Avenue), is a knockout. When it opened May 23, 1911, it was the largest marble building in the United States and home to over one million books. The enormous, iconic Rose Main Reading Room is the length of two city blocks, with 52-foot-tall ceilings displaying murals of skies and clouds. The building's exterior is guarded by two of NYC's favorite "pets," the Library Lions, Patience (south end) and Fortitude (north end), named by former Mayor Fiorello LaGuardia for the qualities he felt New Yorkers would need to survive the Depression.
Walk around on your own or drop by the information desk for either the free Building Tour or Exhibition Tour.  An exhibit on author J.D. Salinger is on view until mid-January. There is a terrific gift shop on the ground floor.
Library of the Performing Arts at Lincoln Center 
If the arts are your thing, visit the Library of the Performing Arts at Lincoln Center, 40 Lincoln Center Plaza (65th St and Columbus Ave). The current free exhibition In the Company of Harold Prince: Broadway Producer, Director, Collaborator runs until March 31, 2020. Hal Prince was involved with some of Broadway's greatest hits including West Side Story, Fiddler on the Roof, Cabaret, Company, Sweeney Todd, and Phantom of the Opera. The exhibition includes original costumes, set models, and archival video. This library also houses rare archival collections, recordings, manuscripts, press clippings, sheet music, programs, and posters. Free public programs highlighting dance, composers, musicians, and playwrights take place in the Bruno Walter Auditorium. For tickets and information: nypl.org/about/locations/lpa/events


Jefferson Market Library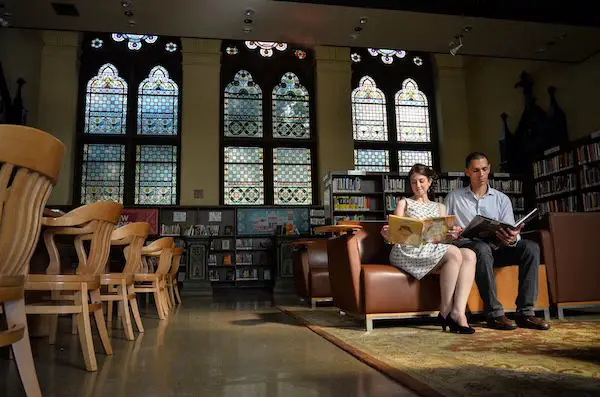 Jefferson Market Library/Facebook.
The Jefferson Market Library (425 Sixth Ave. between Christopher and W. 10th Streets) has a fantastic garden open April through October. The adjacent building, a New York City landmark, was originally a courthouse. The beautiful brick-arched basement (now the Reference Room) was used as a holding area for prisoners on their way to jail or trial.
This library has lots of activities for kids and other programs for adults. It will be temporarily closed for three months starting April 1, 2020, to get ready for a major renovation. nypl.org/locations/jefferson-market
Schomburg Center for Research in Black Culture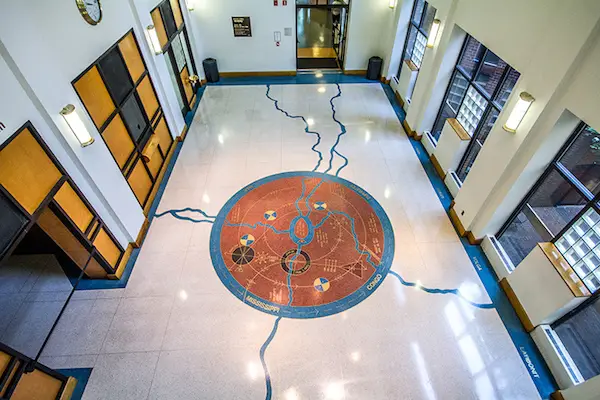 The Schomburg Center for Research in Black Culture, 515 Malcolm X Boulevard (135th St and Malcolm X Blvd) in Harlem, focuses on African-American, African Diaspora, and African experiences. There are self-guided and staff-guided tours both requiring advance registration. The exhibit A Ballad for Harlem, open through December 31, 2019,  includes items from The Brotherhood of Sleeping Car Porters, artists/activists Ruby Dee and Ossie Davis, and material from tennis champion Althea Gibson. For information and schedules: nypl.org/locations/schomburg
Hunters Point Community Library 
The NYPL has branches in Manhattan, The Bronx, and Staten Island. Queens has the Queens Public Library, of which the new Hunters Point Community Library, 47-40 Center Blvd. in Long Island City, is an architectural gem. It has spectacular views of the United Nations and cost over $40 million to build. (It also has accessibility issues that include potentially risky stairs in the children's area, only one elevator, and other problems which the library is working to retrofit.) Still, it's worth a visit to see the remarkable building. queenslibrary.org/about-us/locations/hunters-point
Brooklyn Central Public Library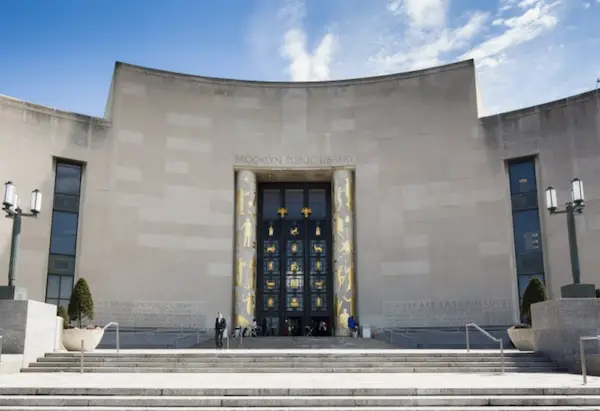 The Brooklyn Public Library's main branch, The Central Public Library (10 Grand Army Plaza), has events for all ages and many cultures. A New York City landmark, the library has a 50-foot-high entry portico, and an entrance with 15 bronze sculptures of famous characters and authors from American literature. including Paul Bunyan's Babe the Blue Ox; Meg from Little Women; and Tom Sawyer. There are conversation groups for those learning English as well as other languages, craft groups, and poetry workshops. bklynlibrary.org
Poets House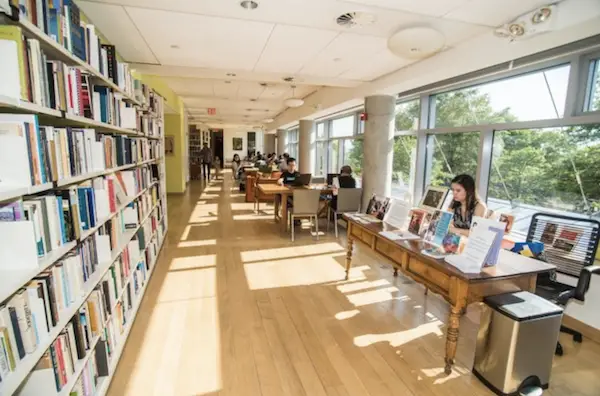 Have a special interest in poetry and related topics? Drop into Poets House, 10 River Terrace (at Murray Street) where you will find one of the largest independent poetry collections anywhere in the U.S. The library houses over 70,000 poetry books including chapbooks (a single set of pages folded and bound, often by hand), literary journals, special collections, and a multimedia archive. There are special exhibitions and a wonderful Children's Room with a canoe-shaped bookshelf, antique card catalogues holding interesting objects, and manual typewriters, a source of fascination for today's kids raised in the digital age. For hours and more information: poetshouse.org.
Frick Art Reference Library 
If you are over 16, you can visit the Frick Art Reference Library in the Frick Collection (10 E.  71st St.).  The library includes paintings, drawings, prints, and sculpture from the fourth to the mid-twentieth centuries by European and American artists, as well as archival materials about the history of art collecting and Frick's collecting in particular. Free; bring photo ID. frick.org/research/library
General Society Library 
Founded in 1820, The General Society Library (20 W. 44th St.), part of the General Society of Mechanics and Tradesmen, has archives dating back to 1785. It offers lectures dealing with work of skilled craftsmen, as well as a large book and periodical collection. Also housed here is the unique John M. Mossman Lock Collection, with more than 370 locks, keys, and tools, dating from 4000 B.C. to the early 20th-century.
Library at the New York Academy of Medicine 
Those with a deep interest in medicine or a wish to research will enjoy the Library at the New York Academy of Medicine, (1216 Fifth Ave., at 109th Street). This library houses one of the largest medical collections in the country and is open to the public Tuesday to Friday, 10am–4:45 pm, by appointment; to make one call 212-822-731. There are public tours and occasional events. nyam.org/library