The joy of Lincoln Center steps into the sunshine this summer at its annual Out of Doors Festival! Held on the large plaza outside a temple of New York culture, the festival lasts for three weeks in July and August. It kicks off Tuesday, July 24, and all events are absolutely free!
See Carly Rae Jepsen, Mavis Staples, and a member of the Wu-Tang Clan will be among the performers. In addition to these exciting musical acts, there are family activities, dance performances, dance parties, readings, and talks.
The week of July 24, RZA, a founder of the Wu-Tang Clan, will perform his new score for the film The 36th Chamber as the 1978 martial arts classic plays on a screen. As with a majority of performances, the film and music will play in the white bandshell at Damrosch Park, the main plaza outside Lincoln Center.
July 25, hear music from R&B icon Raphael Saadiq and Oscar-nominated composer Tamar-kali's vocal/strings piece, PsychoChamber Ensemble. July 26, get down with the songs of Selena, covered by an array of Latino and Latina musicians. Nino Rota, who composed the scores for The Godfather: Parts 1 & 2, receives a fitting tribute the evening of July 27 with an orchestral ensemble playing a Hal Willner arrangement of Rota's work.
Saturday, July 28 is Family Day! That means an all-day dance workshop from the dancers at Brooklyn's Mark Morris Dance Group, a performance by drumline/dance team the Marching Cobras, and an interactive performance by Chen Lo and Asante Amin at the Soul Science Lab. Bring your kids for this sunny day full of music, dance, and discovery.
Photo by Shelby Duncan (l) & Courtesy of the artist (r).
Jonathan Wilson (alias Father John Misty) will perform after fellow indie singer-songwriter Lucy Dacus on Sunday, July 29.
Throughout the week of August 1, be on the lookout for Duets, a series of pop-up dance performance happening around Lincoln Center at random (hint: they're described as "fragments of love").
August 1, Out of Doors presents a fleet of impressive female musicians with pop star Carly Rae Jepsen, and R&B artist/poet Jamila Wood, and Americana supergroup I'm With Her, all performing music and speaking on a panel with Ann Powers for NPR's Turning the Tables Live: 21st Century Edition.
Saturday, August 4, is La Casita, a celebration of people who uphold the voices of the marginalized. Hear poetry by ten poets including Danez Smith and Frank Waln, as well as music by Bohio Music, Los Pleneros de la 21, Madison McFerrin, Soul Inscribed, and Ulali Project. That evening, see a free dance performance marking the 50th anniversary of Dance Theatre of Harlem, with British singer ALA.NI as the opening act.
Sunday, August 5 is Heritage Sunday. Experience another dance company's 50th anniversary with the Center for Traditional Music and Dance and a performance of traditional African dance at 1pm on the Hearst Plaza outside Lincoln Center. Dance to some Bhangra beats at the dance party on Josie Robertson Plaza with DJ Rekha. Finally, enjoy some toe-tapping Caribbean dance music at "Yoruba Remixed!" at 7pm at Damrosch Park.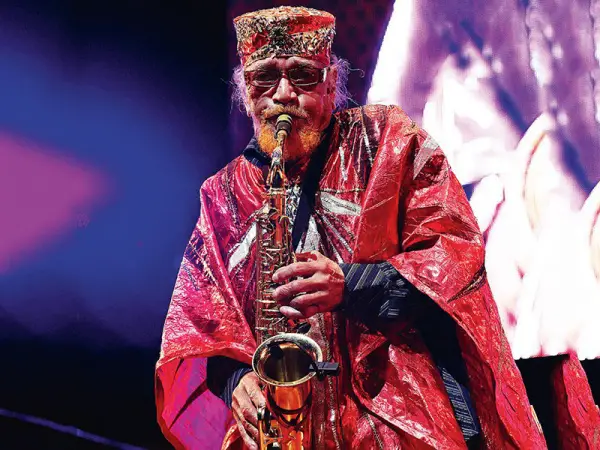 The final week of the festival begins August 8. That evening, experience the finest of Afro-futuristic art with the 1972 sci-fi film Space Is the Place with a live score played by the Sun Ra Arkestra. Friday, August 10 sees a Latino take on the music of West Side Story, with a performance of the film's iconic score by Bobby Sanabria Multiverse Big Band. The legendary Mavis Staples plays the following evening, preceded by country singer-songwriter Joe Henry.
The Out of Doors Fest closes August 12 at 7pm with performances by rising country star Margo Price and Willie Nelson's son Lukas Nelson, with his band Promise of the Real.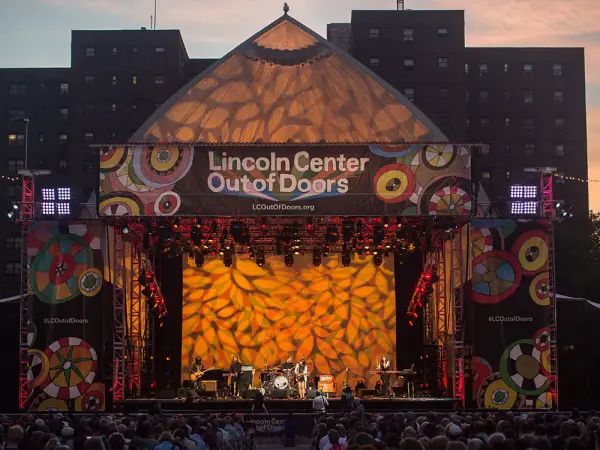 There will be seats available in Damrosch Park, but all seats are offered on a first come, first served basis. The gates to the park will open one hour before scheduled performance times. The line to enter the gates will form on West 62nd Street outside Lincoln Center.
As a complement to the free entertainment, you can purchase food at a series of food trucks visiting Lincoln Center! Enjoy Hill Country BBQ, Korilla Korean BBQ, L'Arte del Gelato, and Motorino Meatball at dates throughout the festival. At Damrosch Park from 5 to 10pm, you can buy drinks at Fun Bar, offering frosé, cocktails, wine, and beer.
Kids can also eat and play during the performances at Kid Zone, located at the southeast corner of Damrosch Park.
The Out of Doors Fest occurs between July 24 and August 12. All events are free and open to the public. Most occur at Lincoln Center, located at 10 Lincoln Center Plaza. Call 212-721-6500 or visit lincolncenter.org for weather updates and more information.