It's summer in the city (finally)! That means it's time to check an important item off your bucket list: a roller coaster ride and hot dog at Coney Island's Luna Park. This amusement park keeps with the spirit of the 1903 original, attracting fun-lovers from across the globe with its legendary wooden roller coaster (the Cyclone), other rides, games, and that nearby indelible hot dog. Below is the full rundown of what to expect at Luna Park, plus tips on tickets and transportation. Think of it as a guide to your perfect summer day on Coney Island.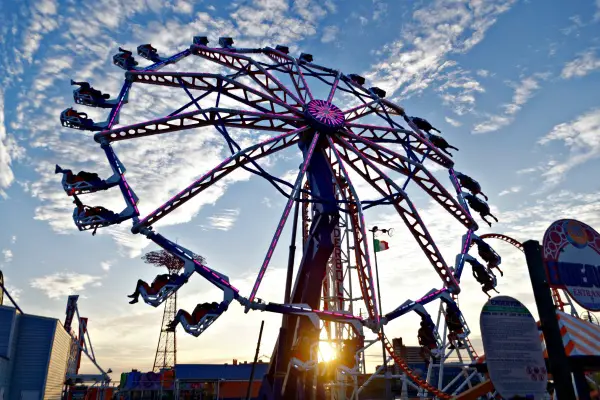 Luna Park on NYC's Coney Island: Rides
Luna Park features a wide variety of rides for thrills and fun, including the newly opened Astro Tower and virtual-reality-infused Cozmo Jet. Of course, there's the classic Cyclone roller coaster, which saw its first riders in 1927! Two other roller coasters at Luna Park are the new Thunderbolt, featuring a 90-degree drop (!!), and the Steeplechase, where riders sit on horse-shaped seats like jockeys at a race. Thrill-seekers can also check out the gravity-defying Slingshot and giant see-saw-like Zenobio.
Not a fan of free-falls and loop-de-loops? Try the 1906-built B&B Carousell, the Circus Coaster, or Tea Party. These milder rides accommodate kids and adults, and they're just as much fun! There are also two new rides with a virtual reality element. On the aforementioned Cozmo Jet, experience a space adventure as you ride in a space capsule equipped with VR gear. The WindstarZ takes you on a spin above the boardwalk, but with your headset, you feel like you're hang-gliding from much higher up!


Luna Park on NYC's Coney Island: Tickets
In keeping with Coney Island tradition, Luna Park is an open-gated amusement park with no fee to enter. But you're here to play. Your best deal at Luna Park is to buy the Fixed Date Luna Pass, starting at $29 per person. With the Fixed Date Pass, you'll buy your pass for a specific day and enjoy unlimited access to most rides.
The Any Day Luna Pass is redeemable on the day of your choice and also entitles you to unlimited fun on most of the rides in the park! This pass is $65 for all ticket-holders 48 inches and taller, and $40 for all ticket-holders shorter than 48 inches.
All Luna Park games and rides require certain amounts of credits to participate (for example, you need 10 credits to ride the Cyclone, but 5 to play the game Stinky Feet). The Luna Card allows you to choose the number of credits you want. $1 is equivalent to 1 credit, and you can load as many credits onto your Luna Card as you'd like. Buy 100 credits, and you'll receive 40 credits as a bonus!
Luna Park on NYC's Coney Island: Games
Friendly competition is yours at Luna Park's many game station. These classic fair games include a ring toss, basketball, water gun race, and, of course, Whac a Mole. The plush prizes at these stations provide plenty of incentive for you to score big, like stuffed Minions and Pokemon! The video arcade at Luna Park has motorcycle races, skeeball, and HD video games as well.
Luna Park on NYC's Coney Island: Food & Drink
There's only one word for the best snack near Luna Park: hot dogs. Okay, that's two words, but regardless, the area is famous for its salty dogs topped with mustard and sauerkraut and ready to devour. Coney Island's famous Nathan's has attracted countless visitors to the boardwalk since its opening in 1916. Their newly renovated facility will most likely be packed to the gills when you visit, but their hot-pink hot dog loaded with toppings will be worth the wait.
If you're attracted to a more artisanal take on the hot dog, go for Feltman's, just a few blocks from Nathan's and first opened in 1870, before the first Luna Park opened in 1903. Feltman's hot dogs are larger, made with zero preservatives or nitrates and a hint of apple cider vinegar to round out the flavor. We recommend you split your plate down the middle and order one Nathan's hot dog and another from Feltman's to choose your personal favorite of these historic boardwalk treats!
For nachos, burgers, fries, and frozen margaritas, check out Place to Beach on the Luna Park boardwalk. Or cool off with Coney's Cones, serving delectable gelato and sorbet in flavors like Milano cookie, pistachio, lemon, and mango.
Luna Park on NYC's Coney Island: How to Get There
Coney Island is located at the southern end of Brooklyn on the Atlantic Ocean (it's not technically an island, though, FYI). The address is 1000 Surf Avenue in Brooklyn.
The orange and yellow subway lines both go to Coney Island. Take the Q or the F line to West 8th Street, or take the D, F, N, or Q line to Coney Island-Stillwell Avenue. Both of these stops are well within walking distance of Luna Park. Plan at least an hour for travel time if you're coming via subway.
Luna Park is also easily accessible by car via Belt Parkway. Parking is available immediately west of the park.
Luna Park on NYC's Coney Island: While You're There
Sand Tiger Shark/New York Aquarium
Remember, there's also a beach at Coney Island. Bring a bathing suit, portable chair, and a cooler to maximize your trip! You can keep these items in a Luna Park locker while you're enjoying the rides and games at the theme park. Keep the fun going with local events like the New York Aquarium's new shark exhibit and Coney Island Flicks on the Beach, which happen Wednesday evenings this summer.
Luna Park at Coney Island is located at 1000 Surf Ave. Call 718-373-LUNA or visit lunaparknyc.com for tickets, daily hours, and more.