Think small. Very small. A new pop up gathers together a crop of internet artists who are putting ingenious slants on size. Reconnect with a childhood fascination with small-scale universes—and maybe introduce little eyes to fresh ways of seeing—at NYC's new Small is Beautiful: Miniature Art Exhibition. 
Photo: © Slinkachu, Fever.
The exhibition's storefront close to NYU and Washington Square Park gives little indication of the worlds packed inside (you can fit in a lot when you're dealing with miniature art). There are 130 artworks here, representing more than 30 artists, sprawled across two floors.
Tug of War, 2021, by Slinkachu.
The artwork is more sophisticated than its internet origins might suggest. There's lots to think about, from personal explorations to political undertones. The results feel less about gimmicks and more about exploration—this is more than a model train set.
Au Mortier d'Or, 18th century, 2019. A synthesis of the houses of old Paris by Nicolas Guerin.
There are Easter Eggs throughout (don't miss the active flames inside the fire alarm pull station) and a scavenger hunt to keep the kids engaged.
Pencil lead art by TOLDart.
An issue with miniature art is that, short of a shrink ray to Gulliverize you down, it's impossible to truly inhabit these spaces. Small is Beautiful has a good solution for this, with blown-up photographs accompanying the art. You can really get into the details, and there's always some new little element to be discovered. You could spend an hour just lingering over the efforts of Jasenko Đorđević, who miraculously creates entire narratives out of literally the tip of a pencil. 
Margie Criner's work stands on its own, with gorgeously crafted sculptures with portals into tiny worlds. Accompanying blowups of the interiors help too, though—you might not notice the Future magazine and the slightly open door that tip off the narrative direction of the first piece on display.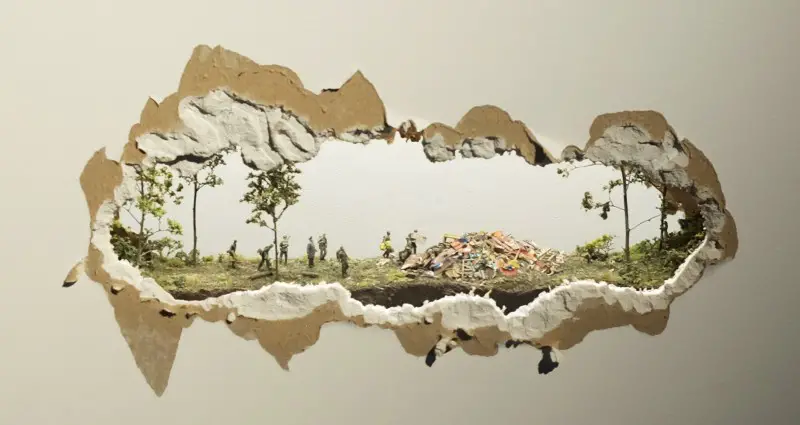 Top: In the bone, Distillation Series, 2007, by Thomas Doyle. Bottom: You Remember It, or It Remembers You, 2014, by Thomas Doyle.
Mirroring and revealing are themes that recur in the detailed work of Thomas Doyle. A New York-based artist, Doyle's contributions here mix everyday familiarity with uncanny elements of disruption. Images of the war in Ukraine provide new context to Proxy (725 Bauer Ct.), a 2012 work that juxtaposes a militarized wasteland as the obverse of a suburban idyll. Beneath a glass dome, In the bone is simultaneously familiar and dream-like.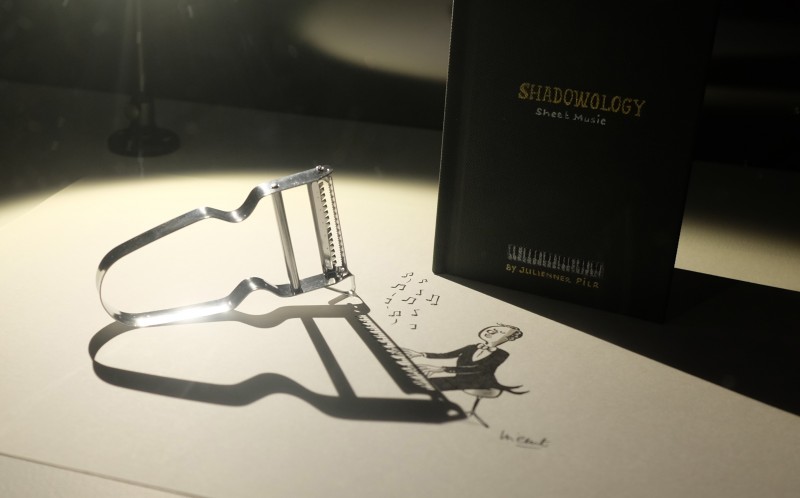 Concerto for Piano Peeler, 2017, by Vincent Bal.
If you don't laugh—or at least smile—as you make your way through Vincent Bal's section then you need to have your capacity for delight evaluated. Bal makes clever use of light and reflection to add dimensions to skilled, playful drawings.
Thoiry Castle Harpsichord (1733), 2019. David Iriarte.
There are many opportunities for enhancements here, with links to artist pages where you can learn more and "Audio Escapade" accompaniments as well.
Some of the art is so small you need a magnifying glass to even see it. From incredibly detailed microscopic butterflies to album art, it's a testament to human possibility (and patience) that this work can even be made.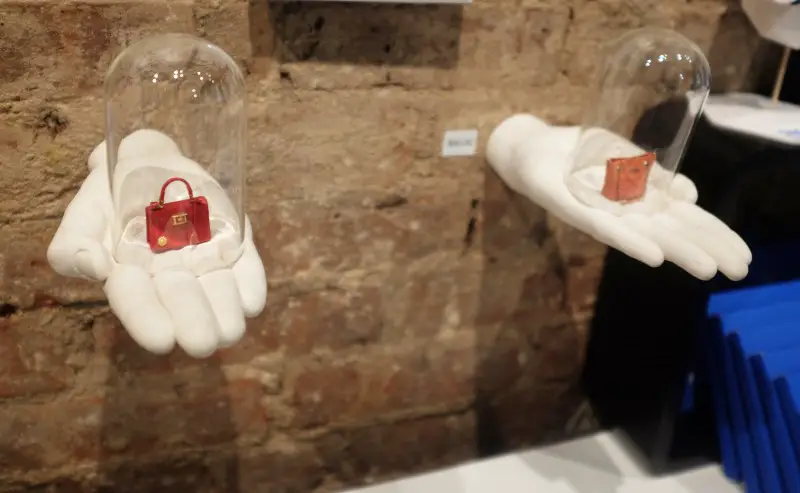 Artwork by Dominique Roche, who works in luxury leathers, can be purchased at the gift shop.
I was surprised by the size and scope of the gift shop. There are resizing classics here, from Alice in Wonderland to Gulliver's Travels to The Little Prince, in addition to toys and posters. Amazingly, pieces of art from the exhibition's contributors are also available for sale—the ultimate souvenir, owning a piece of the show.
The Archipelago of the Five Citadels, 2021, Tank & Popek.
Family-oriented workshops are held on Sundays. 
Small is Beautiful: Miniature Art Exhibition is located at 718 Broadway in NoHo, just south of Astor Place. The show is scheduled to run through August. Tickets start at $20.60 for children and $27 for adults.
HOURS
Tuesday-Thursday: 10am-7pm (last entry)
Friday-Saturday: 10am-8pm (last entry)
Sunday: 10am-7pm (last entry)
Closed Mondays
This article has been updated to correct an earlier misattribution of the work of Jasenko Đorđević. We deeply regret the error.