5 New Ice Cream Flavors to Try in NYC
April 30, 2019 - by Merrill Lee Girardeau
There's no shortage of unexpected ice cream flavors to try at shops and restaurants around New York City. After all, the city is a land of novelty. There's a unicorn store in Brooklyn and a waffle stand in Central Park. I.e. the weird, wild, and wonderful always have a home here. You've heard of bacon ice cream and cereal-milk ice cream, but there are even newer frontiers being pushed this summer. Try black ice cream infused with charcoal, saffron/passionfruit sorbet, and a flavor to fete Prince Harry and Princess Meghan. Find these and more fun flavors at NYC ice cream shops below!
5 New Ice Cream Flavors in NYC: Royal Wedding Cake at Van Leeuwen
Can't get enough of the Duke and Duchess of Sussex (Harry and Meghan's new royal titles)? Celebrate the royal wedding all summer long with Royal Wedding Cake ice cream at Van Leeuwen shops all across the city. This sweet cream ice cream base is packed with lemon pound cake and elderflower buttercream frosting. Simply smashing! If you love vegan ice cream, take a gander at Van Leeuwen's vegan special flavors, all made with coconut cream bases. Go for the charcoal-and-chocolate Vegan Dark Matter or Vegan Planet Earth with matcha cake and spirulina. Various locations, vanleeuwenicecream.com
5 New Ice Cream Flavors in NYC: Saffron Passionfruit Sorbet at Oddfellows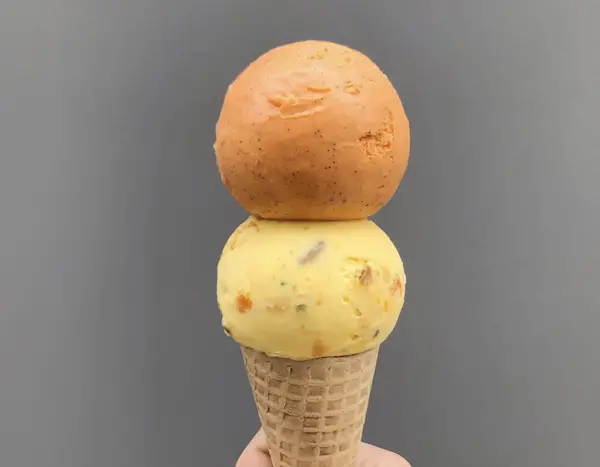 Is there a better color out there than saffron? This pretty passionfruit sorbet at Oddfellows is made with the yellow spice often used in Indian cooking. This ice cream company, with stores in Brooklyn and Lower Manhattan, serves soft-serve and sorbet from a frequently rotating slate of flavors. As the Oddfellows say, don't be mad if Saffron Passionfruit is gone when you visit their Williamsburg shop. But know there will be an equally as innovative flavor to try when you stop in, like Thai Iced Tea sorbet or Coffee and Cream soft serve! Locations in the East Village, SoHo, and Williamsburg, oddfellowsnyc.com
5 New Ice Cream Flavors in NYC: Burnt Sage at Morgenstern's
Invite good vibes with Burnt Sage ice cream at Morgenstern's Finest on the Lower East Side. This ice cream parlor will knock you out with the variety of flavors, from the classic to the kooky. This sage flavor is green but not too green and pairs well will chocolate fudge topping. Morgenstern's just opened an ice cream stand on West Houston Street as well, where you can also find Green Tea Matcha and Black Coconut Ash flavors. Stand at West Houston and LaGuardia Streets; Store at 2 Rivington St., 212-209-7684, morgensternsnyc.com
5 New Ice Cream Flavors in NYC: Labne/Rosewater Gelato at Superiority Burger
Fair warning: the sorbets and gelatos at Superiority Burger change almost daily. This innovative vegetarian kitchen values eye-catching flavor combinations, like labne (Middle-Eastern yogurt) and rosewater in its creamy gelato. Recent flavors have also included Focaccia, Tortilla, and Black Yuzu. You can also try these frozen desserts atop puddings and pies made special in-house, like focaccia pudding with huckleberry jam, coconut gelato, and candied lime. Yummy! 430 E 9th St., 212-256-1192, superiorityburger.com
5 New Ice Cream Flavors in NYC: The Big Kahuna Sundae at Mister Dips
It doesn't get much more Brooklyn-esque than an imminently Instagrammable sundae served out of an AirStream trailer. That's exactly what you get at Mister Dips, and it's absolutely worth a trip to Williamsburg for The Big Kahuna. This sundae is pineapple and coconut soft serve ice cream with Hawaii 5-0 sauce, served out of a coconut and decked with an umbrella. Sit by the East River and get your island fix; Mister Dips also serves Dirty Dipped Waffle fries and Griddle-Burgers if you're looking for something savory that's slathered in sauce! Located at Vale Park on N. 12th St. and Wythe Ave., misterdips.com
5 New Ice Cream Flavors in NYC: Vanilla Parsnip at Marlow Bistro
Vanilla Parsnip might be an unique ice cream flavor on its own, but the team at Marlow Bistro is pairing this treat with chocolate mousse and huckleberry jam. This may seem like a random combination, yet the flavors blend together beautifully to elevate a decadent, chocolate cake into a boastful, spring treat that you won't forget! Stop on by for just desserts or add it onto the end of a great meal. 1018 Amsterdam Ave, 212-662-9020, marlowbistro.com
Looking for Free Group Planning Services?
Get free advice on planning your group's trip to New York.
RESTAURANTS

Multi-concept restaurant offering modern Japanese cuisine, a...

THEATER

In a heartbeat, 38 planes with 6,579 passengers were strand...

SHOPPING

DataVision is redefining retail with their new, fully intera...

SIGHTSEEING

Opened to the public in 1913 thanks to the ingenuity and amb...