Entertaining learning experiences for kids abound at the new ImagiNATIONS Center at the National Museum of the American Indian, where a series of lively, interactive galleries awaits. To wit: which bridge stands up better in an earthquake—a stone arch or a seemingly flimsy suspension bridge? How does a kayak paddle explain some of the mysteries of physics? Look at foods we eat—which come from native cultures?
Look overhead at a 26-foot-long Inca rope bridge and watch a video of its construction on the National Mall in Washington, D.C., the labor done by tribesmen wearing native regalia. Build an igloo using large puzzle pieces and figure out that the structure is neither a dome nor a half-circle but a catenary arch, a shape with a special curve that's perfectly designed for maximum stability. See the fully geared-up Inuit fisherman, whose clothing is entirely waterproof—rather like a modern wetsuit but made entirely from local materials with special stitching to keep him dry.
The new center, which repurposes former office space, is divided into seven sections: Native Innovation; Let's Eat: Nutrition; Well-Being: Medicine; Zero: Mathematics; Make It: Engineering; Solve It: Physics; and Build It: Architecture. Each area offers different hands-on experiences, so kids learn as they do. The bright, cheery space will have programming including "Make & Take" activities, the museum's highly successful "Storybook Reading" program, and a rotating slate of native presenters and educators who will talk about the displays. Those at the opening had kids leaping into a kayak to figure out balance and opening the doors of a "medicine cabinet" to learn the origins of everyday products such as pain killers, cough drops, and shampoo.
In a farming computer simulation, players pit their skills against weather, pests, and pellagra (vitamin B deficiency) to keep their families alive the way Haudenosaunee people of New York used to. Unless they choose the best combination of crops they're unlikely to survive. Up to four kids at a time can play; as they do, they figure out that their outcome will be most successful if they cooperate.
The center and its associated programs challenge common assumptions about native peoples—their cultures, roles in United States and world history, and contributions to the arts, sciences, and literature. Kids and families visiting will broaden horizons, both in looking back to the past, and to the richness and vibrancy of native peoples and cultures today.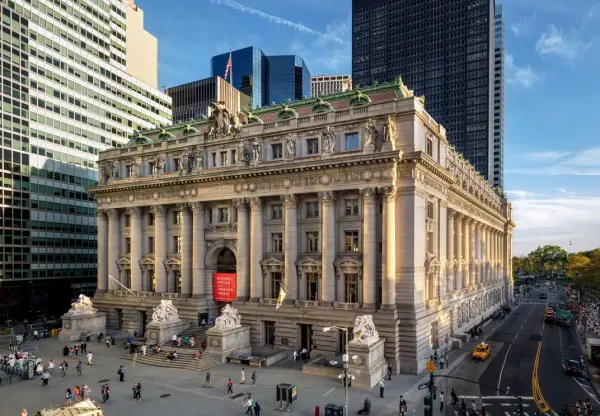 In an age of disruption and disregard for native cultures, the ImagiNATIONS center encourages a wide view of people and an appreciation for the skills of others. Admission is free and it's open every day from 10am to 5pm (extended until 8pm on Thursdays). Hungry? Hop over to nearby Stone Street, where a variety of options await.
The National Museum of the American Indian–New York is located within the historic Alexander Hamilton U.S. Custom House. The museum's permanent and temporary exhibitions—as well as a range of public programs, including music and dance performances, films, and symposia—explore the diversity of the native people of the Americas. The address is One Bowling Green. Call 212-514-3700 or visit nmai.si.edu to learn more.