New Year's Eve NYC 2022-2023. The clock will strike midnight, the ball will drop, kisses will be exchanged, and the promise of a New Year will light up the night sky. New Year's is a time to reflect on all that's happened and set ambitious goals for the future. It's also a time let our hair down and celebrate. If there's any town that can be trusted to get New Year's right, it's New York City, where Times Square provides a focal point for the world on December 31st. What follows are some great opportunities for meals, cruises, comedy, parties, and general merrymaking on the 31st. Happy 2023!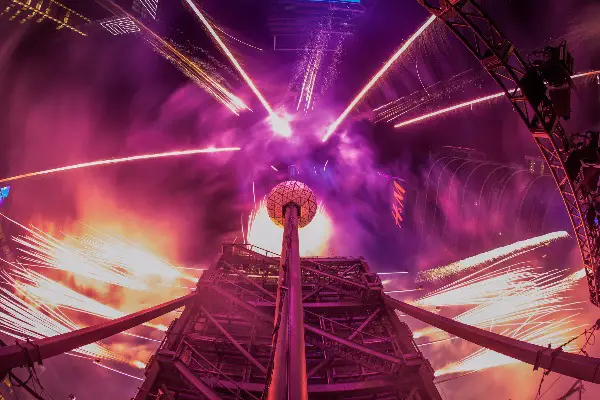 Image: Anthony Quintano/Flickr

There is no minute of the year quite as exciting as 11:59pm on December 31st in Times Square. The Times Square New Year's Eve Celebration and Ball Drop is easily the most famous NYE celebration in the world. The famous ball is a 12-foot geodesic sphere weighing 11,875 pounds, covered in 2,688 Waterford crystals, powered by 32,256 Philips Luxeon Rebel LED lights, and capable of creating a palette of more than 16 million vibrant colors.
Singing Waitstaff for New Year's Eve

The show will go on at Ellen's Stardust Diner! Food, drink, and live performances from the famous singing waitstaff will make this a New Year's to remember. The 1950s-themed restaurant has been around since 1987 and brings back its retro vibes (founder Ellen Hart Sturm is a native New Yorker who was crowned Miss Subways in 1959.) Catch intimate performances by staff on their way to joining a long line of Broadway actors who have made Ellen's their launching pad. This year for New Year's Eve, join the party for a special prix fixe menu with a cash bar, party favors, and a champagne toast at midnight. (There's also an open bar option.)
KEEP THE PARTY GOING! Nearby legendary jazz, rock, and blues club The Iridium will be going strong after the ball drops. A $50 ticket allows entry and a cash bar, or opt for the Iridium All Access Add On, with $100 covering an open bar.
Blue Man Group!

No plot, dialogue, or ripped from headlines drama, just a romp and a half orchestrated by the three blue-hued alien dudes of Blue Man Group. This long-running Off-Broadway show and international sensation combines music, paint, drums, snacks, and high-tech hijinks. To celebrate year's end, look for three New Year's shows on Saturday, December 31st at 2pm, 5pm, and 8pm. Audiences at all three performances are invited to special post-show New Year's Eve countdown celebrations complete with party hats, noisemakers, a special performance of "Auld Lang Syne" by the Blue Men, and even a magical snowfall inside the theater. Blue Man Group New York tickets start at $49. Tickets and the full holiday performance schedule are available at blueman.com/new-york.  
New Year's Alternatives in Times Square

A comedy legend not to be missed is Carolines on Broadway. This Times Square institution has been presenting the best in live comedy entertainment since 1982, with nightly shows that run from established greats to up and comers. Carolines invites revelers to laugh in the New Year in the heart of Times Square at the New Year's Eve Spectacular on Saturday, December 31st, with shows at 7:30 and 10pm. The 10pm show will feature a live viewing of the ball dropping in Times Square on plasma screen monitors. 
New Year's in Margaritaville
Incredible perspectives on the ball can be found at Margaritaville Resort Times Square, which ushers in 2023 with a live DJ and signature cocktails at its multiple bars and restaurants. Get your ticket now ($60 and up)!
New Year's on the Water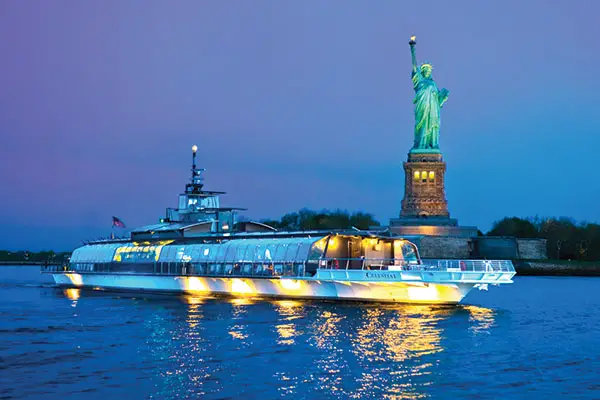 Spectacular skyline views await aboard City Cruises. You can wrap up 2022 (and get 2023 off to an auspicious start) with a series of rides. Signature lunch and dinner cruises run New Year's Eve and brunch and dinner are your options for New Year's Day. Pick from plated meals on the glass-enclosed deck of the European-inspired Bateaux or the bounty of a buffet experience on Spirit of New York, both leaving from Pier 61 in Chelsea Piers.
New York New Year's Eve Signature Dinner Cruise
Bateaux New York New Year's Eve Premier Plus Dinner Cruise
New York New Year's Eve Signature Dinner Cruise Pier 15
New York New Year's Eve Signature Lunch Cruise
Bateaux New York New Year's Eve Premier Plus Lunch Cruise
Bateaux New York New Year's Day Premier Brunch Cruise
Bateaux New York New Year's Day Premier Dinner Cruise
A Healthy New Year's Eve Alternative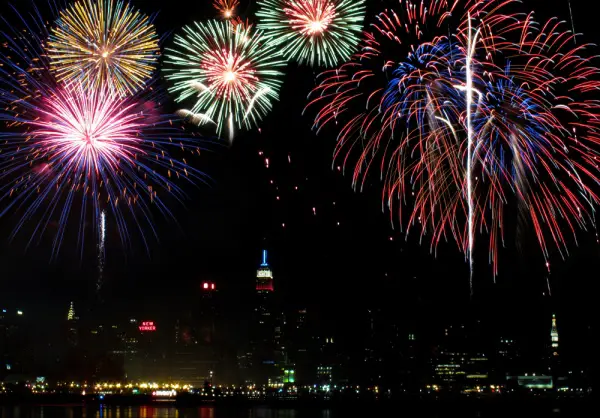 Image: mamojo/Flickr.
NYRR Midnight Run. Kick off the New Year at Central Park's favorite Midnight Run! Join the fun and celebrate with music and dancing (starting at 10pm) as 2022 comes to a close. With a countdown to midnight beginning at 11:59pm, the four-mile run will begin on the stroke of midnight, as will a spectacular fireworks display to light up the night and the start of 2023. nyrr.org
Brooklyn Fireworks
Brooklyn Borough President Antonio Reynoso, NYC Parks and the Prospect Park Alliance present Brooklyn's most spectacular New Year's Eve fireworks celebration at Grand Army Plaza in Prospect Park. The event includes live entertainment by Brooklyn-based band Quintessential Playlist, playing at 10pm ahead of the fireworks. Free, RSVP here.
SUMMIT One Vanderbilt

Blending elements of art, technology, architecture, and thrill, newcomer SUMMIT One Vanderbilt takes the concept of an "observation deck" to new heights. This New Year's Eve, the observatory will be open for revelers from 10pm-1am. Tickets ($300) include two drink vouchers, access to three levels of multi-sensory exploration, a live DJ, and a midnight toast.
Gorgeous Greek for New Year's

Midtown East Greek restaurant Nerai hosts a curated 7-course chef's tasting menu on New Year's Eve. Look for dishes like Greek cabbage salad with winter truffle, seared tuna with olive and citrus, and the rack of lamb pictured above, served with roasted vegetables, truffled celery root, and grape leaf salsa verde. There are wine pairings to match. $145 per person; optional wine pairing $75, tickets available here; there's also a vegetarian version.
New Year's in Midtown
The Fireman Hospitality Group excels at locations on the west side that run from comfort food to the heights of Italian cuisine. Across from Lincoln Center, Cafe Fiorello will be celebrating New Year's with a 5-course feast. Antipasti for the table gets things started, followed by appetizers, mains like baked stuffed lobster, Dover sole, seafood risotto, veal chop, and filet mignon. Dessert brings a choice of twin cannoli, panettone bread pudding, and Valrhona chocolate mousse. At midnight there are chocolate-covered strawberries and a champagne toast ($145 plus tax and tip.) 
With interiors inspired by a Tuscan artist's studio, Trattoria Dell'Arte brings clever design to a vibrant spot. You'll find a seven-course New Year's meal here, plus views of the Times Square pandemonium. Music will be performed by saxophonist Russ Nolan, a favorite in the NYC hotel scene, with songs that run from Swingin' Frank Sinatra to the Bossa Novas of Antonio Carlos Jobim to the Classic Jazz of Miles Davis. A champagne toast starts things off, followed by antipasti for the table, a choice of appetizers, lobster and seafood risotto, and mains like grilled langoustine prawns, veal chop Parmigiana, prime-aged New York strip, and housemade burrata ravioli with fresh black truffle. The meal is $225 plus tax and tip and also comes with chocolate-covered strawberries, Italian Christmas cake, and a choice of cannoli, tiramisu or Valrhona chocolate mousse.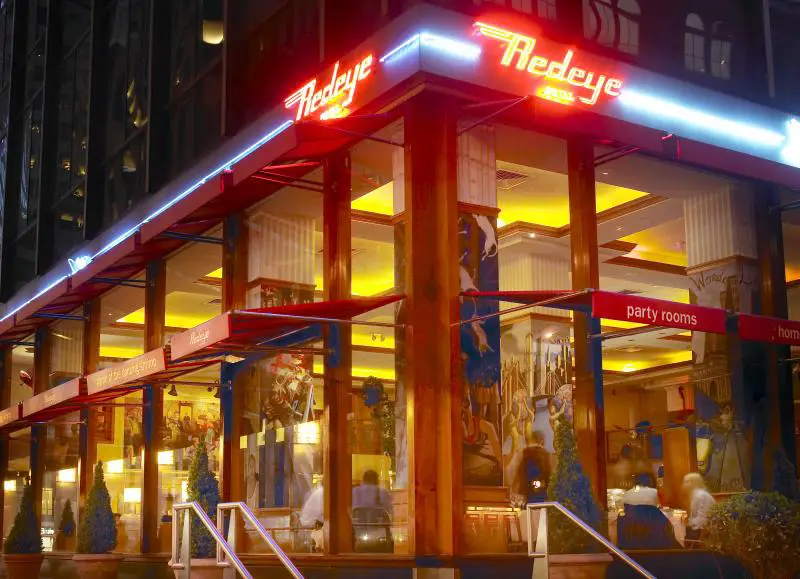 In the heart of Midtown West, the Redeye Grill hosts a classic American brasserie scene, with polished nickel and leather, warm tones, and original Red Grooms artwork. They'll be ringing in the New Year with a five-course prix-fixe menu, views of the crowds for Times Square, and live entertainment. On the latter, you can expect burlesque starlets, jazz vocalists, and the hottest big band in New York City (New York and Vegas stars Opera Gaga, Tansy, and Myles Nuzzi are all on the bill). Premium seating (main dining room) is $350; upstairs/restricted view of the performers are $250, and both packages include a view of the ball drop. The meal starts with a champagne toast, smoked salmon blini with American caviar, and jumbo shrimp cocktail, followed by appetizers, mains, dessert, and a midnight champagne toast.
Times Square's Bond 45 serves theatre-goers, sightseers, and locals alike. They'll be hosting Broadway's longest-running New Year's Eve show, hosted by Dale Badway, two-time Tony and three-time Emmy award winner! Look for performances by stars of Broadway with a 10-piece Motown band. There are several levels of tickets (the performance stage is downstairs) and some packages come with an escort to view the ball drop live. The meal itself is a 5-course Italian feast! TicketLeap.com (keyword: BADWAY)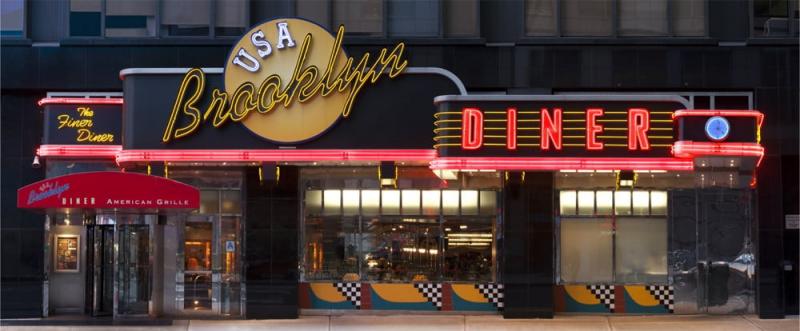 The Brooklyn Diner brings together some of New York's finest vocals for New Year's Eve. Music will be performed by Broadway's Liya Grigoryan, Josh Roberts, Billy Marshall, and Nichelle Lewis, accompanied by a jazz trip featuring Grammy-nominated trumpeter Tony Glausi. The meal is $450 per person (not including tax or tip) and features options like "a bowl of real chicken soup," lobster mac 'n' cheese, filet mignon and Maine lobster tail surf 'n' turf, prime New York strip steak, and black truffle roasted chicken.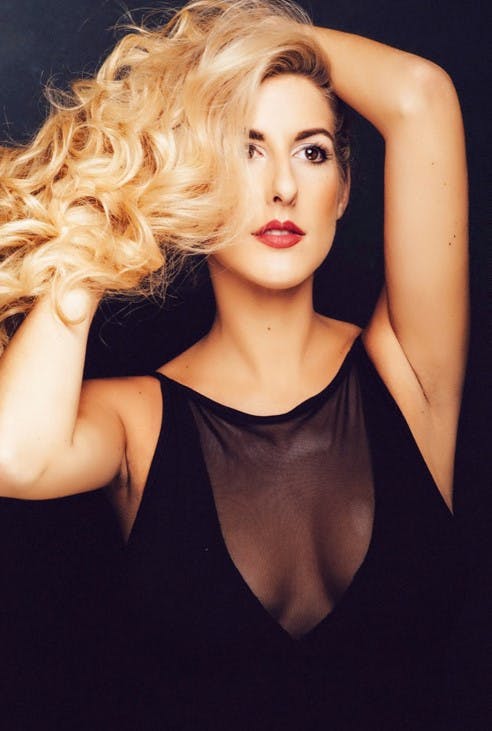 You can also ring in the New Year at the Brooklyn Deli in the heart of Times Square. They'll have live entertainment, a 5 course prix fixe menu, and an escort to view the ball drop and all the Times Square pandemonium. Brian "Mr. Taptastic" Davis (Broadway's After Midnight) and his squad of NYC musicians will be performing, joined by Broadway's Hayley Lampart (Kinky Boots, above). The price for the evening will be $425 plus tax and tip. The meal includes options like prime rib, poached salmon, chicken soup, and New York cheesecake. The midtown location of the Brooklyn Deli is celebrating as well. They've got a 5-course prix fixe, Times Square views, and a midnight champagne toast. $200 before tax and tip.
Superlative Steak and Seafood for New Year's

Peter Luger alumni Benjamin Prelvukaj and Chef Arturo McLeod have combined over 30 years of experience to create Benjamin Steakhouse, conveniently located near Grand Central Terminal in the century-old Chemist Club Building. Along with its usual refined Old World service and charm, Benjamin Steakhouse will be offering a New Year's Eve prix fixe. A champagne toasts begins the meal, followed by a choice of appetizers like oysters, crab cake, or sizzling Canadian bacon. Bone-in ribeye, rack of lamb, and a lobster and filet mignon surf 'n' turf are among the entree options. For dessert, choose from NY cheesecake, chocolate mousse cake, and tiramisu ($99 plus tax and tip). Sibling spot Benjamin Steakhouse Prime offers a similar array, also for $99 per person. 

The Sea Fire Grill does for seafood what Benjamin Steakhouse does for beef (hardly a surprise, given the same pros are behind both). For $99 per person, this year's prix fixe menu starts off with a champagne toast. Oysters, calamari, octopus, and lobster bisque are among the appetizers, while entree options include branzino, rib-eye, black squid ink spaghetti, and a surf 'n' turf with filet mignon, lobster, shrimp, and king crab. A choice of sides, dessert, and coffee or tea are included.
Cuban New Year's in Times Square!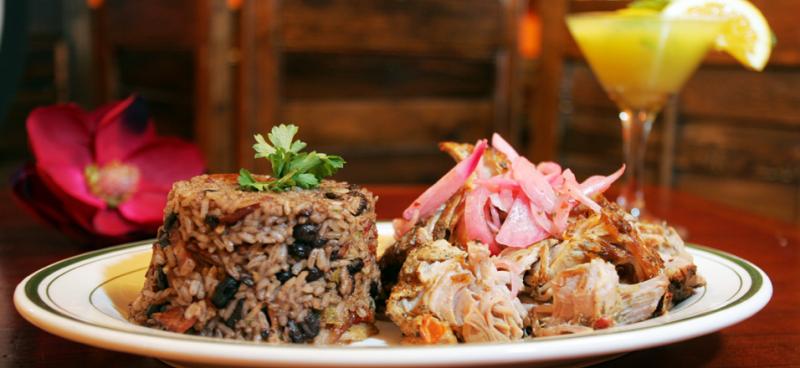 Take a tropical vacation at Havana Central. The classic Times Square spot is hosting a New Year's Eve celebration that comes with a five-course Cuban feast. Chips and guacamole start things off, followed by appetizer options like an empanada sampler, a house salad course, entrees like roast chicken, salmon, shredded beef, or vegetarian stuffed peppers, with rice 'n' beans and maduros on the side. Dessert is flan, churros, or tres leches cake, and there's unlimited soda, coffee, and tea. Party props, a champagne toast, and a three-hour premium open bar are part of the evening as well! Tickets are $225. There's live music by Conjunto Guantanamo starting at 9pm.
Billionaires' Row NYE Dinner Party & Ball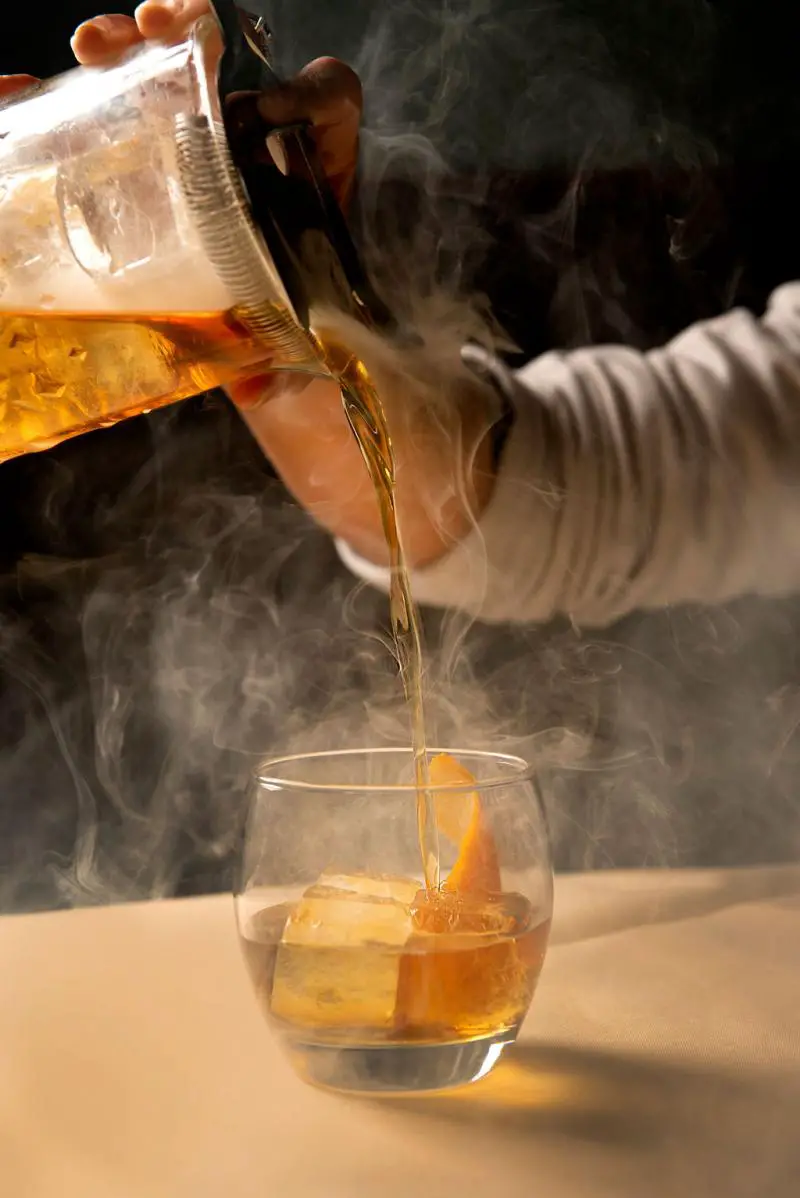 Located Inside a sweeping space in the architecturally stunning Solow Building, Cucina 8½ offers an elevated experience of rustic Italian cuisine. This New Year's Eve, join them for a Billionaires' Row NYE Dinner Party & Ball. General admission tickets include an open bar from 9pm to midnight; dinner packages include a 4-course meal and there are also bottle packages and caviar experiences.
Classic Italian New Year's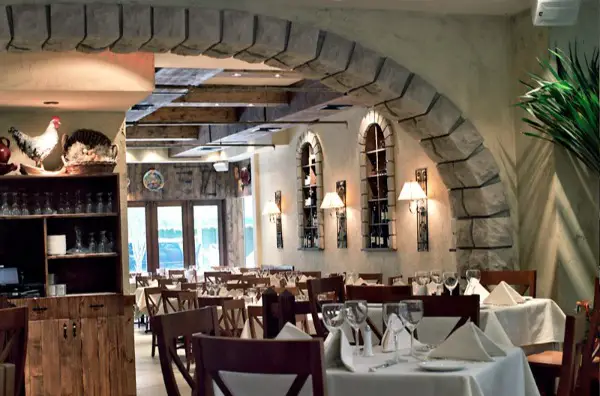 La Masseria in Hell's Kitchen is "a farmhouse in the middle of Manhattan," offering classic dishes from the Puglia region of Italy. This year they'll be serving a special New Year's Eve menu. Pastas include homemade fresh ravioli filled with asparagus in a black truffle sauce, tube pasta in a short rib ragu, and homemade thin fettuccine with fresh lobster. Veal, lamb chops, filet mignon, and jumbo prawns are among the entrees, and desserts include chocolate almond cake, tiramisu, and panettone pudding.
Embrace Excellence

Del Frisco's Double Eagle Steakhouse features floor-to-ceiling windows with breathtaking views of Sixth Avenue and nearby Rockefeller Center. This New Year's Eve they'll be laying out a chef's special Prime Pair Duo. Look for a 22-ounce prime bone-in ribeye, colossal lump crab, and Alaskan king crab with black truffle butter.
All-Star Comedy for New Year's Eve

We could all use a laugh this week. Gotham Comedy Club brings in the hottest comics nightly within an upscale, intimate setting in Chelsea. On December 31st there are two shows, both featuring The Gotham All-Stars. There's an 8pm and a 10:30pm, with premium packages available that include top-shelf open bar during the show.
Roaring Twenties Glamour for New Year's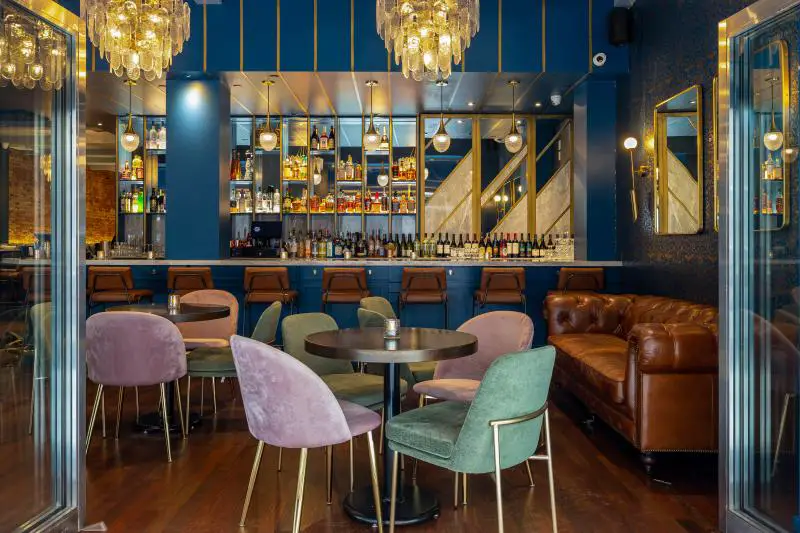 Experience the Roaring Twenties with the splendor of grand ballroom chandeliers, elegant ambiance, and gracious service at Gatsby's Landing near Times Square. This New Year's Eve they'll be hosting a dinner party complete with a 5-course tasting menu, an open bar, and a champagne toast. For entertainment, critically acclaimed singer Gian Faraone will perform, incorporating the Great Classics from the Golden Era.
A Night of Emo and Pop Punk Downtown
Downtown has one destination for eclectic, compelling music. The programming at the East Village's Drom runs from jazz, rock, electronic, soul, and funk to international music. This New Year's Eve they'll be hosting The Black Parade. DJs Jet, Swabby & Nekosiren will bring an emo and pop punk soundtrack; look for an hour of free holiday shots with every drink purchase, candy and glowsticks, and free holiday shots at midnight.
A Museum for the Modern World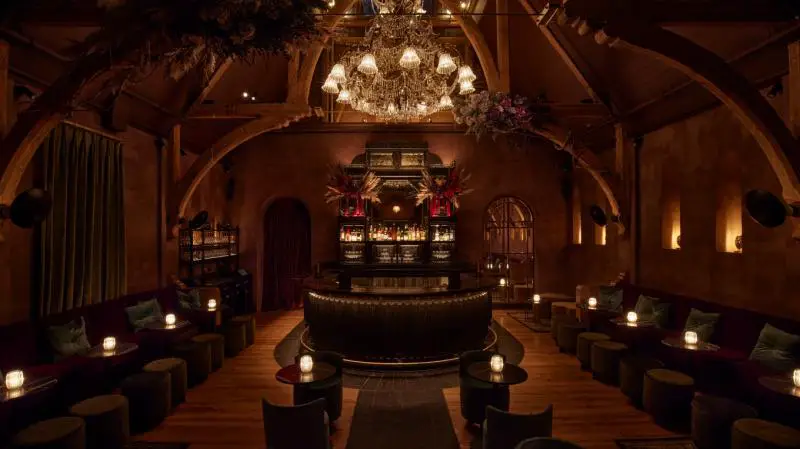 Fotografiska New York is a museum experience for the modern world. House restaurant Verōnika will be serving dinner, with reservations open starting at 5pm, and including a complimentary champagne toast at midnight. You can also ring in 2023 at Chapel Bar's Black-Tie New Year's Eve Soirée. There will be entertainment, a confetti champagne toast at midnight, and a curated open bar stocked with the most popular Chapel Bar libations.
New Year's with Altitude

Ring in the New Year from the highest outdoor sky deck in the Western Hemisphere. Limited tickets are available for exclusive access to Edge, with spectacular views of the city to kick off your 2023. Tickets ($200) come with entry starting at 9pm until close at 1am; full access to the indoor and outdoor sky deck with 360° views of New York City and beyond; three glasses of champagne; light bites; live DJ music all through the evening; and access to the Edge bars.
Tin Building New Year's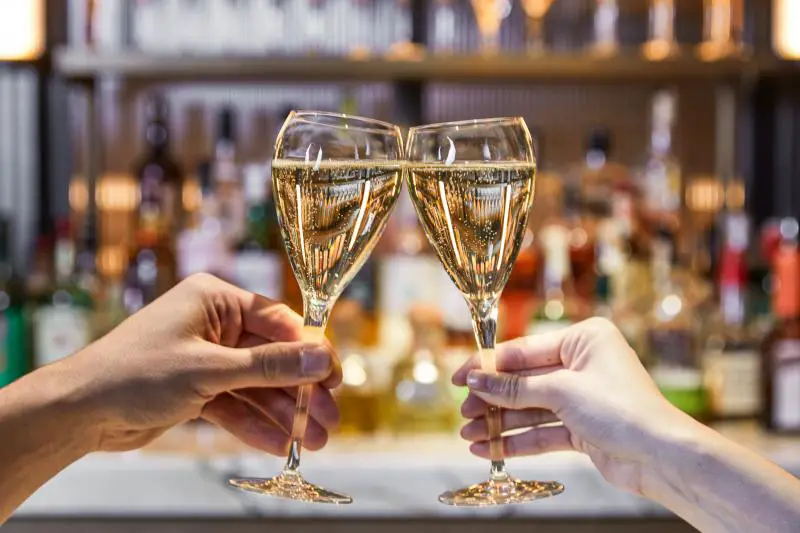 Culinary legend Jean-Georges Vongerichten has launched his massive new food space in The Seaport. The Tin Building brings bars, grocery markets, full-service new restaurants (many with open kitchens), and quick service counters into a stylish, sprawling historic structure. They're open on New Year's Eve for a la carte service from 11am through 6:30pm. In the evening, all Tin Building full-service restaurants will serve specially curated menus with the first seating at 8:15pm and the last at 9:45pm. Each restaurant will be offering a 4-course meal for $280 per guest and will also feature a DJ from 10pm–2 am, plus party favors, champagne toasts at midnight, dancing, and a live feed of the ball drop. Reservations can be made here.
Jazz for New Year's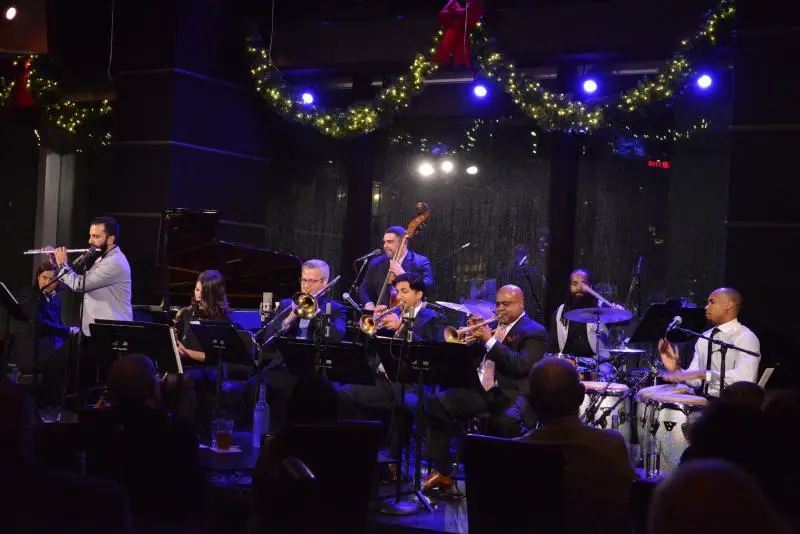 Grammy-nominated bassist and composer Carlos Henriquez returns to Dizzy's Club with his nonet for another year-end celebration. Blending elements of jazz and Afro-Latin traditions, the high-energy ensemble plays the music of the scene's biggest stars, including Melissa Aldana, Mike Rodriguez, Obed Calvaire, and Jeremy Bosch.
The Midnight Ball
Photo by Jane Kratochvil for the McKittrick Hotel.
A one-night only soiree will be held at the McKittrick Hotel, home of immersive theatre smash Sleep No More. Guests are encouraged to dress in high style for the most decadent night of the year, with full Sleep No More and The Illusionist's Table performances prior to the event.
New Year's Music
Finish out 2022 on a peaceful note at the New Year's Eve Concert for Peace, an annual concert at the Cathedral of St. John the Divine. A holiday tradition for over 30 years, the Concert for Peace was founded by Leonard Bernstein as a tribute to the people of New York City. This year's music includes Gustav Holst's St. Paul's Suite, David Lang's Make Peace, Joseph Turrin's Lullaby for Vaska, and Philip Herbert's Elegy: in memoriam.
A Classy Times Square New Year's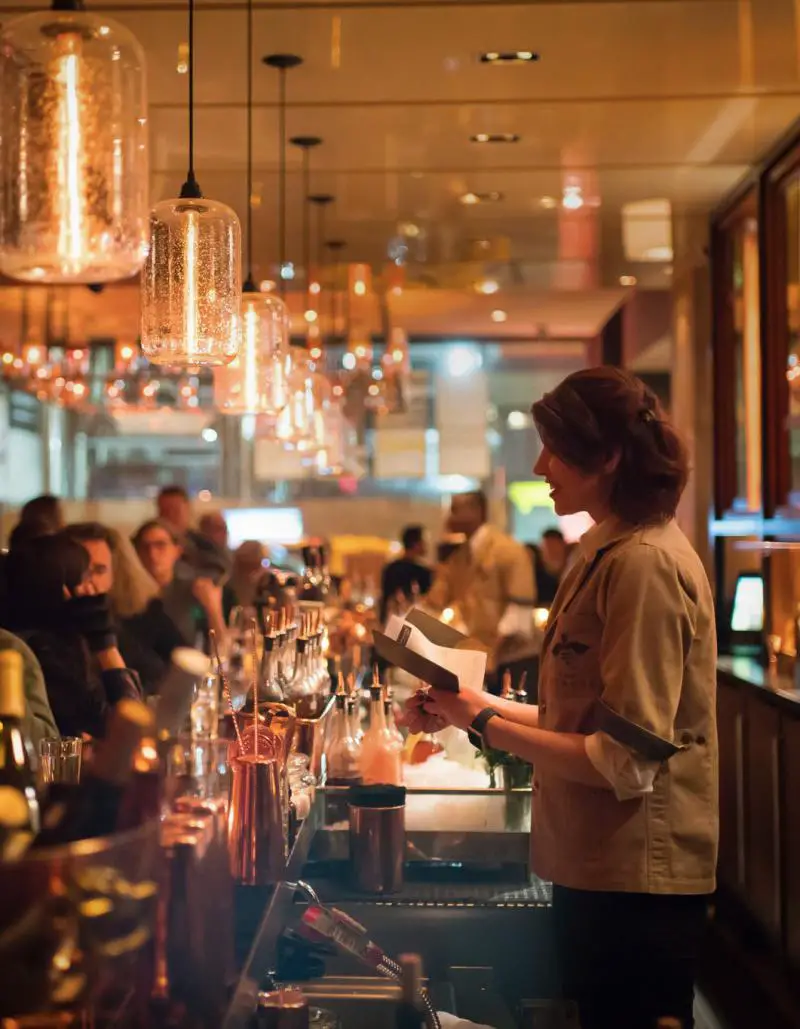 Credit: InterContinental New York Times Square.
Luxury hotel InterContinental New York Times Square is hosting its annual New Year's Eve extravaganza at its restaurant and cocktail bar The Stinger. The event includes an open bar, canapés, a live DJ, party favors, and a midnight bubbles toast. The cost is $195 per person, with the add-on option of reserved seats and a bottle of champagne for $295 per person. Tickets are available for purchase here.
The Smith
Spicy salmon tartare, photo credit Quentin Bacon.
Casual American brasserie ​​The Smith is celebrating New Year's Eve with a three-course prix fixe meal ($75). Snacks and raw bar are available a la carte and the evening comes with complimentary party favors and a champagne toast at midnight. Booking is available via The Smith and OpenTable (NoMad, Lincoln Square, Midtown, East Village).
On New Year's Day, The Smith kicks off 2023 with a comforting brunch to keep the party rolling. Brunch specials include favorites like churro waffles, mac 'n' cheese, steak & eggs, and the Benedict Johnny with cheddar cornbread.
Mercado Little Spain
Mercado Little Spain from Chef José Andrés brings a celebration of all things España to Hudson Yards. Kick off 2023 at one of Mercado Little Spain's restaurants for a leisurely brunch with special menu items to make an auspicious start for the new year. At Leña, a restaurant dedicated to paellas and grilled meats over live-fire, enjoy huevos revueltos con setas a la brasa y morcilla: scrambled eggs with roasted mushrooms and sausage ($25) and tortilla de patatas con caviar: Spanish potato and onions omelet served with caviar ($35). Inside the bustling Spanish Diner, a gathering place for all-day dining with a dedicated bar and soaring ceilings, munch on the Ibérico Benedict eggs: poached eggs, ibérico Hollandaise sauce, jamón ibérico, and toasted bread ($25) or mollete de tortilla de patatas: Spanish potato and onions omelet sandwich served on a crispy bun with piquillo peppers and alioli ($18). At La Barra, where patrons can nosh on beloved dishes from tapas bars all around Spain, the perfect brunch includes the tortilla vaga con caviar: an open face tortilla with potato chips and caviar ($35) or bikini de queso y trufa, a truffled Spanish cheese sandwich ($21). 
New Year's Day Swim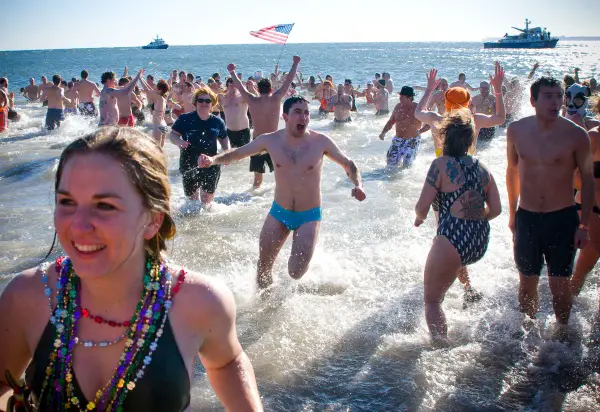 Image: Richard Feliciano/Flickr
Brave souls will dive into the new year at the beloved Coney Island Polar Bear Club New Year's Day Swim. Swim time is 11am, launching from the boardwalk at Stillwell Avenue. Proceeds from the day will support charity (the event is free, but pre-registration is required to swim). This will be the 120th plunge in the club's history! polarbearclub.org