New York is a city that thrives on history and tradition.
Take the holidays, for instance. No place does the holidays quite like this city, whether it's Thanksgiving or New Year's Day. But New York also has its own separate traditions as well. Want to feel like a real New Yorker? Here's how to celebrate the city's traditions.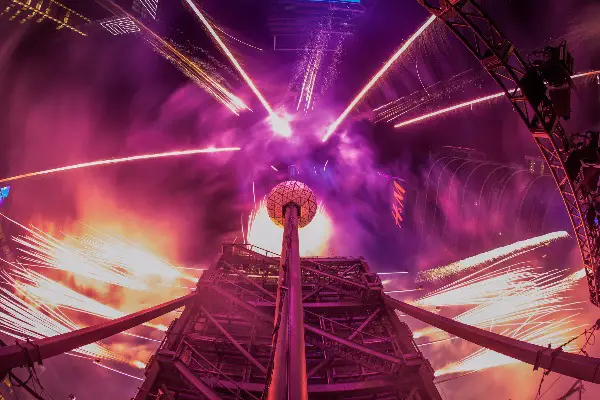 Image: Anthony Quintano/Flickr
Where to begin? With New Year's Eve, of course. The big one is naturally the dropping of the ball in Times Square at midnight. The tradition dates to 1907, and the "ball" itself has been though many permutations. The one used today weighs in at almost 12,000 pounds, is 12 feet in diameter, and is decked out with almost 3,000 Waterford Crystal triangles. It's dropped from the top of 1 Times Square at the intersection of Broadway and Seventh Avenue. Crowds are generally dense—up to a million people! so you may want to skip standing in the cold. Several restaurants and hotels in Times Square offer packages for dinner and access to a view of the festivities (including Applebee's!), but you'll have to book way, way, way, way, way ahead of time.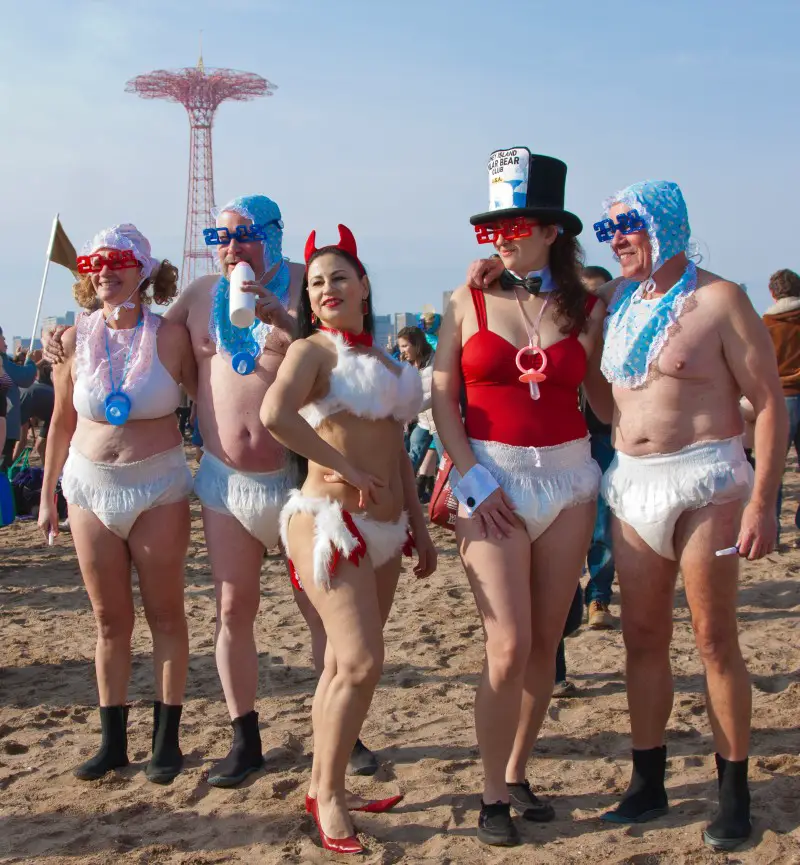 Photo: stillshootinstills/Flickr.
If you're the hardy sort, the Coney Island Polar Bear Plunge on New Year's Day is another New York tradition. And it's exactly what it sounds like—a dip in the Atlantic Ocean on New Year's Day. This club is run by the Coney Island Polar Bear Club, the oldest winter bathing club in the United States. (The genteel name does not make the ocean feel any warmer, just FYI.) The tradition started in 1903, and while there's no fee to participate, any funds raised help local non-profits. Cowabunga!
If you're seeing green, it must mean that St. Patrick's Day is approaching. The parade is the big attraction, starting on 44th Street and marching up Fifth Avenue to 79th Street. The oldest and largest St. Patrick's Day parade in the world, it dates to 1762 (14 years before the Declaration of Independence was signed!). Watched by about 2 million spectators, the parade itself boasts 150,000 marchers from Irish cultural organizations and institutions around New York City. It also features participants from uniformed services and political offices. Viewers can watch from anywhere along Fifth Avenue.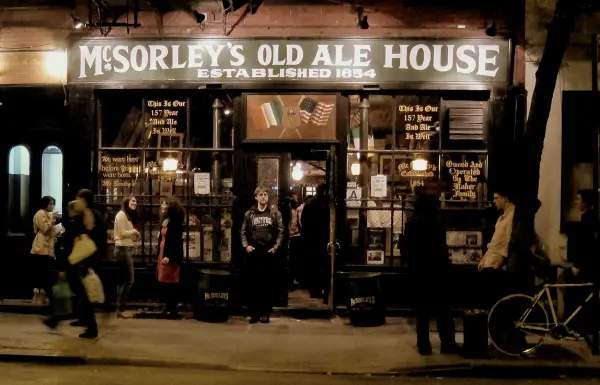 Before (or after) the St. Patrick's Day parade, partake in another New York tradition—grabbing a pint at McSorley's Ale House, the oldest Irish saloon in New York. And it feels old—no memorabilia have been removed from the walls since 1910; you can also see artifacts like Houdini's handcuffs. Fun fact: Abraham Lincoln, Teddy Roosevelt, and Woody Guthrie were all patrons. Have a light or dark beer (your only options); it opens early on St. Patrick's Day, so you can start the tradition right when you wake up.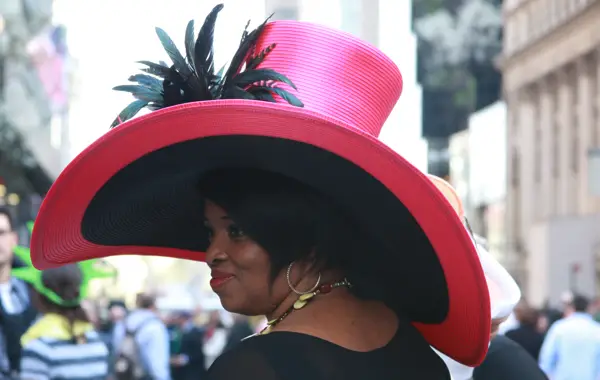 Image: Katy Gartside Photography/Flickr
As spring approaches, the Easter Parade and Bonnet Festival takes center stage. The annual event dates to the 1800s and began as a stroll after morning services. Women would dress up in colorful spring outfits—some say to match the beautiful floral arrangements in the churches. It became officially known as the Easter Parade in the 1890s and has since turned into a fashion procession on Fifth Avenue, starting at 49th Street—emphasis on the creative hats. But it's not just the humans who get to participate—the parade has also become known as the place for owners to parade their dogs in elaborate, fanciful costumes, and some pretty spiffy hats of their own.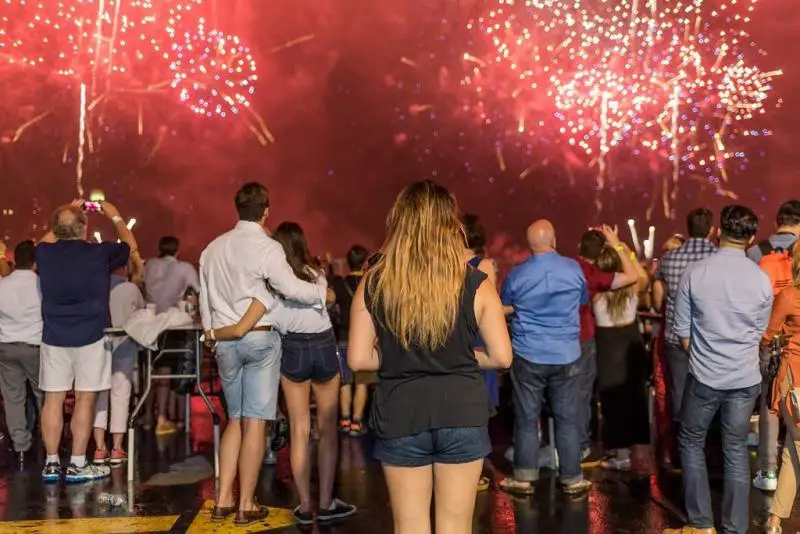 When warmer weather comes another tradition—the Fourth of July fireworks. Launched from barges in the East River, between 23rd and 42nd Streets, the fireworks commence around 9pm. Viewing spots include 42nd Street and the FDR Drive; 34th Street and the FDR Drive; and 23rd Street and the FDR Drive. The event lasts for about 25 minutes, includes dazzling displays that can be seen for a mile across the river, and boasts numerous effects and patterns. It's all accompanied by a rousing musical score that fuses patriotic standards and more contemporary songs. Is it worth the crowds and the noise? Like many New York traditions, the answer is—of course it's worth trying, at least once.
Let's not forget the great American pastime. New Yorkers' loyalties may be divided between the Yankee and the Mets, but taking in a baseball game is a classic New York tradition. The Yanks have their own playlist, prominently featuring the classic New York, New York at game's end.
September brings a more somber tradition—the anniversary of the 9/11 terrorist attacks. Each year, the Tribute in Light, a public art installation that was initiated six months after September 11, 2001, is presented from dawn to dusk on the 9/11 anniversary. The beams reach up to four miles in the sky and are made of 88 7,000-watt xenon lightbulbs. On clear evenings, the beams can be seen up to 60 miles away.
It's a ghostly, moving memory, a tribute to both those lost in the attacks as well as the resilience of the city.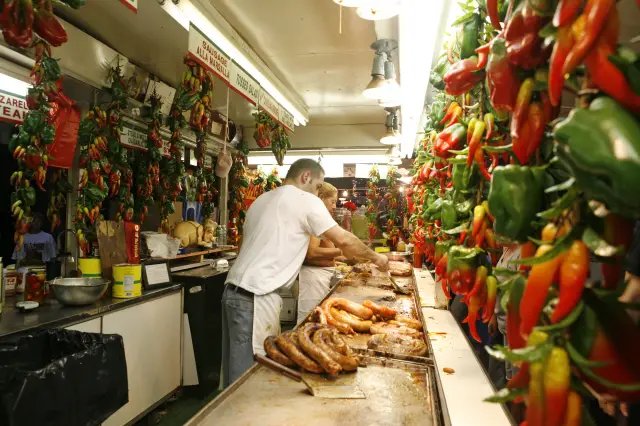 The Feast of San Gennaro also ushers in the cooler weather. Running for about two weeks in mid-September (this year, September 14th to 24th, 2023), the feast celebrates the life of San Gennaro of Naples, a bishop of Benevento who was martyred in 305 AD. Today, it's also a celebration of food that takes over the downtown streets, primarily on Mulberry, Hester, and Grand Streets. The fest includes cannoli, pizza, meatball, and zeppole eating contests, performances, and of course, endless food stalls.
New York is clearly big on parades—especially big ones, and the Greenwich Village Halloween Parade is one of the biggest of them all. The only major nighttime parade in the U.S, it's also the world's largest Halloween parade. Started in 1974 by puppeteer and mask maker Ralph Lee, it sports as many as 50,000 costumed marchers and two million spectators. Its signature is the incredible oversized puppet and the wildly creative costumes, as well as 50 marching bands, parade floats, and the feeling of an urban carnival. The 1.6-mile route starts on Spring Street and goes up to 16th Street in Manhattan; each year boasts a different theme, and spontaneity is encouraged. It's a must-see at least once. New York's 50th Annual Village Halloween Parade will take place on Tuesday, October 31st, 2023 at 7pm.

First held in 1970, the TCS New York City Marathon is now the largest marathon in the world. Held on the first Sunday in November, it's grown quite substantially: the first marathon, organized by Fed Lebow, president of New York Road Runners, boasted about 100 spectators; 55 runners crossed the finish line. Now, close to two million spectators gather to watch the runners. In 2022, more than 47,000 people finished the event, which is 26.2 miles and goes through all five boroughs. It starts on Staten Island and finishes in Manhattan's Central Park. Even if you don't run (or even have a runner to cheer on) it's a great celebration of both sport and community.
Photo: Andrew Dallos/Flickr.
It isn't just official holidays that give rise to New York traditions. Take Manhattanhenge, a unique New York phenomenon in which the rising or setting sun aligns with the city's east-west street grid. (The name was supposedly coined by scientist Neil deGrasse Tyson, as a reference to Stonehenge.) Both the sunset and sunrise align twice a year, so you'll have four chances to see the event. Particularly good streets for viewing? 14th, 23rd, 34th, 42nd and 57th Streets. It's a camera and Instagram-worthy event, and one of the only ones where you'll see crowds of New Yorkers and tourists alike almost speechless.
While Thanksgiving itself brings droves of people to watch the Macy's Thanksgiving Day Parade, an equally iconic tradition occurs the day before. Around the American Museum of Natural History, on the Upper West Side, the giant parade balloons are inflated. They're unrolled into ground cloths, tethered with nets as they're inflated with helium. Many reach more than 50 feet high; around 16 huge balloons are involved each year. Watching is both fun and informative; it also makes you feel like you're privy to a cool behind-the-scenes experience (which you are).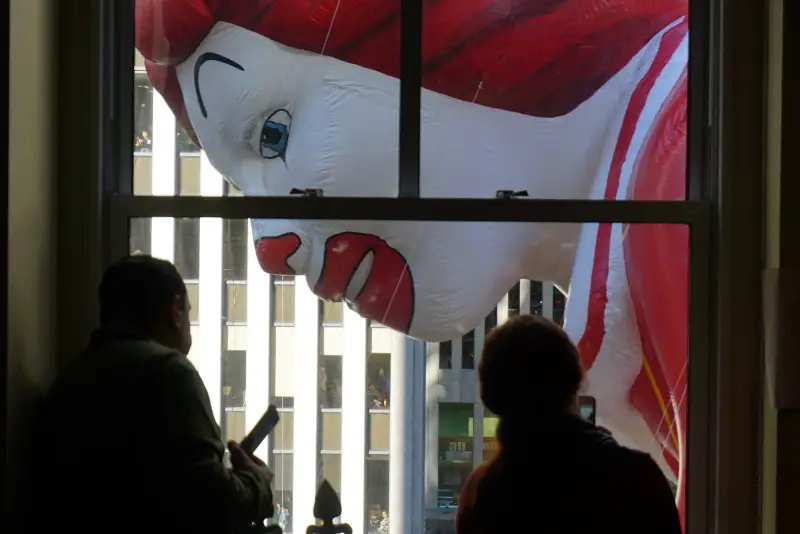 Photo: Andrew Dallos/Flickr.
The parade itself kicks off Thanksgiving morning, and boasts, in addition to the balloons, as many as 28 floats, 700 clowns, and 12 marching bands. It starts on the Upper West Side, and wends its way down to, of course, Macy's. The final float, Santa in his sleigh, officially kicks off the holiday season in New York. Worth it? Absolutely. (Just don't expect to find a cab.)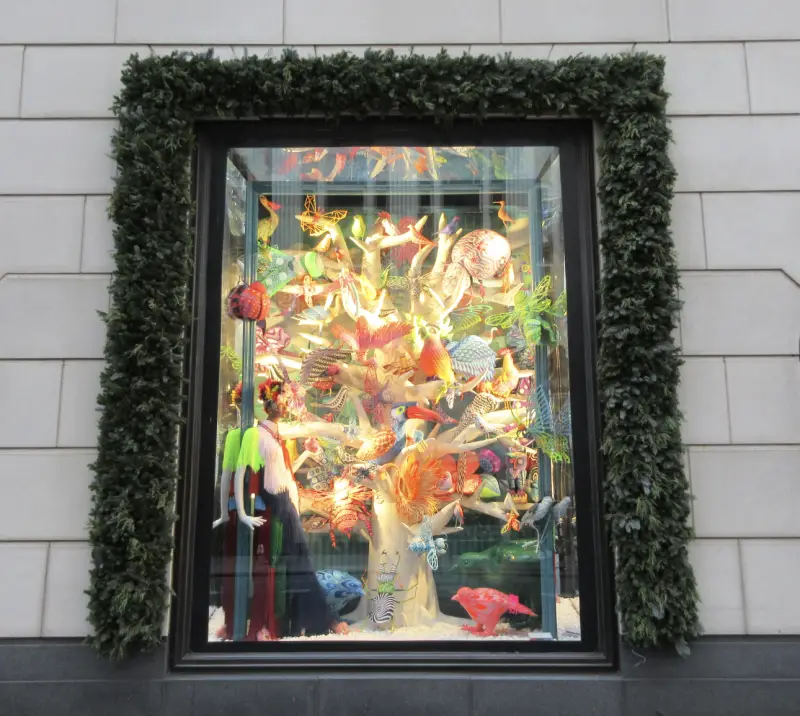 Brecht Bug/Flickr. Bergdorf Goodman holiday windows.
And New York does the winter holidays right. Christmas brings an almost endless array of traditions: strolling down Fifth Avenue to see the department store holiday windows; ice skating at Rockefeller Center or Wollman Rink; watching the Rockefeller Christmas tree being lit (or perhaps visiting it when it's not quite as crowded); seeking out the other beautifully decorated trees, from the American Museum of Natural History's origami tree to the angel-covered one at The Metropolitan Museum.
Rolf's by Jenn Vargas/Flickr.
Plus, endless Christmas pop-ups and Christmas-themed bars and restaurants, like Rolf's, every square inch decked out in decorations. Speaking of which, the Dyker Heights houses in Brooklyn decked out for the season are another great New York tradition. Plus, holiday markets, from Bryant Park to Union Square, and decorations in every part of the city.
No matter if you live here or visit, you'll find incredible New York traditions for every time of the year. And because New York is both steeped in tradition and constantly changing, it's also a great place to start some of your own.