There's nothing more quintessentially summer than celebrating Independence Day and seeing the Macy's fireworks in NYC. Whether you want to see the NYC fireworks in person, on TV, or from aboard a boat cruise, here's everything you need to know to have the ultimate viewing experience. So, don your red, white, and blue, fill up on July 4th barbecue, and enjoy the Fourth of July festivities!
Everything We Know About the Macy's Fireworks in 2022
New York City is a fantastic place to celebrate the anniversary of America's Independence. The main event is of course the Macy's 4th of July fireworks show in NYC, which is celebrating its 46th anniversary. This is the nation's largest Independence Day fireworks display.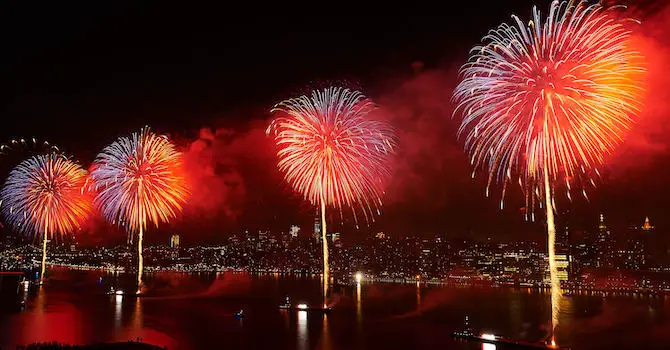 Courtesy Macy's
What time do the Macy's fireworks start?
The NYC fireworks display will begin at nightfall, usually around 9:20pm or so. But for the best views, you'll want to find a spot and get situated hours in advance.
Where will the 4th of July fireworks take place?
This year's revelry will launch more than 48,000 shells and effects from five barges positioned between E. 23rd  and E. 42nd  Streets on the East River, with prime viewing from Manhattan's east side, North Brooklyn, and the western edge of Queens.
What's new for 2022's New York City fireworks show?
The 25-minute fireworks spectacle is synchronized to a rousing musical score and will feature shells and effects in 30 colors and shapes. New shaped effects include tall hat, mushroom, little snake shells, tricolor interlocking rings, and blinking smiling faces. This year's design will launch more than 1,900 shells and effects per minute. A third of the total shells will showcase multiple effects, bringing more pyrotechnic firepower to the festivities that will span a mile across the East River in a multi-layer presentation, reaching dramatic heights of 1,000 feet above the water's edge.
Where are the best spots to view NYC's fireworks?
Any area with an unobstructed view of the sky above the East River in Midtown. Public viewing locations will be set up and managed by the NYPD. Official public viewing locations will be announced at a later date for portions of the Brooklyn, Queens, and Manhattan waterfronts. Spectators are encouraged to check macys.com/fireworks for the most up-to-date viewing information including entry details and marine viewing.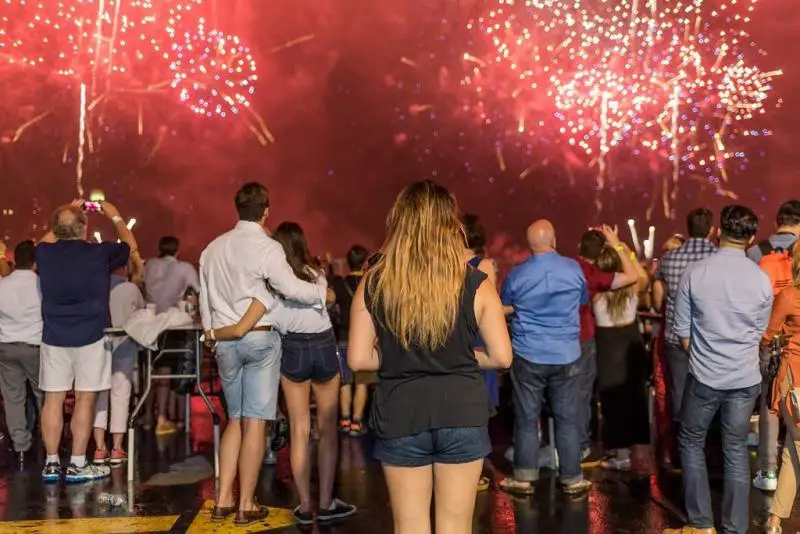 If you don't feel like fighting the crowds for a spot, Front Row Fireworks brings stellar views of the 46th Annual Macy's Fireworks show from the East 34th Street Heliport. This special engagement offers exclusive access to the highly limited East Riverfront area. Fireworks are only the beginning, as this family-friendly event also brings ping pong, chess, life-size versions of Jenga, live music, gourmet BBQ, drinks, and more! The event runs 6-9:30pm, you can get more details here.


Can I see the fireworks from an observation deck?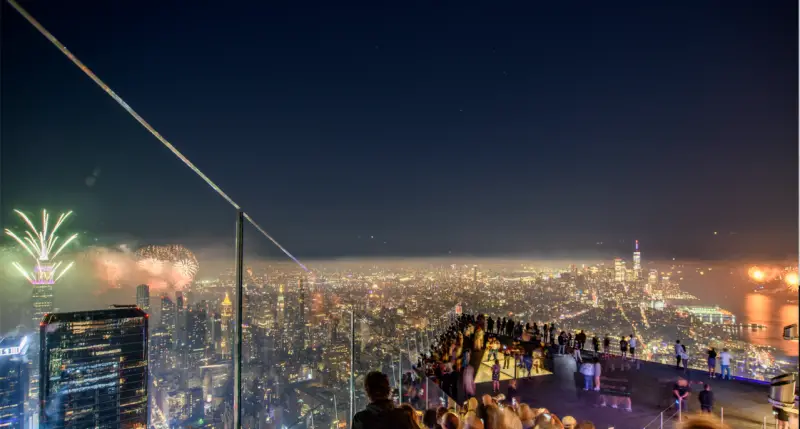 Getty Images for Edge at Hudson Yards.
Expect premium pricing, but some of the city's best views come from the observation decks. Edge is a popular new destination in Hudson Yards and you get the sweep of the city plus pyrotechnics on July 4th. Tickets include 2 glasses of champagne and a gourmet corn dog. Additionally, the evening will feature a special performance by Latin Grammy winning trumpeter, songwriter, and producer Spencer Ludwig. Tickets are very limited, so this is a great way to catch the action without big crowds all around.
Adventure seekers have the once in a lifetime chance to view the fireworks from a completely unobstructed perspective as they traverse City Climb, the highest open-air building ascent in the world. At dusk you'll scale the outside of the building more than 1,200 feet above the ground and be part of the skyline itself as the fireworks begin.
How about VIP fireworks experiences?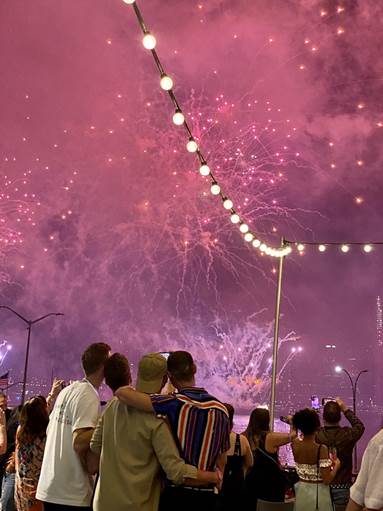 On the East River at the FDR, join upscale restaurant Riverpark and its panoramic views for a July 4th Firework Show & Celebration. Beat the crowds and enjoy live music, specialty BBQ, signature cocktails, and prime views. (There's also a spacious indoor area with floor-to-ceiling windows.) The BBQ station will feature pulled pork sandwiches with Carolina honey BBQ sauce, Memphis-style ribs, Texas brisket, southern sides, a NY burger station, and an à la mode ice cream truck. General and VIP ticket options are available.
Are there Coney Island fireworks for Independence Day in 2022?
Coney Island also presents a fireworks show on July 4th (in addition to 10 weeks of Friday night fireworks, see below). Starting at approximately 10pm on Independence Day, the 7th Annual Fourth of July Fireworks Spectacular will bring a 15-minute show. Visitors can view the fireworks on the Boardwalk anywhere from West 15th Street to West 10th.
The Day Party at the Coney Art Walls

Another great way to celebrate Independence Day on Coney Island is at The Day Party at the Coney Art Walls (3050 Stillwell Ave.), an annual urban cultural arts event filled with live music, performances, and a rotation of DJs spinning throughout the day. Meek Mill will headline the show this year along with sets from DJ Spade and DJ Chase B. There will be showstopping fireworks to follow. This special event is 18+ and will go from 3pm-midnight on July 4th.  Food and drinks will be available to purchase on site; tickets begin at $39 and can be purchased at thedayparty.com. 
Are there New Jersey fireworks this year?
Yes, there are. Right across the Hudson River from Manhattan you'll find fireworks on the Jersey City waterfront. Look for an all-day Freedom and Fireworks celebration with food trucks, family activities, and a concert headlined by Flo Rida. Performances start things off at Exchange Place, followed by the fireworks show around 9:30pm. The fireworks launch from two barges in the Hudson.
How can I watch the 2022 Macy's fireworks on TV?
NBC will broadcast a live view of the Macy's fireworks in NYC, along with various performers. The TV special airs July 4th from 8-10pm.
Who will be performing in the TV broadcast of the NYC fireworks?
Macy's hasn't released details about the 2022 NYC fireworks, but we'll update you as soon as we know.
For more fireworks viewing information and other spectator tips, visit macys.com/fireworks or call 212-494-4495.
Coney Island Fireworks 2022
Starting Friday, June 24th, the Alliance for Coney Island brings back Friday Night Fireworks, the only Friday night weekly fireworks series in the tri-state area. Whether watching from the boardwalk or sitting atop the Wonder Wheel, the Friday Night Fireworks display lights up the skyline for an unforgettable night for 10 weeks straight (weather permitting), starting at 9:45pm. Visitors can view the fireworks on the Boardwalk from West 10th Street to Stillwell Avenue.
6 Best NYC Fireworks Cruises
The best way to experience the fireworks in person without the major crowds is aboard one of NYC's boat cruises! With boat rides on the East and Hudson rivers, a fireworks cruise in NYC is a truly unforgettable way to celebrate the holiday.
Departs from: Bateaux New York: Pier 61, Chelsea Piers. Signature Dinner Cruise: Pier 15, South Street Seaport and Pier 61, Chelsea Piers.
866-817-3463
Price: Bateaux New York: $469.90 Gold Ticket Package; $399.90 Silver Ticket Package. Signature Dinner Cruise: $389.90 Platinum Ticket Package; $349.90 Gold Ticket Package; $299.90 Silver Ticket Package.
Hours: All cruises: 6-10pm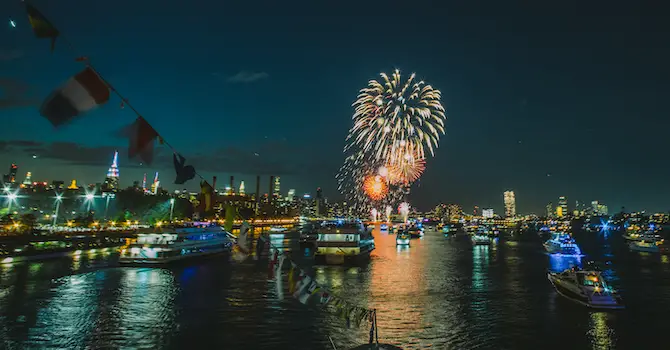 Courtesy City Cruises
City Cruises Signature Dinner fireworks cruises depart from Pier 15 and Pier 61. While onboard you'll enjoy a delicious dinner buffet with freshly prepared entrees, salads, and desserts. Climate-controlled interior and open-air outdoor decks await. For an elegant plated meal, look to City Experiences' all-glass, European-inspired Bateaux New York. The dinner fireworks cruise features chef-inspired fine dining, beer, wine, and classic cocktails, and the city's most impressive views.
Departs from: Seastreak Ferry Terminal at Highlands, 326 Shore Dr., Highlands, NJ
800-262-8743
Price: $99 per person (1 price for all ages)
Hours: Boards 5;30pm, departs 6:30pm; returns between 10:30pm-11:30pm
Seastreak is the most comfortable way to explore NYC and surrounds: climate controlled cabins and an open-air top deck, 360° panoramic windows, plush seating, and a full-service cash bar. This is by far the most civilized way to get into the city from New Jersey: ride from Highlands shortly before sunset, cruise to the East River to watch the show on the top deck (you'll feel like they're right on top and all around you; this is the way the show was meant to be seen), and then check out your favorite Manhattan sites aglow in the city lights.
Departs from: Pier 83, Hell's Kitchen
212-563-3200
Price: $229 and up; $179 and up for children ages 3-12
Hours: Departs 6:45pm; returns between 11pm-12am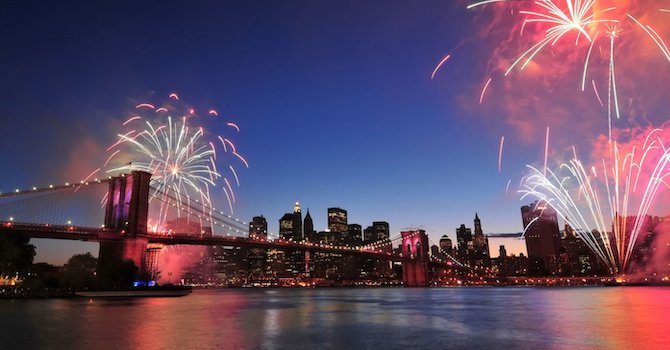 Courtesy Circle Line
Circle Line's 4th of July Fireworks cruise sails down the Hudson River and around the tip of Manhattan, showcasing the gorgeous views of the NYC skyline. While enjoying the sights of Manhattan from the water, take advantage of the buffet featuring classic Independence Day fare, like fried chicken, hamburgers, hot dogs, and mac 'n' cheese. Tickets also include unlimited beer, wine, and soda. And when it gets dark out, you'll have unbeatable views of the Macy's 2022 fireworks.
4. Manhattan by Sail
Departs from: Clipper City: Pier 17, South Street Seaport; Shearwater: North Cove Marina at Brookfield Place, Battery Park City
212-619-6900
Price: $499; $425 children ages 12 and younger
Hours: Clipper City: 5:30-10pm; Shearwater: 5-9:30pm
Set sail on the river aboard Manhattan By Sail's tall ship Clipper City or the classic schooner Shearwater, enjoy a barbecue dinner, and see the Macy's fireworks from a unique point of view. The dinner includes crudité, hummus, mini lobster rolls, sliders, barbecue ribs, country fried chicken, coleslaw, corn bread, potato salad, cupcakes, and more. There's also a kids' menu with the classics like chicken fingers and PB&J. Plus, adults can sip on red sangria, white Absolut pear and lemonade, and blue cosmos (we're sensing a theme here…).
5. Classic Harbor Line
Departs from: Pier 62, West 22nd Street and Chelsea Piers, Chelsea
212-627-1825
Price: $428-$689
Hours: Vary depending on cruise; see website for sail times
Take in the breathtaking NYC fireworks display from aboard a luxury yacht or schooner with Classic Harbor Line—there are six available. (What could be more fitting than a fireworks cruise on July 4th aboard the schooner America 2.0?!) During your fireworks cruise, you'll enjoy light hors d'oeuvres along with an open bar featuring beer, wine, champagne, and soft drinks. 
6. Event Cruises NYC
Departs from: Pier 36, South Street Seaport
917-671-9710
Price: Dinner cruise: $289-$459; Fireworks Cruise: $179-$259
Hours: Dinner cruise: 7:30-11pm; Fireworks Cruise: 7:15-10:45pm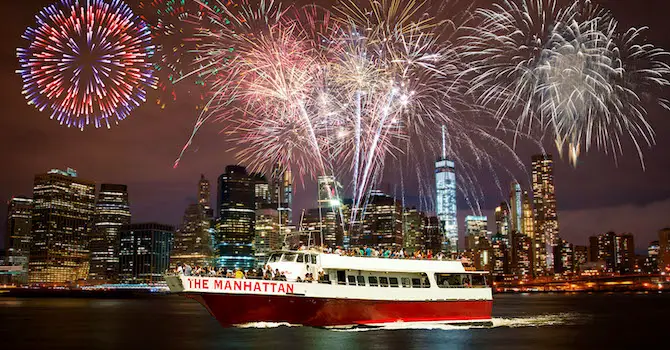 Courtesy Event Cruises NYC
Event Cruises NYC offers two different fireworks outings on July 4: the Dinner Cruise and the Fireworks Cruise. The Dinner Cruise, aboard a 3-deck vessel, features a three-course meal, including scallops, Cornish hen, shrimp, lobster tails, a vegan option, and more, as well as an open bar. The Fireworks Cruise, aboard a 2-deck vessel, includes a buffet of mini sandwiches and an open bar featuring beer and wine. 
—Katelin E. Walling contributed to this article.