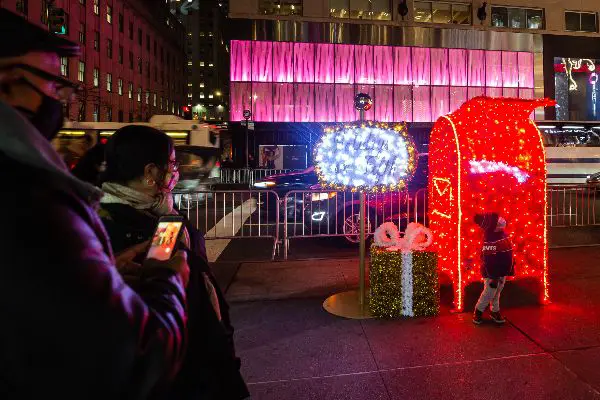 The Fifth Avenue Association has launched "Make it Bright," 10 holiday installations between 50th & 59th Sts. Photo: Liz Ligon.
If you're looking for an indicator of the strength of the tourism sector look no further than Airbnb. Despite the pandemic, the homestay leader has seen its valuation increase more than five-fold in its IPO. It's now worth more than Marriott, Hilton, and Hyatt—combined. Travel stocks are up substantially this week in tandem with the rollout of vaccines. Dr. Fauci says signs of herd immunity could be visible in three months. Although none of this news eliminates the headwinds that we face, it gives ample cause for optimism as we head into 2021. 

The next phase of recovery is close enough that we can already begin speculating about a transformed world. A Fortune look at the future of live theatre this week anticipates Broadway shifting from long-running tourist-friendly fare to productions that target New York City and tristate audiences. Look for star vehicles, limited run specials, and more of the successful concert vehicles we saw over the last couple of years. As streaming grows, the global audience for theatre will likely grow with it. The city's demographic is changing, too, and that will shift audience tastes. (Despite 3.5 million departures, the city didn't lose population in the pandemic; but those that left were replaced by people making less money.)

The U.S. Travel Association is predicting a major turnaround beginning with summer leisure travel. Economists are comparing the broader market conditions today to the early '80s, when a lowering of interest rates produced immediate growth from pent-up demand. Two major extended-stay companies report the pendulum swinging back to cities after a long spate of beach and nature vacations. We are already looking forward to the excitement of a major New York City comeback in 2021.
Links of Interest
NYC
How midtown can transform itself after the pandemic.

More evidence that mass transit is not a virus spreader.

NYC restaurants begin a wave of winter hibernations.

Will the city face a fiscal crisis?

Travel + Leisure pens a love letter to NYC.

INTERNATIONAL 
Red Ventures (The Points Guy, CNET) acquires Lonely Planet.

Carriers partner with testing partners to accelerate the return of air travel.

Despite COVID damage to its bottom line, Starbucks still intends to open 22,000 new stores after the pandemic.

HOTELS
F&B trends for hotels in 2021.

NYC hotel employment down 82% this year.

U.S. hotel profitability was actually up in October.

CLOSING TIME
After 90 years, the 21 Club shuts down indefinitely. 

Uniqlo throws in the towel on Herald Square.

Red Bull Arts gives up its Chelsea space.

Time Out Market New York in Dumbo to close for the foreseeable.
Everything to Do NYC Facebook Group Post of the Week
City Guide's Facebook Group Everything to Do NYC is great first-hand market research, letting you gauge the thinking of 12,000 New York City superfans. Members are looking for things to do and eager to provide guidance to city visitors. This post is already up to 239 comments:
 
Hey guys! Im traveling to NYC with my girlfriend for xmas holidays, any tips for xmas eve? First time in NYC for both of us! Thanks!

Suggestions included Fifth Avenue lights, Winter Village, Rock Center, the High Line, Krispy Kreme, LuminoCity, Black Tap, eBike tours, Dyker Heights, Madame Tussauds, Ripley's, and Christmas cruises. (There were also many suggestions to delay travel, reflecting the active and up-to-the-minute status of the group.) For pandemic times and beyond, Everything to Do NYC can really serve as a marketing vehicle. Stop by for insight into what locals and visitors are thinking.