The spate of recent changes reaffirms the city's comeback is on. In the past few days we've seen added restaurant capacity, extended closing times, and the return of movies, amusement parks, weddings, and catered events. We've also seen COVID positive rates plummet and hospitalizations remain low. A major bump in vaccines is on its way. 

The city's opening has come in parallel with promising national signs. Airline, hotel, OTA, and cruise stocks were up sharply this week—suggesting that the markets haven't been optimistic enough. The TSA announced plans to add 6,000 more security staff by summer. The latest numbers from market research firm Destination Analytics show pandemic-era highs for traveler sentiment. The most popular word to describe how they're feeling about getting away? "Excited."

A Trivago survey comes in with more striking terms: nearly half of respondents would give up their job, one-fourth would give up their savings, 20% would dump their partner, and 40% would give up sex for a year just to get traveling again. Checking over the Travel Technology Association's Future Travel Enthusiasm in the Age of COVID-19 reveals plenty of pent-up demand, with a majority planning on making a bucket list trip in 2021. (Two-thirds intend to travel more than they did pre-pandemic; that number jumps to 75% among the 65-plus demographic, according to a Harvest Hosts survey.)

Challenges no doubt remain, but at least for city hotels a webinar suggests the "Hump of Darkness" is over. "Whatever it is, New York has it," HVS Director Chris Fernandes says. "That is something that is impossible to replicate. Folks are always going to want to come to New York."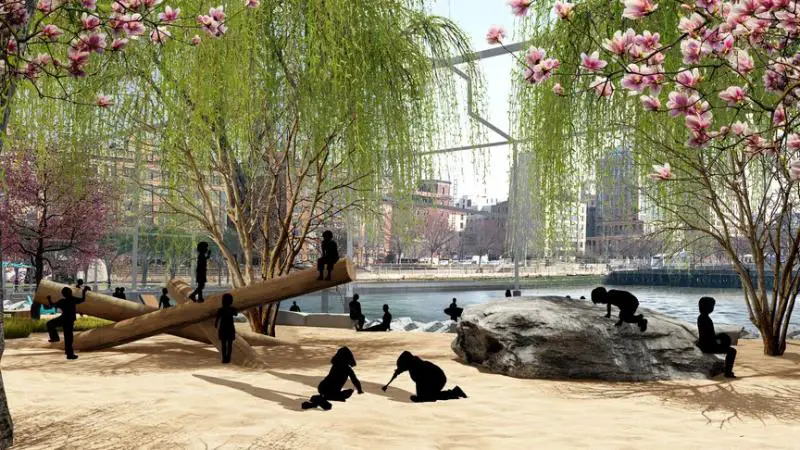 Hudson River Park Trust announces Gansevoort Peninsula, a new Little W. 12th St. park with a sports field, salt marsh, dog run, and beach. Rendering via James Corner Field Operations.
Links of Interest
NYC
One year in, de Blasio appoints NYC recovery czar.
World's longest, tallest, and fastest single-rail roller coaster coming to Six Flags this summer.
Plans moving forward for massive Empire Station Complex and revamped Penn Station area.
New high-speed rail plan recommends tunnel under LI Sound to connect New York and Boston.
The Center for New York City Affairs at The New School issues a report on the city's K-shaped recovery.
Valentino nabs a SoHo space (and gets sued for $207M for breaking its Fifth Avenue lease).
New York Daily News sold to hedge fund.
Another round of layoffs for the Whitney, amid low attendance and budget shortfalls.
After a year of negotiations, Guggenheim signs contract with union.
Nearly all NYC restaurants failed to pay December rent.
Thursday, 7pm: Senate Majority Leader Chuck Schumer appears on Recalibrate Reality: The Future of New York.

HOTELS 
RIP Marriott CEO Arne Sorenson (1958–2021). Anthony Capuano appointed new CEO.
Hilton reports 97% of its hotels are open, but $720M loss taken in 2020.
CDC says hotel workers should be prioritized for vaccinations.
Hotel Association of New York City CEO Vijay Dandapani acknowledges difficulties but is optimistic for summer rebound. 

COMEBACK TRAIL
Century 21 to return.
New flagship for Pearl River Mart on Broadway.
The historic Cosmopolitan Hotel in Tribeca has been transformed into The Frederick Hotel; bookings are available starting late next month.
The W New York Union Square and Yotel New York at Times Square West have reopened.

CLOSING TIME
Village Cigars (and the Hess Spite Triangle) go up for sale.
The Williamsburg Hotel files for bankruptcy.
Gotham West Market's Ivan Ramen Slurp Shop will not be back.
Dim sum destination Jing Fong to close its Chinatown banquet hall (although it will seek a new location; the UWS branch remains open).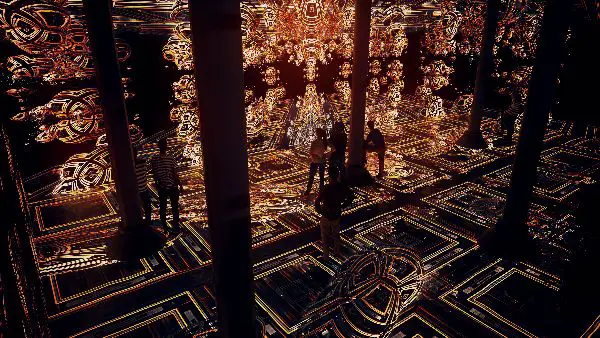 Chelsea immersive art space ARTECHOUSE launches new exhibit "Geometric Properties" by Julius Horsthuis on Monday. 
Everything to Do NYC Facebook Group Post of the Week
City Guide's Facebook Group Everything to Do NYC provides excellent first-hand market research, giving you insight into what superfans of the city are thinking. The group is coming up on 15,000 members, with locals providing guidance for each other and NYC visitors. This week we've seen an influx of interest from Texas (folks looking to warm up for a few days?), including this post, which has 84 comments already:
 
Howdy from Texas. I'm coming to visit April 1st thru 5th to explore moving there. I'm looking for a safe hotel that won't cost me a kidney :)

Among the suggestions: Pod Hotel, Citizen M, Element New York Times Square West, Sheraton Times Square, Blue Moon, Marriott Courtyards, the Millennium Hilton Downtown, Hilton Garden inn Chelsea via the Hotel Tonight app, and Brooklyn or Lower Manhattan options. People really took the time to share their expertise and help out—and included a spirited debate on the latest quarantine requirements. See if your hotel, restaurant, or venue is mentioned and weigh in with actual customers. Everything to Do NYC can really serve as a marketing vehicle. Stop by for insight into what locals and visitors are thinking.
As the city more and more comes back, City Guide is keeping up with our weekly online column This Week in the City. As a complement to that content, we've also launched a free weekly newsletter. Every Thursday morning we'll drop into your inbox with 8 great ideas for enjoying the city IRL. Keep up with the latest goings on in New York, subscribe here.