The situation on the ground is rapidly changing in NYC, with just the last few days bringing us the foregoing of a live Macy's Thanksgiving Parade, the loss of Century 21, and the dropping of California, Hawaii, Maryland, Minnesota, Nevada, and Ohio from New York's quarantine-required list. The Governor won't be greenlighting concert and comedy spaces to reopen any time soon, but indoor dining is back just two weeks from today.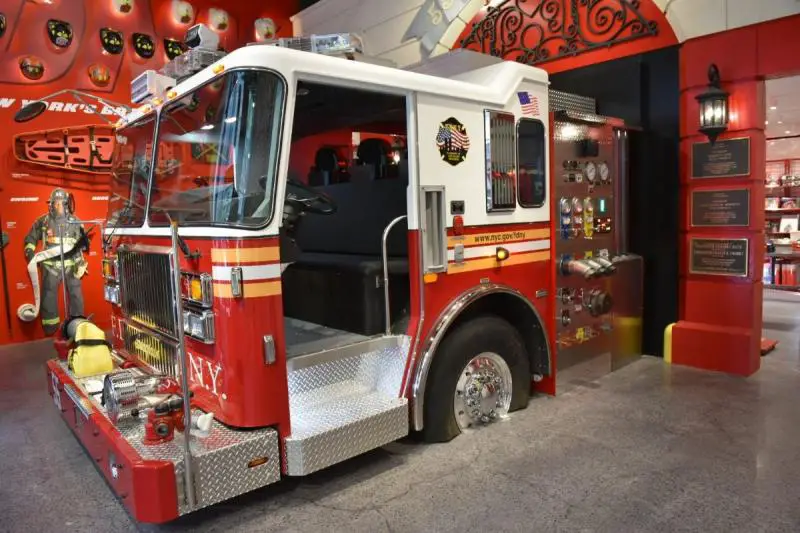 The FDNY Foundation cut the ribbon on a brand-new, state-of-the-art FDNY FireZone, located at 61 W. 48th St. in Rockefeller Center..
The list of reopened cultural venues is lengthening as well; last week the FDNY FireZone reopened in a new space; the New Museum came back yesterday; today we add Fraunces Tavern Museum, the Queens Museum, and the Society of Illustrators, and tomorrow MoMA PS1 returns. On the hotel side, the New York Marriott Downtown is open for guests again.

All of the recent surveys show traveler confidence moving upward. Destination Analysts sees respondents's health and personal financial concerns at the lowest they've been in the pandemic. Marketing agency MMGY Global's latest Travel Intelligence poll reports the likelihood of a domestic leisure trip during the next six months at the highest it's been since the outbreak. Read on for more of the latest on a reopening New York City.
Links of Interest
NYC
New Hamptons-themed Sandbar Rooftop (above) now open at the Hilton New York Fashion District.

Krispy Kreme's first global flagship launches in Times Square.

NYC & Company kicks off All In NYC: Neighborhood Getaways with deals and Mastercard rebates.

Travel Weekly says reports of the city's death are greatly exaggerated.

The 58th New York Film Festival starts off tomorrow, with drive-in venues in Queens, Brooklyn, and the Bronx.

Restaurateurs not sure how to feel about return of indoor dining.

The Look Book attends reopening day at The Met.

Vacancies along Broadway have increased 78% in just three years.

CHANGING OF THE GUARD
After 43 years as wine director of the River Café, Joseph DeLissio calls it a day.

Ben Brantley, co-chief theater critic of the Times, steps down after 24 years.

CLOSING TIME
After 41 years Ipanema Restaurant wraps things up (for now).

After 70 years in Astoria, a final bow for Riccardo's by the Bridge.

The East Village's Coyote Ugly shutters original location, intends to move nearby.

Bad stuff for late-night Chelsea diners: Good Stuff Diner is closed.

No more squeezing in to Gabriel Stulman's Bar Sardine.

Sacred Chow says goodbye after 25 vegan years in the Village.
Keeping Up with NYC in "This Week in the City"
Even in our restricted era, there are still tons of amazing things to do in NYC. City Guide publishes Things to Do in NYC online every week, with the latest in openings, reopenings, and city news. This week we're telling people about the Tribeca Film Festival and Fashion Week on the big screen outdoors, oyster and wine workshops, yoga from 100 stories up, and much more. Have news for us? Drop editor Ethan Wolff a line at ewolff@davlermedia.com and he'll get it posted.
Everything to Do NYC Facebook Group Post of the Week
City Guide's Facebook Group Everything to Do NYC brings together 8,000 active members sharing a passion for New York City. A recent member post noted the Guardian article on New York City being reborn, adding "To all the faithful New Yorkers who are working to sustain and rebuild our beautiful city, I salute you!" In classic New York fashion there was plenty of griping about the city but also some inspiring perspectives on what we can appreciate about right now:
I returned here from another location in mid-July. I have seen zumba and yoga classes and a super jazz quintet in Prospect Park, I've been to the reopened Met and Whitney, and enjoyed the ocean at Coney Island, eaten great Russian food on the boardwalk at Brighton Beach. The life and energy of New York City can't be kept down. What I've experienced is a small fraction of what is going on all over the city.

I celebrated my birthday on Monday eating with friends on the top deck of a light ship in the Hudson watching the sunset over New Jersey, turning the skyline of Manhattan golden. Then we strolled along the Hudson River watching the city lights sparkle and enjoying the beautiful parkland and the new interactive public exhibits along the waterfront. And today we hear that the restaurants can start to have indoor dining. That is excellent news. This from someone who has lost good friends in the course of this pandemic.

You can check out the full response here. Other recent posts provide insight into what locals and visitors are thinking.

---
Want more on New York City tourism? Sign up for our free weekly Tourism Happenings newsletter. Just drop a line to ewolff@davlermedia.com.