Upcoming Outdoor Craft Fairs in NYC
April 30, 2018 - by Merrill Lee Girardeau
Have you ever been walking down the street in New York, turned a corner, and found a street full of handmade jewelry and screen-printed t-shirts? Craft fairs pop up all over town once the sun comes out for the season, and we've got the list for where to find them. At these craft fairs, you can find unique treasures to take back with you from your trip. No souvenir store can match the care and creativity of these designs, and the al fresco experience will improve your shopping experience as well! Here are the craft fairs to watch out for in Manhattan and Brooklyn this spring and summer.
Outdoor Craft Fairs NYC: Grand Bazaar NYC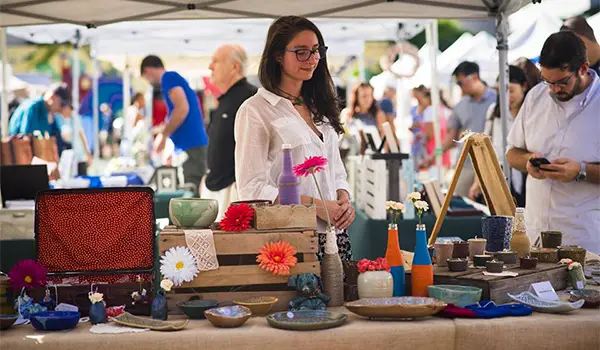 Every Sunday on the Upper West Side you can find Grand Bazaar NYC, the city's largest curated market—and most distinctive! Shop from local artists and vintage/antique dealers with one-of-a-kind, rare, and limited-edition fashion, home goods, jewelry, skincare, furniture, stationary, art, and more. (There's also some mighty tasty artisanal treats). Sunday, May 6th welcomes Ready, Set, Summer with the NY Handmade Collective, a great place for stocking up on amazing craft work. Come back June 3rd for the NYC Handmade Bazaar. 100 W. 77th St., 212-239-3025, grandbazaarnyc.org
Outdoor Craft Fairs NYC: Nolita Market
This fair is a tidy row of tables behind the Basilica of St. Patrick's Old Cathedral, a picturesque little feature of Prince Street. The t-shirt designers, jewelers, and other artisans at the Nolita Market post up every weekend from March to December and are always a treat to visit whenever you're in the neighborhood. Fridays, Saturdays, and Sundays, March-December. Prince St. between Mott and Mulberry, nolitaoutdoormarket.com
Outdoor Craft Fairs NYC: Livable West Side Festival
Memorial Day weekend, come check out the vendors on Broadway at the Livable West Side Festival. This craft fair has been running 31 years and occupies Broadways between West 73rd and 86th Streets. Bring your family or yourself to check out this year's potters, jewelers, and weavers on May 27 between 10am and 6pm.
Outdoor Craft Fairs NYC: Washington Square Outdoor Art Exhibit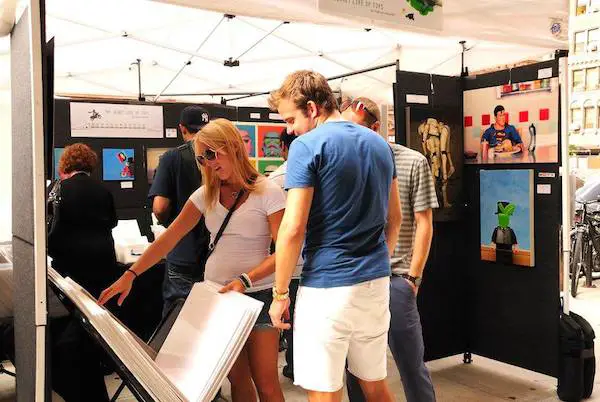 Twice a year, artists and craftspeople line the perimeter of Washington Square Park and the surrounding blocks for the Washington Square Outdoor Art Exhibit. This longstanding neighborhood tradition began with young legends like Jackson Pollock and Willem de Kooning who sold their canvases in the park when in need of money. Now, considerably more organized, the artists, jewelry designers, and other makers will welcome you to their tables and offer all items for sale. May 26-28 and June 2-3. On University Place between E 13th St. and Waverly Place, 212-982-6255, wsoae.org
Outdoor Craft Fairs NYC: CraftNewYork
Replacing the 40-year tradition of the American Crafts Festival at Lincoln Center, CraftNewYork has revived the former festival and made it even better. Jewelers, clothing designers, photographers, woodworkers, and artists will set up their wares in the (fingers crossed!) lovely June weather this year at Damrosch Park at Lincoln Center. This wide plaza will be perfect for the diverse array of makers and their wares at the cultural mecca that is Lincoln Center. June 2-3. Along W 62nd St. between Columbus and Amsterdam Aves., artrider.com/craftnewyork
Outdoor Craft Fairs NYC: Hester Street Fair
Hester Street Fair began in 2010 to draw locals and tourists alike to the streets of the Lower East Side. Now this fair is one of the city's most popular, with crafts like jewelry and plenty of local food to keep it going strong for the past 8 years. Themed weekends this season will include Girl Power and Cinco de Mayo! Beginning April 14, Hester Street Fair will be every Saturday until the end of September. Saturdays, April 14-Sept 29. Corner of Hester St. and Essex St., hesterstreetfair.com
Outdoor Craft Fairs NYC: Renegade Craft Fair
This pick is a bit of a cheat, as it's indoors. But we couldn't not include the Renegade Craft Fair, a popular fixture of New York craft culture since it began here in 2005. Expect creatively displayed succulents and off-the-wall jewelry at this cutting-edge craft fair, this year held at the Brooklyn Expo Center in Greenpoint, Brooklyn. (There will also be a Renegade in NY this November!) June 23-24. 72 Noble St., renegadecraft.com
Looking for Free Group Planning Services?
Get free advice on planning your group's trip to New York.
RESTAURANTS

Multi-concept restaurant offering modern Japanese cuisine, a...

THEATER

Gaston Leroux's famous period thriller is now one of Broadwa...

SHOPPING

An array of quality branded merchandise showcasing HBO's® aw...

SIGHTSEEING

Enjoy the best prices for deluxe double decker, hop-on, hop-...