There is an island, in another dimension just a tree portal away. It's a special place that was formed from the "inner child energy" that lives within each and every one of us.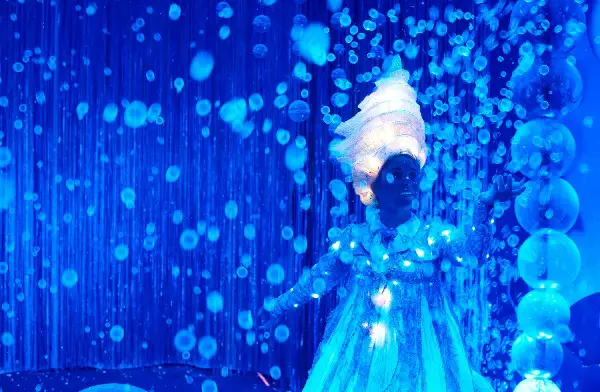 At a time when kids are playing computer games before they can read and can quote films and TV shows verbatim, it's reassuring to know there's a hands-on, real people, real gizmos adventure designed to jettison them out of their sedentary comfort zones into an "other" world that not only challenges them physically and mentally, but ignites their imaginations as well.
Welcome to Pip's Island: The Lighthouse Rescue, the groundbreaking take on interactive theatre that hits all the right notes for parents and little ones—from cool concept and live actors to fun music and creative problem solving, all set against a propulsive storyline. 
And the production doesn't stop there. Its 21-century pop culture-savvy (think graphic novels, web series, apps) comes across throughout, adding up to a contemporary, kid-centric, theatrical joy ride.
"Pip's Island is about empowering children by giving experiences that will help them find the spark within," says Rania Ajami, one of the show's founders and its Chief Creative Officer. "There's a real bond that forms between families as they progress through this 'hero's journey' together."
Ms. Ajami goes on to explain that the project itself came about because of a personal disappointment. "As a parent in New York, I felt really underwhelmed by what was available to kids."
To come up with a solution, she, along with her brother/co-founder and CEO, Rami Ajami, and the show's Creative Director, Walter Krudop, teamed up to create something that hadn't been done before.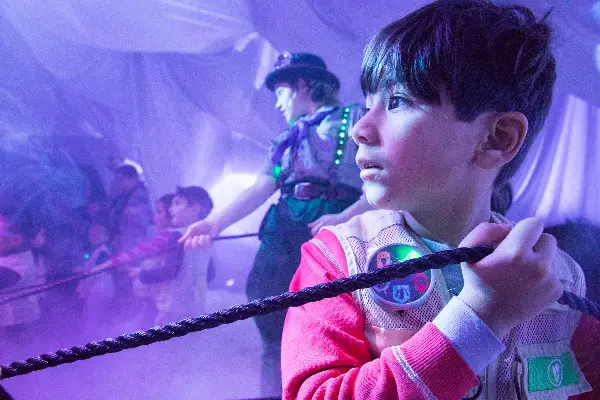 "We felt that there was much more wonder, sophistication, and beauty that we could bring to children's experiences," she continues. "As a storyteller and creator, watching my own kids play out imaginary adventures made me think: what if we could create a physical world where kids could actually do that by mixing different mediums, stories, and experiences?"
Adds Krudop, "Pip's Island is as real as 'make-believe' gets for children. They literally feel like they are entering a live video game and are pulled right into the story."
The basic outline of the 60-minute show lays out an all-immersive trek on "Expedition 12" to a mystical isle. There, youngsters (aka explorers) and their families—along with characters Pip, Pebble, and Finn—are called upon to save the island and its inhabitants from darkness, and defeat the villain, Joules Volter. (Spoiler alert: Volter—who calls the explorers "stinky"—gets his comeuppance when the kids join together and chant, "Investigate, activate, build, imagine, connect!")
The show kicks off with the distribution of a special explorer vest which is "waterproof, fireproof, ice-proof, volcano-proof, blizzard-proof, avalanche-proof, and, of course, slime-proof," worn throughout their adventure and returned at the end.
The action unfolds in a series of highly designed environments, starring the kids themselves, guided throughout by a series of skilled performers (playing roles like Expedition Leader, Park Ranger, and "Shelly") as they encounter interactive set pieces, ingenious puppets, and animated characters.
Pip's Island was first performed in Chelsea in 2016, earning rave reviews—both in the press and from kids and their parents.
"I took my five-year-old on a daddy-daughter outing to Pip's," said one father after seeing the original mounting. "She's a shy girl and I worried she'd be overwhelmed, but once the other kids gathered together for the adventure, she rushed right forward with them. It was such a great experience for me to hang back with the other parents and watch her go on the mission and enjoy the lights and the characters and the action. It was a great day for my daughter's confidence—and mine."
That first run was a limited engagement, but now the Pip's Island entertainment company has found a permanent home in the Times Square area.
Notes Mr. Ajami, "We exist to cater to kids of today, who take a 360° multi-sensory, multi-platform approach to engaging with their world."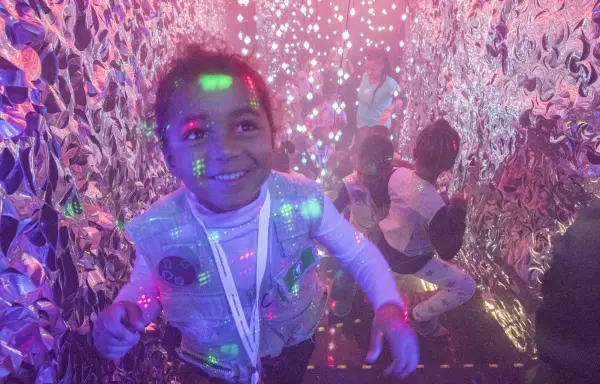 ---
Pips's Tips
ALL CHILDREN must be accompanied by an adult.
RECOMMENDED AGES: For kids, 5 to 11, but grownups will be enchanted as well.
RUNNING TIME: One hour, but it's advised you arrive 15 minutes early.
PHOTO OPS: Not during the show, but for sure before and after.
WHAT TO WEAR: Kids should dress comfortably; sneakers are recommended. (FYI: In various places, there is seating for adults, but kids are on the move throughout.)
SPECIAL NEEDS CHILDREN: No problem, just be sure to email customerservice@pipsisland.com beforehand to coordinate.
Pip's Island: The Lighthouse Rescue is now performing at 400 W. 42nd St. (Ninth Ave.); 212-609-1372, pipsisland.com.