Places in Manhattan That Time Forgot
May 24, 2017 - by Mari Gold
Even in today's fast-paced, disposable society there remain a few places that seem untouched by time, even in this most dynamic city. Read on for five great New York spots that evoke another lifetime and are well worth a visit.
Mount Vernon House Museum
Constructed in 1799 as a carriage house and converted into a hotel in 1826, the Mount Vernon House Museum transports you back to when the charming stone building was a country escape for New Yorkers who lived at the southern tip of Manhattan. The Ladies' Parlor displays old instruments including a harp, pianoforte, and barrel organ; the adjacent Men's Parlor is where the guys did their drinking, from individual glass liquor bottles in an old box. The dining table holds replicas of foods popular in the day including oysters and turtle stew. A handsome dresser in the kitchen retains its original paint, dark red from a mix of milk and oxblood—a tribute to an era when nothing went to waste. An upcoming exhibit will feature newspapers of the period with many African-American papers that were just coming into print. Late spring and summer is the season for concerts, Victorian teas with all the trimmings, and lectures on different aspects of Victorian life. At all seasons, interpreters lead interactive tours for walk-ins that can be geared towards age groups, or special interests like decorative arts or social history. Adult admission: $8; free for under 12. 421 E. 61st St., mvhm.org
Katz's Delicatessen
Katz's Delicatessen began in 1888 as a small deli on Ludlow Street on the Lower East Side and quickly became a focal point for gathering, beginning with the newly immigrated families who lived in the area. Since then, celebrities of all kinds have flocked to Katz's and their photographs line the walls—making good viewing while you await your order. If you are a fan of corned beef, pastrami, brisket, and other deli delights, this is the place. Don't be put off by sandwich prices (hot pastrami is over $20) because portions are gigantic and the quality is A-1. More than worth it! 205 E. Houston St., katzsdelicatessen.com
Keen's Steakhouse
Circa 1885 Keen's Steakhouse has a theatrical history; it remains one of the few places where you can order a mutton chop and displays skinny clay "churchwarden" pipes hanging from the ceiling. The pipes recall an English tradition of keeping one's pipe at a favorite inn, as they were too fragile for travel. The legendary mutton chop is huge and delicious as are all manner of fish and steaks, as well as oysters, shrimp, and salads. Try bananas Foster with dark rum and vanilla ice cream for a sumptuous dessert. 72 W. 36th St., keens.com
Morris-Jumel Mansion
The Morris-Jumel Mansion, the oldest house in Manhattan, highlights over 200 years of New York history, art, and culture. In 1765, when Manhattan was largely farmland, the house was built as a summer retreat. For several weeks during the Revolutionary War, George Washington and his troops occupied the house. A visit Tuesdays through Sundays is $10 for adults, free for kids under 12. Besides exhibits and tours, the Mansion hosts events such as chocolate tastings, performances, and historic trivia nights. 65 Jumel Terr., morrisjumel.org
McSorley's Old Ale House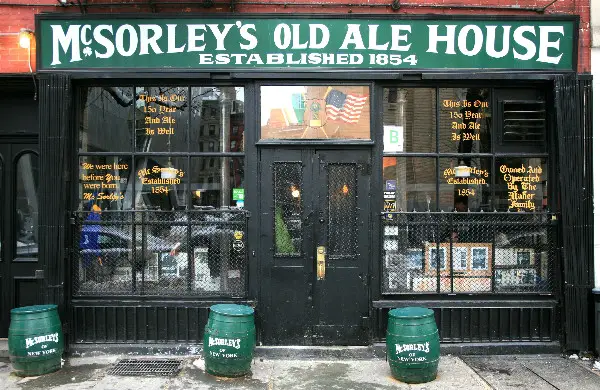 Abe Lincoln visited McSorley's Old Ale House, as did Woody Guthrie and so can you. Opened in 1854, the bar and meeting place didn't admit women until forced to by a lawsuit settled in 1970. The place has sawdust on the floor and history flooding every inch. McSorley's serves ale only (unless you count soda) and is a genuine piece of time-forgotten Americana. 15 E. 7th St., mcsorleysoldalehouse.nyc
Looking for Free Group Planning Services?
Get free advice on planning your group's trip to New York.
RESTAURANTS

Multi-concept restaurant offering modern Japanese cuisine, a...

THEATER

In a heartbeat, 38 planes with 6,579 passengers were strand...

SHOPPING

Specializing in the great vineyards of California, France, A...

SIGHTSEEING

The only provider of ferry transportation to the Statue of L...