This list is for the vegans, vegetarians, and other plant-lovers in New York. The city has never boasted so many plant-forward restaurants, offering bold flavors and singular style, which can be found throughout the city. This list mixes these outstanding vegetarian and vegan establishments with restaurants that serve excellent vegetables in addition to their more omnivorous options. Find 11 delicious dinners made with vegetables below. (But don't forget to address any dietary restrictions with your server, just in case!)
Fresh Herb Pasta at Maxim's at the Norm
Right now at the Brooklyn Museum, the museum restaurant The Norm is hosting a pop-up inspired by the renowned Paris restaurant Maxim's. The seasonal menu features ingredients from local farmers markets and will last through January 2020, running concurrent with Pierre Cardin: Future Fashion (the French designer owns Maxim's). Chef de Cuisine Andy Mejias and Culinary Director/Chef Saul Bolton will soon debut a fall menu, but hopefully the fresh herb pasta on the current menu will stick around. This handmade pasta is made with zucchini, tomato, garlic, and fresh herb sauce. Another veggie-forward main includes spinach socca with avocado, a chickpea crepe with spinach, red cabbage, and avocado. 200 Eastern Pkwy., 718-230-0897, thenormbkm.com
Weekend Theater Menu at Nerai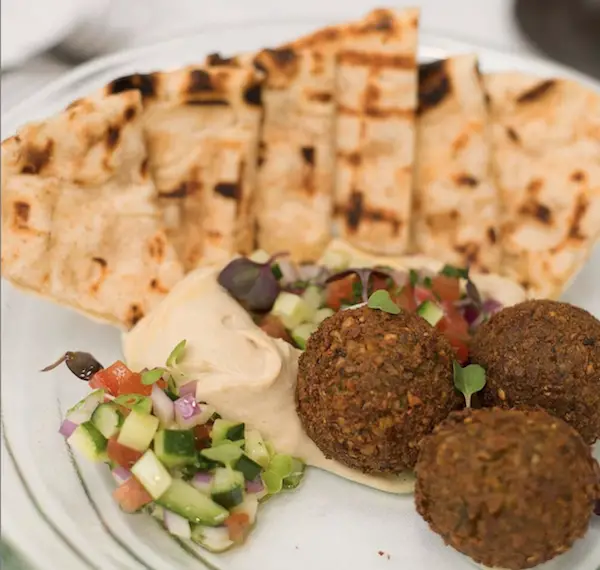 Friday lunch done right featuring Revithokeftedes: chickpea fritters over hummus & harissa. Instagram.


Nerai is a pitch-perfect Greek restaurant in the Theater District with an award-winning wine list. Every Friday and Saturday, the restaurant serves pre- and post-theater dinner that presents a vegetarian-friendly slate of options. To start, order the spanakopita, savory Greek pastries filled with spinach, artichokes, dill, and feta. As a main course, savor mushroom risotto with four varieties of mushroom. For dessert, try the baklava with tahini parfait, sesame brittle, and pistachio gelato. This prix fixe menu is just $49 and available Friday and Saturday evenings, 5-6pm and 9-10:30pm. 55 E. 54th St., 212-759-5554, nerainyc.com
Pandan Coconut Sticky Rice at abcV
One of four restaurants at ABC Carpet & Home in Flatiron, abcV takes its veggies very seriously. Created by Jean-Georges Vongerichten, this vegetarian haven presents a diverse dinner menu that honors seasonal ingredients and fantastic flavor. Start with green chickpea hummus, and follow with wok-seared snow peas with garlic and shiitake mushrooms. For a main, indulge in one of the Asian-inspired plates like pandan coconut sticky rice with lemongrass grilled fairy tale eggplant, peanut, and Thai basil. Don't forget dessert like chocolate layer cake or matcha creme brulee. 38 E. 19th St., 212-475-5829, abchome.com/dine/abcv
Omakase at Kajitsu
Kajitsu shoujin cuisine , traditional course dishes which are originally served at a tea ceremony. Pictured here is autumn mushroom, eggplant and fresh ginger. Instagram.
There's a personal touch to every element of Kajitsu, a plant-based Japanese restaurant in midtown. Executive chef Hiroki Abe crafts new menus monthly to reflect seasonal vegetables he will use in his take on shojin cuisine, a vegetarian form of kaiseki dining practiced in Japanese Buddhist temples. Diners can choose between a 10-course omakase option ($127) or 8-course hana ($97) with additional tea and/or sake pairings available. This month's omakase menu presents autumn dishes like red miso soup with fall mushrooms, grilled fig with walnut and miso, and a fall soba made with mushrooms and truffle. 125 E. 39th St., 212-228-4873, kajitsunyc.com
Market Veggie Plate at Westville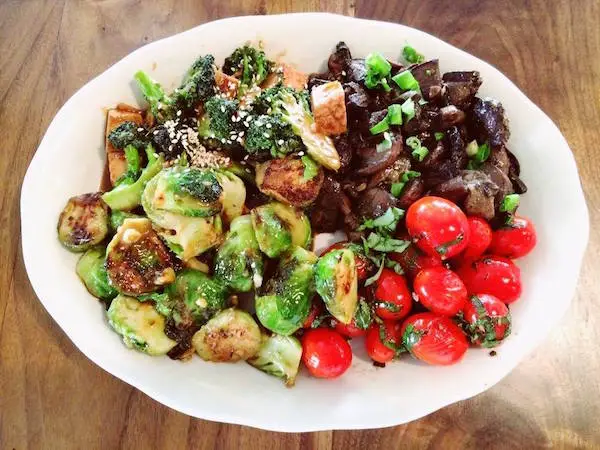 Score incredible veggies at one of seven Westville locations in NYC. This popular eatery serves a diverse slate of updated comfort foods, but perhaps its most popular offering is the daily market plate. This plate of veggie sides can be assembled from a pretty lengthy list of options that rotate daily, such as roasted brussels sprouts, Korean cucumber salad, grilled peaches, and yuca fries. You can find Westville in the Financial District, Chelsea, Hell's Kitchen, and, of course, the West Village. Multiple locations, westvillenyc.com
Shiitake "Cacio e Pepe" at Nix
Not many plant-forward restaurants sport a Michelin star, but that's just one thing that sets Nix apart. Chef John Fraser has innovated a lively and always-changing menu where vegetables run the show (vegans can also rest assured that their choices are many and all marked with an asterix). Start with one of the many dips, such as the avocado, ginger, and mint spread over tandoor bread. Other plates are designated simply as "Lighter" and "Bolder." There are the refreshing jicama ribbons with fresno chili and blood oranges and, on the bolder side, "cacio e pepe" made with shiitake mushrooms, haricots vert, and polenta. Also sample a cocktail like In Pink (made with Champagne, Grapefruit, and pink peppercorn) and desserts like the vegan chocolate ganache torte. 72 University Pl., 212-498-9393, nixny.com
The P.S. Burger at P.S. Kitchen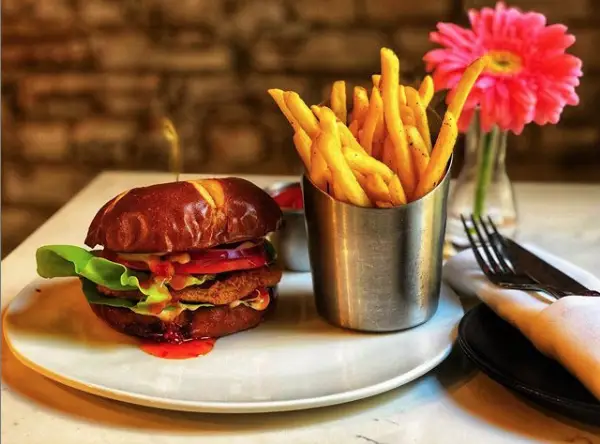 A night out in the Theater District doesn't have to exclude vegans. Or style and flavor for that matter. P.S. Kitchen has a creative cocktail menu and brunch, lunch, and dinner menus that bring out the best of the veggie realm. A house signature is the P.S. Burger, which brings together a Beyond Burger patty with queso, lettuce, tomato, red onion, and Thousand Island on a pretzel bun; it's served with fries on the side. P.S.—everything here is vegan, and all the profits go to charity. 246 W. 48th St., 212-651-7247, ps-kitchen.com
Jackfruit Al Pastor Tacos at Black Flamingo
Fun-loving vegans, look no further than Black Flamingo. This Williamsburg taqueria also happens to have one of the city's best dance floors on the basement level. Whether you're looking to taco before or after your night of dancing, you'll find plenty of flavor in the jackfruit-filled al pastor taco, the mofongo-and-sweet-potato jerk taco, and hard shell "Mom" tacos filled with seitan and cashew cheese. Stop by on Taco Tuesdays for discounted grub and happy hour on margaritas, beer, and wine. 168 Borinquen Pl., 718-387-3337, blackflamingonyc.com
Seitan Piccata at Candle 79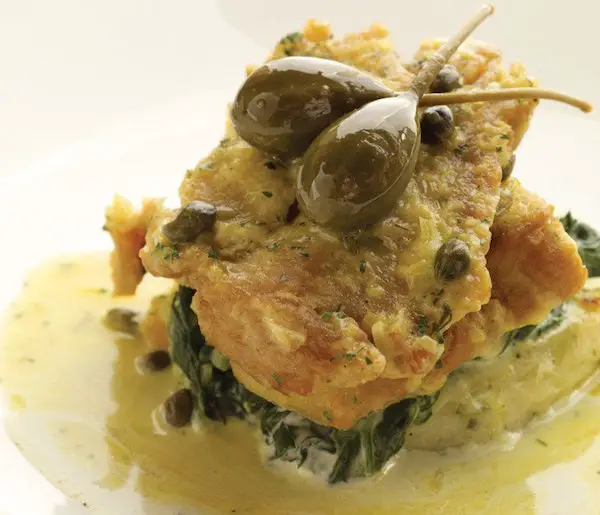 Candle 79 on the Upper East Side was vegan before it was cool. Their tried-and-true menu boasts classics like their take on chicken piccata, a soy-based entree topped with creamed spinach and oyster mushrooms and accompanied by lemon-caper sauce. There are also Middle Eastern and Latin American flavors on the menu, such as the guacamole starter and Moroccan spiced chickpea cake entree. If you're coming away from an afternoon at the Metropolitan Museum of Art, take a stroll over to Candle 79 for a delicious cocktail and a vegan feast. UES: 154 E. 79th St., 212-537-7179, candle79.com
Strip House Potatoes & Veggies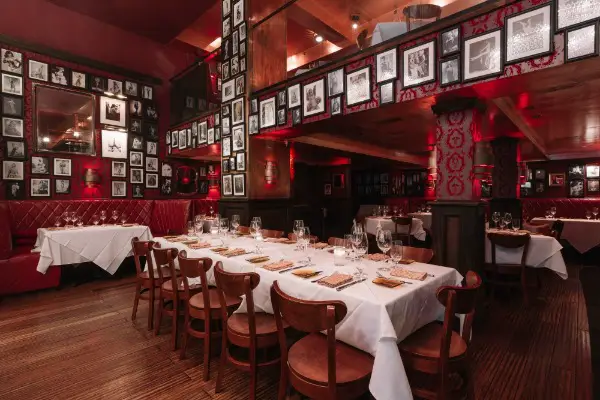 If your group is looking for a classic steakhouse experience with an animal-free option on the menu, try Strip House. With locations in midtown and Union Square, the welcoming dining rooms will accommodate vegetarians and carnivores alike. In fact, one of the restaurant's most famous dishes doesn't incorporate steak at all! Make your own market plate with Strip House Potatoes, a twice-baked dish made au gratin, along with other veggie sides like black truffle creamed spinach, charred broccoli with toasted almond and miso butter, and roasted asparagus with brown butter and soy emulsion. Downtown: 13 E. 12th St., 212-328-0000, striphouse.com/venues/downtown; Midtown 15 W. 44th St., 212-336-5454, striphouse.com/venues/midtown