Times Square's newest draw is The Ribbon, a spinoff of the Blue Ribbon empire of fried chicken and sushi fame. Brothers Bruce and Eric Bromberg, hospitality legends with more than 25 years under their belts, have brought the Theater District a winning combination of elegant-yet-approachable environs and perfectly executed elevated comfort food.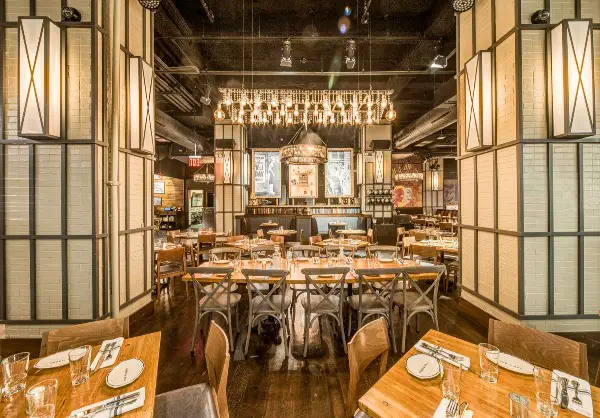 The Brothers Bromberg are veritable restaurant moguls and Blue Ribbon has many iterations across New York City and in other cities like L.A. and Las Vegas. The Ribbon began on the Upper West Side 3 years ago, and that restaurant's success has led to this newest expansion.
At once ambitious and familiar, The Ribbon menu lays bare The Brombergs' influences, which come from across the globe and right here in the States. Many of the offerings have homegrown roots, with large-and-in-charge steaks, burgers, fried chicken, and whiskey. But these dishes are anything but homebound, with techniques and flavors adapted from France, the Mediterranean, Latin America, and Jewish culture.
The buffalo cauliflower is exactly as it sounds—but better—and a must-order appetizer. Also tempting among the starters: deviled eggs, in versions like smoked salmon, pickled peppers, or fried oyster; house-made pâté; and thoughtful cheese and charcuterie plates.
Notable entrees include the fried chicken, with a matzo meal and proprietary spice blend crust that easily justifies the dish's fame. Tender lamb chops are served with mint, yogurt, and an eggplant tomato confit. There's also the flavor-packed "pig club," with rotisserie pork, bacon, jalapeño, provolone, and chipotle aioli. Or opt for the prime rib of pork, with apricot and chili jam, which demonstrates why The Ribbon puts spit-fired meats at the forefront of its offerings.
Stop by Happy Hour at The Ribbon for a cocktail and some deviled eggs. 
Those looking for lighter fare can order salads, or the quinoa bowl with avocado, chicken, and hearts of palm. Other fresh eats come from the raw bar, serving oysters from the east and west coasts, local clams, shrimp, and lobster.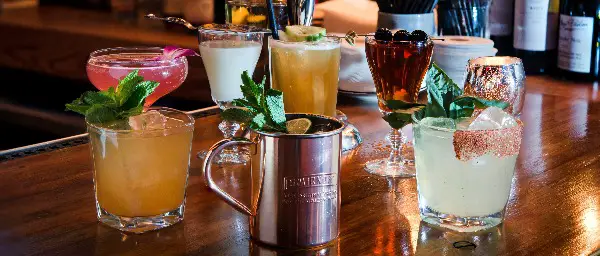 The bar offers a smart list of drafts—including favorite local brews, plus a wine list that runs from Argentina to California to the best of Europe. Be tempted by craft cocktails, like the Longacre Whiskey Smash, the Spicy Tomatillo Margarita, or The Franconia, which brings together Old Overholt Rye, amaro, green Chartreuse, dry vermouth. and bitters.
Make sure to save room for dessert, which highlights Key Lime pie (a staple of the original Ribbon location, on the Upper West Side), sticky toffee pudding, or monkey bread with vanilla ice cream and salted caramel.
This iteration of The Ribbon draws inspiration from Longacre Square, the former name of Times Square. In the late 19th century, the area was filled with carriage houses and horses, rows of brothels, warring newspapers, saloons, and theaters. The interior blends a glamorous vibe with local icons: think pressed tin, weathered wood, and vintage black 'n' whites of V-Day-era Times Square. (Although in truth, the old neighborhood never looked as good as it does in here.)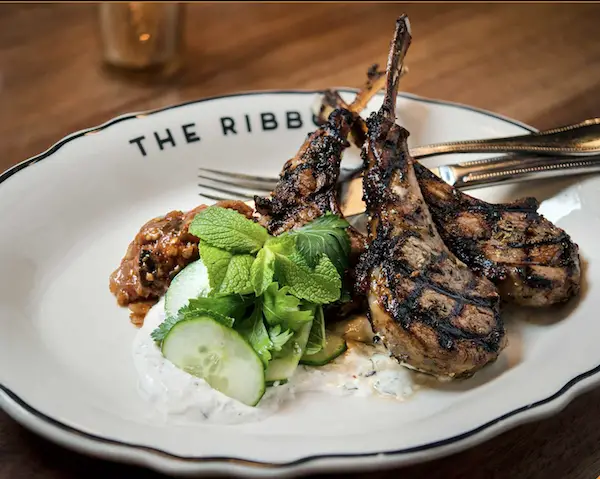 The Ribbon is located near Times Square at 220 W. 44th St. (btw. Seventh & Eighth Aves.), 212-944-2474, 44.theribbonnyc.com and on the Upper West Side at 20 W. 72nd St. (btw. Central Park W. & Columbus Ave.), 212-787-5656, theribbonnyc.com.