Uptown Favorite The Ribbon Expanding to Times Square
November 27, 2018 - by Merrill Lee Girardeau
The Ribbon is coming to Times Square! This spinoff of the Blue Ribbon empire of sushi and fried chicken fame is a hotly anticipated addition to join New York City's Times Square/Theater District scene. Patrons can expect exceptional chicken, spit-fired meats, and other diverse offerings. The Ribbon can provide a spot-on brunch if you're staying nearby, or whiskey and deviled eggs before your Broadway show.
Brothers Bruce and Eric Bromberg are veritable restaurant moguls, with 20 venues under the Blue Ribbon banner. Blue Ribbon has many iterations across New York City and in other cities like L.A. and Las Vegas. The Ribbon began on the Upper West Side 3 years ago, and that restaurant's success has led to this newest expansion.

The Ribbon is known for elegant yet approachable environs and perfectly executed comfort food to satisfy a wide range of palates. While they won't serve the sushi that made the Blue Ribbon name famous, there are burgers, sandwiches, seafood, raw options, and whiskey out the wazoo.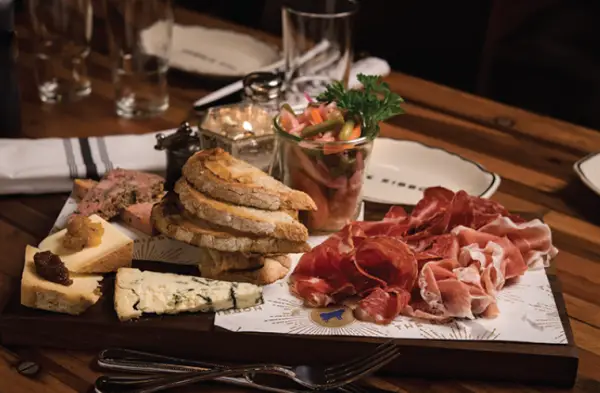 At once ambitious and familiar, The Ribbon menu lays bare The Brombergs' influences, which come from across the globe and right here in the States. Many of the offerings have homegrown roots, with large-and-in-charge steaks, burgers, fried chicken, whiskey, and milkshakes. But these dishes are anything but homebound, with techniques and flavors from France, the Mediterranean, Latin America, and Jewish culture.
This iteration of The Ribbon will draw inspiration from Longacre Square, the former name of Times Square. In the late nineteenth century, the area was filled with carriage houses and horses, rows of brothels, warring newspapers, saloons, and theaters. The Ribbon will likely go for an antique carriage house look, as well as pay homage to saloons with their deep catalog of whiskeys. Expect an exceptional Manhattan or old fashioned, or go for a specialty drink like the Apricot Whiskey Smash.
While The Ribbon Midtown hasn't released a menu specific to its new location, they have ensured eager diners that certain classic dishes will be available there. The Buffalo Cauliflower is exactly as it sounds—but better—and a must-order appetizer. As with the Upper West Side location of The Ribbon, the famous fried chicken at Blue Ribbon will be available only on Sundays and Mondays. What makes their chicken enough to start an empire? Well, the proof is in the eating, but this famous recipe also contains egg whites, matzo meal, and a special proprietary blend of spices from the Bromberg brothers.
Stop by Happy Hour at The Ribbon for a cocktail and some deviled eggs.
Start off your chicken binge or add to happy hour with a deviled egg appetizer. These six eggs come in three varieties, with toppings like smoked salmon, pickled peppers, and fried oysters. If you're curious about eating out of a bone, there's the beef marrow and oxtail marmalade appetizer as well (trust us, it's a winner).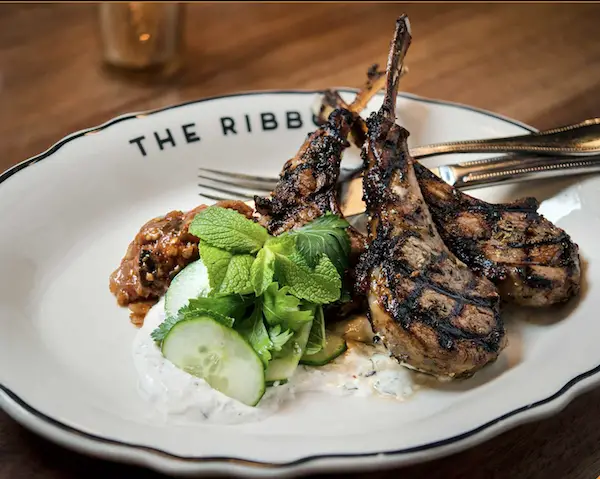 Notable entrees will include the tender lamb chops with a Mediterranean preparation, complete with mint, cucumber, and tzatziki sauce. There's also the ox burger and pork prime rib with apricot and chili jam, which proves The Ribbon puts spit-fired meats at the forefront of the menu for a good reason.
Those looking for lighter fare can order the fresh quinoa bowl with avocado, chicken, cherry tomatoes, and celery. There will also be an arugula salad, perfect for a starter, topped with butternut squash, shaved parmesan, and pepitas.
Other fresh eats will come from the raw bar (The Ribbon offered a sneak peek on Instagram, btw), serving oysters from the east and west coasts, local clams, shrimp, and lobster. Up your game with a dish of organic white sturgeon caviar.
At brunch, order the Brombergs' take on a Canadian classic, the Prime Rib Poutine. This tender, spit-roasted steak will top a bed of fries and jalapeno cheese gravy, with a fried egg to top it all off. The UWS brunch menu also features chilaquiles, avocado toast, and buttermilk biscuits. And of course, a fixture of The Ribbon's brunch: the Bloody Mary with a choice of added bacon, shrimp, or pickled peppers.
At dessert, The Ribbon Midtown has promised the indulgent Tres Leches & Espresso Sundae with candied walnuts on top. Their UWS menu also offers flourless chocolate cake, key lime pie, and chocolate chip bread pudding, a house specialty.
Soon to open on West 44th Street, The Ribbon will be a meeting place for whiskey aficionados and fried chicken-lovers alike. Look out for the Brombergs' exciting expansion of the Blue Ribbon empire!
The Ribbon is opening soon at 220 W. 44th St. Visit 44.theribbonnyc.com for more information
Looking for Free Group Planning Services?
Get free advice on planning your group's trip to New York.
RESTAURANTS

Vida Verde brings the tastes, colors, sounds, and scents of ...

THEATER

Kander and Ebb's "musical vaudeville" in which Roxie Hart ga...

SHOPPING

PANDORA, one of the leading names in jewelry for more than 3...

SIGHTSEEING

Sweeping, unobstructed, open-air views of NYC from the top o...