'Implicit Tensions: Robert Mapplethorpe Now' Opens at the Guggenheim
January 30, 2019 - by Evan Levy
Few people will doubt the ability of photographer Robert Mapplethorpe to shock an audience. More may be surprised by his ability to elicit a kind of hushed awe. Mapplethorpe, who died 30 years ago of complications from AIDS, is the subject of Implicit Tensions: Mapplethorpe Now, a two-part retrospective at The Guggenheim. (In 1993, the museum received a gift of 200 photographs and objects from The Robert Mapplethorpe Foundation.)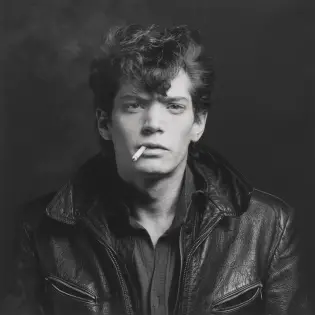 Robert Mapplethorpe, Self Portrait, 1980. Gelatin silver print, 35.9 x 35.7 cm. Solomon R. Guggenheim Museum, New York Gift, The Robert Mapplethorpe Foundation, 93.4289 © The Estate of Robert Mapplethorpe.
The first part runs through July 10 and features Mapplethorpe's own work; it includes portraits, collages, Polaroids, and floral still lifes. The second part, which opens on July 24, will focus on Mapplethorpe's legacy and the effect of his work on portraiture; it will also feature an examination of the discussions that have come up in the years since his death. Part two will also mix Mapplethorpe's own work with those of other artists in the collection.
Robert Mapplethorpe, Calla Lily, 1986. Gelatin silver print, 48.9 x 49.1 cm. Solomon R. Guggenheim Museum, New York. Gift, The Robert Mapplethorpe Foundation 93.4302. © Robert Mapplethorpe Foundation. Used by permission.
Mapplethorpe is known, of course, not just for his photographic images, but for the controversies they incited. In 1989, after his death, his work became the centerpiece of a national debate about artistic censorship and what kinds of works public funds should cover when the Corcoran Gallery of Art in Washington, D.C. canceled an exhibit of his work. (Ironically, the debate led to his widespread fame.) Many of the images still have the ability to cause discomfort and are often graphic (male genitalia, references to S&M and bondage, etc.) and they may indeed shock certain audiences. But time has lessened that shock; it has also brought to the forefront Mapplethorpe's technical proficiency as well his ability to capture a deeply insightful look at his subjects.
The double portrait of Philip Glass and Robert Wilson, for instance, is magnetic; you literally can't take your eyes off it. It carries with it the tide of their legacy as well as a hint of, "Hey! We're posing for a photo." The result is everything a portrait should be.
Robert Mapplethorpe, Ajitto, 1981. Gelatin silver print, 45.6 x 35.6 cm. Solomon R. Guggenheim Museum, New York. Gift, The Robert Mapplethorpe Foundation 95.4322
© Robert Mapplethorpe Foundation. Used by permission.
Many of the other portraits carry a similarly electric charge. We see nudes, such as four views of an African American man named Ajitto—while sexual in nature, what also resonates are their resemblance to classical statues, and the sheer technical beauty of the images, as well as the dichotomy between contemporary and classical images (many of which were, of course, nude.)
Installation view: Implicit Tensions: Mapplethorpe Now, Solomon R. Guggenheim Museum, New York, January 25–July 10,2019 and July 24, 2019–January 5, 2020. Photo: David Heald.
That dichotomy is well captured in two images that each show a hand having just written the word "pictures." In one, we see the cuff of a proper dress shirt; the other shows a hand with a metal cuff and a leather glove. They were made in 1977 for a double show—the more "acceptable" images were shown at the Holly Solomon Gallery, while the more provocative ones were on display at the Kitchen downtown, perhaps summing up the duality of Mapplethorpe's work. Each bears the weight of that divide between his works—the more "innocent" portraits and the images that convey a world of S&M, bondage, and homoeroticism.
A similar dichotomy shows up in a portrait of Brian Ridley and Lyle Heeter in 1979. The two men pose, facing the camera, wearing black leather and bondage chains. It's somewhat unsettling, and yet a closer look at their surroundings shows a more or less traditional living room—the kind a more "standard" portrait might show in a more "conventional" exhibit. It's works like these that capture that dual nature of the photographer—the technically brilliant portrait photographer and the explorer of a then-underground subculture.
Finally, don't miss the early and later self-portraits of Mapplethorpe himself. Both knowing and innocent, they're a fitting framework for both the show—and the artist.
---
Part one of Implicit Tensions: Mapplethorpe Now is on display through July 10th; the second part will be shown July 24, 2019–January 5, 2020. The Solomon R. Guggenheim Museum is located at 1071 Fifth Ave. Call 212-423-3500 or visit guggenheim.org for tickets and more information.
Looking for Free Group Planning Services?
Get free advice on planning your group's trip to New York.
RESTAURANTS

Brings together the character of Hell's Kitchen past with th...

THEATER

In a heartbeat, 38 planes with 6,579 passengers were strand...

SHOPPING

DataVision is redefining retail with their new, fully intera...

SIGHTSEEING

Hop aboard these environmentally friendly twin-hulled catama...