In the words of Daddy Warbucks, NYC may indeed be "big, loud, and tough," but everyone knows it's also steeped in history and trivia. Midtown Manhattan is no exception. From the Empire State Building's one-building-only zip code to the staggering tally of annual visitors to Central Park, the city that never sleeps is full of all kinds of fascinating facts and figures. Never ones to miss out on divulging a few of these gems ourselves, we've dug deep into the bowels of the city and assembled our favorites into this nifty interactive Scavenger Hunt full of the secrets of Midtown.
Presented in the style of a guided tour, our unique quest takes you from place to place in sequential order, not only testing your knowledge on a variety of topics at each location, but providing you with a fun fact or two linked to each one along the way!
Intrigued? Why not test the waters with a few warm-up questions? See how you stack up! (There's a link to an answer key at the bottom of the page).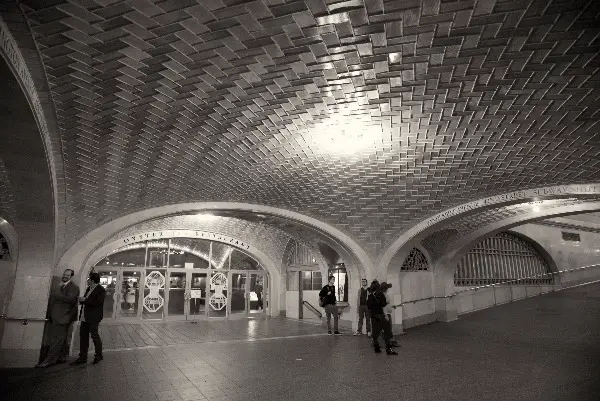 Rafael Guastavino brought tile mastery to New York City from his native Spain. Image: Matt Blaze/Flickr
1. Jazz legend Charles Mingus knew a thing or two about sound. He applied a secret when he proposed to his wife using this midtown "acoustical marvel." Can you name the marvel and the midtown landmark that contains such a parabolic feat? (See the Answer Key, Warm-Up 1.)
2. Since 1911, a pair of world-renowned marble lions have stood majestically, watching New York pass them by from their perch in front of this iconic building. Can you name each of the lions, and the building by which they're situated? (See the Answer Key, Warm-Up 2.)
3. By the looks of it today, you'd never know this gorgeous midtown location was once a potter's field for victims of yellow fever. Bodies were kept underground at the site of the park, until the "graveyard" was decommissioned in 1840, to make way for the construction of the Croton Reservoir. To what location are we referring? (See the Answer Key, Warm-Up 3.)


Now that you know (roughly) around where you'll be headed, grab your guidemap, block out some time, and put your New York know-how to the ultimate test!! This is, after all, the greatest city in the world, and there's no telling what you may discover…
Have a blast, and happy hunting!
---
Midtown Scavenger Hunt
Start at Grand Central Terminal.
Outside
Mercury Statue. Sculpted by Jules-Felix Coutan of Paris in 1914, this statue stands atop the entrance to Grand Central Terminal, welcoming commuters from far and wide into the nucleus of New York transportation. Surely it's a recognizable sight to many, but who can tell us the name of the figure depicted in the statue (and who he's flanked by), its significance, and—for extra credit—the name of the tableau? (See the Answer Key (1).)
Inside
Stirred, Not Shaken. This classic cocktail, which shares a name of one of the five New York boroughs, was first concocted onsite at GCT's famed Campbell Apartments Bar. Guess the moniker of this mixed drink.... then head up to the balcony level and have one for yourself!! (See the Answer Key (2).)
Did You Know:
Back in 1998, when the GCT ceiling was cleaned as part of the Terminal Restoration Project, workers purposely left one portion of the wall unwashed. That dark brick, allegedly formed by over 100 years of grime, consists mainly of soot, steel dust, and cigarette smoke. Though smoking in GCT was banned in March 2003, this GCT Easter egg still serves as a haunting reminder of what once was…and a cautionary tale of the dangers of lighting up!

There's a fully functional private tennis court hidden within the walls of Grand Central Terminal! Tucked away on the fourth floor of the building, the Vanderbilt Tennis Club is not only equipped with a full-size court, but two smaller practice spaces, an additional fitness facility, locker rooms, and a reception area. (Not to mention the most breathtaking views of the city while you play.) Although it does cost some money to play, the court is completely open to the public during business hours. So, if you have time to spare before your daily commute, and feel like brushing up on your volleys or perfecting that backhand swing, stop by the Vanderbilt Tennis Club—New York's best-kept athletic secret.

GCT has a hidden track!! Track 61, also known as the Waldorf-Astoria track, was originally built to transport freight, and eventually became a secret way to convey distinguished guests. Legend has it that the trains on this track were used to transport FDR, to hide the fact that he was wheelchair-bound. Supposedly, it's still used today to transport the President—should he choose to use it—and other important dignitaries or celebrities.
Head west on 42nd Street toward Fifth Avenue. The grand building to your left, originally called the Central Building and often referred to as the "main branch" of the library, is properly known by what name? (See the Answer Key (3).)
On Your Way
Designed by sculptor Gregg LeFevre in 1998, the walkway along the east entrance of the NYPL is comprised of plaques, each displaying appropriately inspirational quotes from a variety of classic books and celebrated authors. No doubt a feast for the eyes for your more-than-average bookworm, but can you find the official street name on which this literary masterpiece resides? (See the Answer Key (4).)
Midtown Scavenger Hunt: NY Public Library
Did You Know:
Though the Croton Distributing Reservoir was torn down in the late 1890s to make way for the New York Public Library, you can still see remnants of the reservoir on-site within the South Court Building, a six-story glass structure located at Fifth Avenue and 42nd Street.

Since 1987, the real, original, un-Disneyfied Winnie-the-Pooh (originally named Edward Bear when first purchased by author A. A. Milne at Harrods department store in London) has been encased and displayed within the NY Public Library.

Bryant Park
Behind the library, this patch of open space has a fascinating history all its own. In 1853, it was home to the Crystal Palace, an exhibition hall (and one of the city's most popular tourist attractions at the time), which eventually became the site for America's first world's fair. Though that structure, along with the neighboring Latting Observatory (then the tallest building in NYC), were destroyed in a fire in 1858, the area was given a facelift and is today a home for film, music performances, and local worker lunches.

Did You Know:
There's a secret trapdoor within the park, which hides all the electrical equipment needed to power the Winter Village each December.
Park staff counts the park inhabitants twice a day (1pm and 6pm) to collect a census of how many people visit the park daily. This data is then used to make decisions regarding further park developments.
Midtown Scavenger Hunt: Times Square
By chensiyuan - chensiyuan, GFDL
What Is It?
Mounted in the heart of Times Square since 1904, this New York monument once housed the headquarters of the New York Times. Today, it's nationally recognized as the main venue for a pretty distinguished worldwide event—although it bears few traces of its original, elegant look. (It's still magical, though—we can attest!) Can you name this building, and to what monumental event it plays host every year? (See the Answer Key (5).)

The Statue at TKTS Times Square:
This well-known American composer sits, immortalized in bronze, at the center of Duffy Square, opposite the TKTS booth. Constructed carefully by Georg John Lober and architect Otto Langman, the statue is inscribed with nods to this man's most patriotic staples, including, but not limited to, "Yankee Doodle Boy," "You're a Grand Old Flag," and, of course, most appropriately, "Give My Regards to Broadway." Can you name this famous man? (See the Answer Key (6).)

A Hall of Fame with Burgers:
Historic outfits worn by the likes of Gwen Stefani and Madonna, an original draft of Hendrix's "Midnight Lightning," and the Gibson SG of Tommy Iommi are all on display at this iconic New York institution (which also features legendary hamburgers). Do you know its name? (See the Answer Key (7).)

Don't Tell Mama Piano Bar:
Located on Restaurant Row, in the heart of New York's theatre district, Don't Tell Mama is one-of-a-kind piano bar and cabaret, offering the best in nightlife, from comedy presentations to songwriter showcases to variety acts and more. Established in 1982, Don't Tell Mama is no doubt a theatrical institution, but do you know from where the establishment got its name? (See the Answer Key (8).)

Times Square Church:
Previously known as the Mark Hellinger Theatre, named after famed Broadway columnist Mark Hellinger, this former theatrical landmark played host to the original productions of two iconic musicals. Can you name them both? (See the Answer Key (9).)

Did You Know:
In 1991, James Nederlander, Sr., strapped for cash, leased the theatre to the church—to avoid selling the space to a competitor. So, that's why today it's a house of worship!
Midtown Scavenger Hunt: Greeley Square and Environs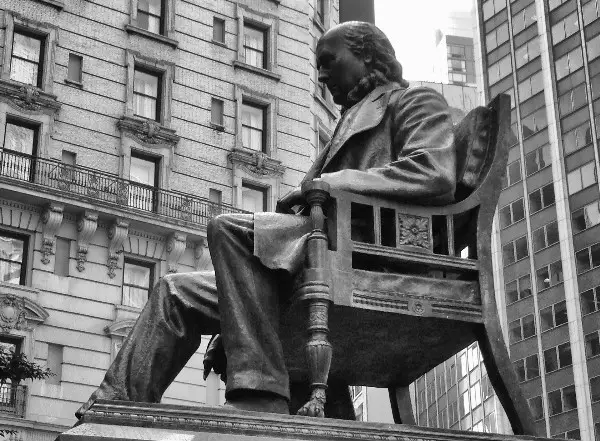 Image: Alan Levine/Flickr
What Is It?
Once known as the largest indoor public space in the world (covering two city blocks and eight acres of land), this New York mecca called for 500 buildings to be demolished and about 6,000 to be displaced in order to be built. Remnants of the original construction, including glass bricks, a hidden passageway, and a coal-fired power plant, still exist today. Do you know the name of this institution, and where it is located? (See the Answer Key (10).)

Greeley Square:
Constructed by sculptor Alexander Doyle in 1892, the statue of this renowned editor/publisher stands in the center of Greeley Square Park, nestled within Herald Square. Who is this man, and what is his significance to the name of the park? And how does the nearby owl sculpture fit in? (See the Answer Key (11).)
Did You Know:
The original Penn Station was the first train station to designate separate concourses for arriving and departing passengers. 
---
Midtown Scavenger Hunt: Answer Key
So, how did you do? Are you as much of a Midtown maven as you think you are? Click here to find out!