Is New York an island? Yes and no. Manhattan is an island. It's one of five boroughs that make up New York City. Brooklyn is an island, or at least it's the west end of Long Island (which may not technically be an island, according to a a 1985 Supreme Court ruling, but it is surrounded by water on all sides). Long Island also includes Queens, to the east of Brooklyn. The Bronx is part of mainland New York State, so it's not an island; the status of Staten Island should be self-evident.  
Manhattan can like the epicenter of civilization, but when you zoom out on a map, you'll see other land masses surrounding the city, from Roosevelt Island to Governors Island. And a grade-school term might pop to mind: archipelago. New York City is indeed a link in the chain of islands known as an archipelago, at the eastern and southern edge of New York State.
Much has been made of Liberty Island (where Lady Liberty dwells) and Coney Island (not actually an island, but a peninsula). But you've likely never heard of South Brother Island or Mill Rock. Read on, and learn a little about the history of New York City's smaller islands and how you can visit them today!
City Island
View at Johnny's Reef Restaurant


Just off the coast of the North Bronx, City Island is home to some 4,000 residents. This little enclave is a beachfront community on a 1.5-mile-long-island. The beaches are not public, but it's worth a trip to this charming New England-esque community to sample some of the best seafood in the area, like Johnny's Reef Restaurant at the southern tip. You can travel via the Seaside Trolley, which is free on the first Friday of each month.
North Brother and South Brother
This pair of East River islands, once known as de Gesellen (Dutch for "the Brethren") in 1614, eventually became Anglicized by English settlers. North Brother Island earned notoriety as an outpost for quarantined patients (called a "lazaretto"). Its most famous visitor being one Mary Mallon, better known as "Typhoid Mary." A New York cook, Mallon was confined there on two separate occasions and died on North Brother Island in 1938. Ruins of the hospital remain partially intact, but only herons and egrets live on these 30 acres now. The 21-acre South Brother Island was bought by Colonel Jacob Ruppert in 1894. A brewer and former owner of the New York Yankees, Ruppert built his summer home there, which was occupied until 1907, but burned down in 1909. In 1976, a sand and gravel company bought South Brother for $10. The City of New York purchased the island from this company in 2007 for $2 million. Neither island is open to the public.
Rikers Island
Not far from North and South Brother is Rikers Island. You may know the 400-acre Rikers as the site of New York City's largest prison—which is really 10 jails making up one larger complex. Former Mayor Bill de Blasio declared Rikers would close but the city hasn't made a major move there yet. On any given day, Rikers houses some 10,000 inmates, most of whom are simply awaiting trial.
Randall's Island

Off the shore of East Harlem, you'll find Randall's Island, and you've likely spied it if you've ever crossed the Robert F. Kennedy-Triborough Bridge on your way to LaGuardia Airport. Its state-of-the-art track and field arena, the bright-blue Icahn Stadium, is by far the island's most distinguishing feature. Through much of the 19th and early 20th centuries, Randall's sheltered smallpox patients, juvenile delinquents, Civil War veterans and the mentally ill. But once the Parks and Recreation department acquired the island in 1933, the island was joined with Wards Island to expand the pair to 480 acres. In 1936, with FDR in attendance, track immortal Jesse Owens won the Olympic Trials here at the former Downing Stadium—now the site of Icahn. After a substantial makeover, Randall's Island is now a vibrant public park full of bike and walking tracks, a golf center, nearly two dozen tennis courts, and more than 60 playing fields for other sports. So if you're ever in the mood for a run or a game of soccer, head to Randall's Island via the footbridge at East 103rd Street. There are also pedestrian walkways and car access via the Kennedy Bridge.
Mill Rock
This island is really comprised of two once-separate islands named Great Mill Rock and Little Mill Rock. It's located some 1,000 feet away from East 96th Street on the Upper East Side. William Hallet purchased the two adjacent islands in 1664 from Native Americans. Cannons were stored here during the War of 1812, then the U.S. Army Corps of Engineers used the island to test and detonate explosives. A nearby natural obstacle called Flood Rock, which once frustrated ships in the East River, was reduced to rubble on October 10, 1885 in the largest planned explosion until the atomic bomb arrived. Its debris was used to erase the gap between the two Mill Rock islands to make one larger expanse, now about 8.6 acres in size. Still uncultivated and (dare we say it) wild, Mill Rock Island is now under the jurisdiction of the NYC Parks Department and remains closed to the public.
Roosevelt Island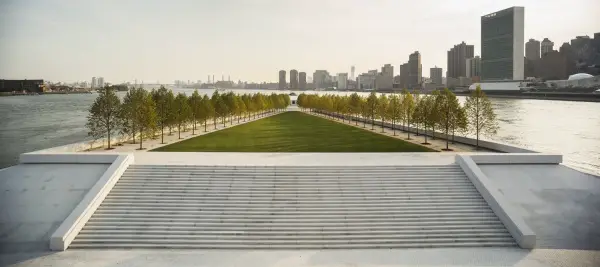 A sliver of a land mass, Roosevelt Island is wedged between the Upper East Side and the shore of Queens. It is merely 787 feet wide at its widest point and no more than 2 miles long. Like other New York islands, Roosevelt is also the former site of a smallpox hospital, a laboratory and an insane asylum (Nellie Bly and Charles Dickens each wrote about it). A few of the historic structures remain in whole or in part today, with a 1796 farm dwelling called Blackwell House and an 1872 lighthouse peering from at the northern tip of the island, both of which are closed to the public. The island's visitor's center is located in an award-winning restored kiosk adjacent to an aerial tram. Mostly, Roosevelt is a residential area and makes for a pleasant walk or bike ride with fabulous views of the Manhattan skyline. At the southern tip of the island you'll find the tree-lined Franklin D. Roosevelt Four Freedoms Park, built on an expansive scale. The island is accessible via tram that connects to Manhattan at East 59th Street, or via the F train.
Long Island
Long Island is no longer considered an "island" after a 1985 Supreme Court ruling, although it is surrounded on all sides by water. Fun fact: two of the city's boroughs, Queens and Brooklyn, lie at its western tip. But you have to travel beyond those areas to feel like you're actually on Long Island, which is home to beachfront communities like the Hamptons, as well as small towns with their vineyards and nature preserves. The island comes by its name honestly too, since it's the longest and largest in the continental U.S., at 118 miles long and about 23 miles wide. You can get there by car, Long Island Rail Road, or the Hampton Jitney.  
Ellis Island
Photo: Roey Yohai Photography,
The legendary Ellis Island was known as Kioshk, or Gull Island, by Native Americans in the area and renowned for its nearby oyster beds. Later, these 3.5 acres were renamed for Samuel Ellis, who bought the land and retained it from 1774 until 1808, when it was acquired by the U.S. government. Throughout the 19th century, the island was used as an arsenal for the military. Eventually, the Island was expanded via landfill to form a 27-acre space and transformed into the iconic Immigration Station at the turn of the twentieth century. That facility operated from 1892 until 1954, during which time some 12 million aspiring immigrants passed through her portals. The facilities were renovated in the 1980s to create the Ellis Island National Museum of Immigration, which is now open to the public and accessible via Statue Cruises. Visitors have been known to find records documenting their ancestors' arrival here.
Liberty Island
Not far from Ellis, Liberty Island was considered valuable by local Delaware Indians for its oyster beds. Then came the European colonists. The area also served as a lazaretto site in the late eighteenth century. The star-shaped Fort Wood was built in 1807 on the island in anticipation of the War of 1812. We now know this fort as the distinctive home at the base of the Statue of Liberty, which the French gifted the U.S. in honor of the American centennial. The monument is actually the work of two artists: Lady Liberty was designed by the French sculptor Frederic Auguste Bartholdi  while her granite pedestal, which lies in the courtyard of Fort Hunt, was designed by Richard Morris Hunt. The statue was unveiled on October 28, 1886. She stands a whopping 305.5 feet high from base to torch-tip. Today you can take Statue City Cruises ferry from New Jersey or Lower Manhattan to pay your respects, and you can still explore her crown from the inside. The visitors center also offers more information.
Governors Island

A key strategic site for the rebels of the Revolutionary War, Governors Island played an important role in America's founding. Washington's second-in-command General Israel Putnam, built a military fort on the island, which he used to target the British navy in 1776 (British cannonballs were discovered here more than a century later). Today the island is a peaceful haven for hikers and bikers and ideal for picnics, festivals, and—get ready—hammocks. That's right, there are 50 red hammocks in Hammock Grove, perfect for a luxurious chillax in the sun. There's also a food court on Liggett Terrace, which sells everything from Blue Marble Ice Cream to dan dan noodles at Noodle Lane. Mere yards away is Brooklyn's Red Hook in Brooklyn and the island is close to downtown Manhattan as well. It is accessible via ferry.
Staten Island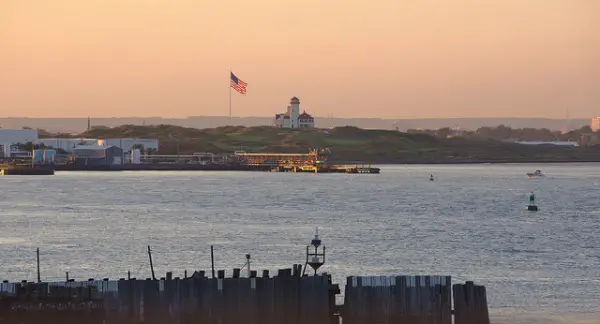 A free ferry will transport you to Staten Island to discover the least-visited of the city's five boroughs. The island was named after the Staten-Generaal (or "States General") of the Dutch Republic, which ruled the island for a portion of the seventeenth century. Staten Island is some 60 square miles in size, with 35 miles of waterfront, including public beaches. The island is also home to a zoo, the Snug Harbor botanical gardens and Green Belt, which remains the largest park in the city. Staten Island is also home to the city's largest Sri Lankan population. Little Sri Lanka is a neighborhood on the island worth visiting for the food alone (go for San Rasa, a Michelin-starred restaurant). Staten Island deserves a dabble from locals and tourists alike. So take that orange ferry and discover what you're missing.