Singer Justin Timberlake, Harry Potter author J.K. Rowling, and actress Jennifer Lawrence all suffer from arachnophobia — the fear of spiders. While it's one of the most common fears, is it logical? The truth of the matter is, most spiders are afraid of you and can't penetrate human skin. Back for a second run, the exhibit Spiders Alive! has returned to the American Museum of Natural History, bringing visitors up close and personal with spiders and scorpions, and hoping to put some of those fears to rest.
The hands-on exhibit offers a comprehensive look at the fascinating and complex world of arachnids, featuring 20 species of live arachnids (including 16 spider species, two scorpion species, a Vinegaroon — he's a stinker — and African whip spiders) and highlights this intriguing animal group's anatomy, behavior, and unique characteristics.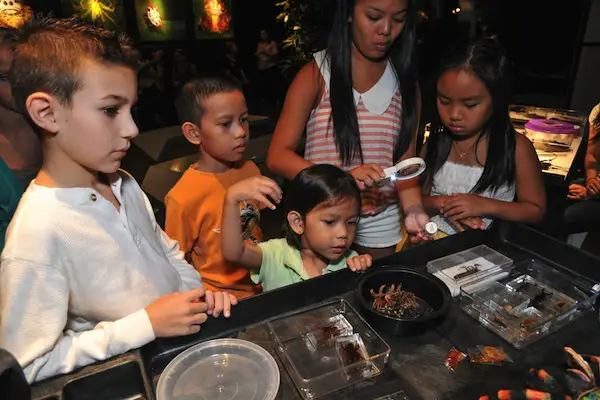 Museum staff present live arachnids, for visitors to see up close. ©AMNH/D. Finnin
AMNH has been at the forefront of studying spider diversity for more than 75 years, explains Norman Platnick, the exhibit's curator and curator emeritus in the Division of Invertebrate Zoology. In Spiders Alive!, visitors will experience spiders' anatomy, diversity, venom, silk, and behavior, including little-known defensive mechanisms such as mimicry and noise-making. In addition to live spiders, the exhibition includes larger-than-life models of spiders, videos, a climbable spider model, and fossils. Museum staff will be handling live arachnids for visitors to see up close.
"In almost all cases, spiders pose no threat," Platnick says. "It takes a lot for a spider to bite you. In the US, there are only two known poisonous spiders: the Black Widow and the Brown Recluse." And yes, they are both featured in the exhibit!
Brown recluse (Loxosceles reclusa) Photo: AMNH/R. Mickens
Spiders are important predators; without them, insect populations would explode. By one estimate, the spiders on one acre of woodland alone consume more than 80 pounds of insects a year! Scientists have identified over 44,500 species of spiders to date, and believe there are many more to be discovered. The average lifespan of a spider is one year, while a tarantula can live up to 20 years.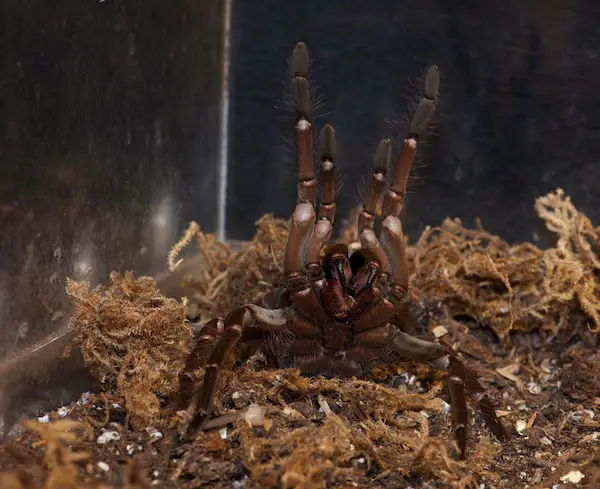 Goliath bird eater (Theraphosa stirmi): One of the biggest spiders in the world, it preys on snakes, mice, and frogs but, despite the name, rarely birds. ©AMNH/R. Mickens
Among the live spiders you will encounter in this exhibition is the goliath bird eater, one of the largest spiders in the world, which measures about 12 inches long, including leg span—about the size of a dinner plate—and preys on snakes, mice, and frogs. Species from other arachnid orders will also be on display, including African whip spiders, whose whiplike feelers, up to 10 inches in length, help the animal find its way, and the giant vinegaroon, which can spray a foul-smelling vinegar-like chemical from its abdomen if disturbed; and the desert hairy scorpion, the largest scorpion in America.
Spiders Alive! runs July 4 through November 29, 2015. For more information, visit amnh.org.