The Best Trivia Nights in Brooklyn
March 26, 2019 - by Merrill Lee Girardeau
If you're gearing up for your appearance on Jeopardy! or just want to feel smart in front of strangers, you need a round of trivia. These nine Brooklyn bars offer up trivia for anyone with a head full of obscure history factoids and Homer Simpson quotes. Team up with your friends, and you might score free drinks, gift cards, or other prizes—that is, if you can rattle Steve Guttenberg's birthday off the top of your head.
The Best Trivia Nights in Brooklyn: Pete's Candy Store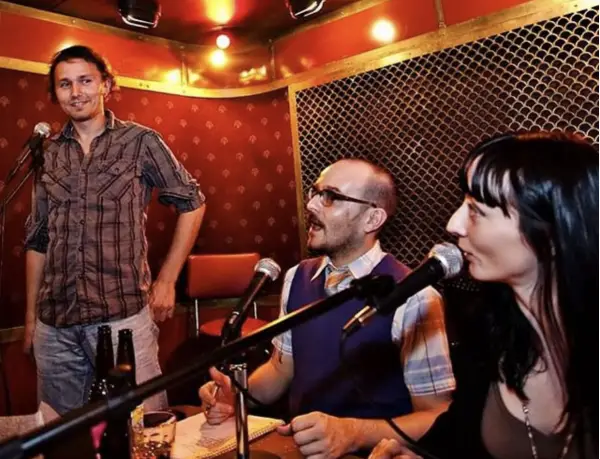 The categories General Knowledge, Music, Top Tens, and Visual Identification might not sound difficult, but trust us, this popular trivia night will challenge even your brainiest friend. Every Wednesday, Pete's Candy Store invites you and your crew to Williamsburg for a competition of wits. Prizes come in bar tabs: First Prize is $75 bar tab, Second Prize is $40, and Third is $15. Twice a year, Pete's holds finals for qualifying teams, and we're guessing those prizes are even more enticing. 709 Lorimer St., 718-302-3770, petescandystore.com
The Best Trivia Nights in Brooklyn: Kings Beer Hall
If you know The Simpsons like the back of your hand, come to Kings Beer Hall the first Thursday of every month. This seemingly endless show provides endless fodder for trivia questions, but if the host's Twitter page is any indication, they know just about everything. Go all in and wear a Simpsons-themed t-shirt (you'll see lots of creative designs in the crowd), and get more swag like Homer-shaped enamel pins if you win the night. This event starts at 7:30pm at Kings, a laid-back German beer hall near the Barclays Center. Each team pays $10 to enter, while individual players pay $5. 84 Saint Marks Pl., 347-227-7238, thekbh.com
The Best Trivia Nights in Brooklyn: Black Rabbit
Nerd alert! Trivia happens every Tuesday at 8pm at Black Rabbit. Set your sights on the $25 bar tab prize, and study up on your history, current events, and pop culture before you come to Greenpoint for this event. Bonus prizes are free shots at the bar! This Victorian-style bar is intimate and friendly, with a fireplace inside and beer garden out back. 91 Greenpoint Ave., 718-349-1595, blackrabbitbarnyc.com
The Best Trivia Nights in Brooklyn: Alligator Lounge
"Think you know a thing or two about a thing or two?" asks Alligator Lounge. The trivia whizzes at Trivial Dispute bring their signature brand of trivia to this Williamsburg bar every Monday at 9pm. You'll hear questions like: What was Starbucks' original name? If you know that one—or you have a friend who does—come enjoy a free personal pizza with every purchase as you test the limits of your knowledge. Many of the beers on draft are just $5. 600 Metropolitan Ave., 718-599-4440, alligatorloungebrooklyn.com
The Best Trivia Nights in Brooklyn: Parklife
Parklife is a casual beer garden/taco stand in Gowanus and the perfect hangout for a summer evening. The service TriviaNYC runs Parklife's trivia night every Tuesday at 7pm. You'll be tested on topics like "On This Day in History," a rapid-fire "Name Threes" round, and an audio clip. Not only will you get a chance at a prize, but you'll have 2-for-1 drafts while you try to think of the third BeeGee's name. 636 Degraw St., parklifebk.com, trivianyc.net
The Best Trivia Nights in Brooklyn: Berg'n
Come to Crown Heights for Trivia Tuesdays, hosted by Broadly Entertaining. Berg'n is a popular beer hall with three counters of amazing food. Come early for happy hour, which ends at 7pm, and grab a good seat for trivia at 7:30. First prize is $50 off your bar tab. Right now food vendors are Mighty Quinn's barbecue, Gertie's all-day breakfast, and Landhaus' burgers. Berg'n also hosts other events like game nights! 899 Bergen St., bergn.com
The Best Trivia Nights in Brooklyn: Uncle Barry's
In the market for trivia near the Barclays Center? Visit Uncle Barry's on Wednesdays for their crowded trivia nights in north Park Slope. Questions deviate from typical trivia, as you might be asked to identify songs from short clips and name a similarity among several images. Winner gets $50 off their bar tab. Grab a beer early before the crowds show up; the event starts at 9pm. Uncle Barry's also allows outside food, PS. 58 5th Ave., 718-622-4980, unclebarrys.com/trivia
The Best Trivia Nights in Brooklyn: Putnam's Pub & Cooker
Go for the trivia and stay for the salt and pepper shrimp at Putnam's Pub & Cooker. This Clinton Hill gastropub hosts trivia every Wednesday night at 8:30pm. They offer $5 deals on select pints during the game, and the prizes are pretty outrageous. First place gets a $100 gift card to Putnam's, second place gets $50, and third wins $25. Putnam's is also rolling out all-new menus soon, offering delectable craft cocktails and gourmet comfort food. 419 Myrtle Ave., 347-799-2382, putnamspub.com, facebook.com
The Best Trivia Nights in Brooklyn: Finn's Corner
Newly opened in Prospect Heights, Finn's Corner is the neighborhood sports bar where you can play darts, watch a game, and test your nerd-knowledge on Wednesday nights. Come at 7:30pm for the trivia, and don't leave before you have a pony ride (beer and shot combo). TriviaNYC runs this event, so expect "On this Day In History" and an audio round. Prizes may include books, swag, theater and comedy tickets, and money toward your bar tab. 660 Washington Ave., 347-663-9316, finnscornernyc.com, trivianyc.net
Looking for Free Group Planning Services?
Get free advice on planning your group's trip to New York.
RESTAURANTS

Multi-concept restaurant offering modern Japanese cuisine, a...

THEATER

Gaston Leroux's famous period thriller is now one of Broadwa...

SHOPPING

The world's largest source of cameras, camcorders, and more ...

SIGHTSEEING

In addition to 360-degree views from Midtown Manhattan, the ...